US ambassador to Nicosia Kathleen Doherty said on Thursday that while the US recognises the Republic's right to develop its exclusive economic zone (EEZ) it does not take positions on who has the right over maritime boundaries.
At a press conference on Thursday, Doherty said that in terms of the hydrocarbons issue, the parties should work it out themselves.
"The United States has consistently reiterated its support for the Republic of Cyprus' right to develop its resources in its EEZ," she said.
But "our global policy is not to take positions on who has right on the global maritime boundaries".
The press conference was held the same day as the arrival at Limassol port of the first of the two ExxonMobil survey ships scheduled to carry out hydrocarbon explorations in block 10 of Cyprus' EEZ.
Following last month's dispute with Turkey when it prevented an ENI drillship from operating in block 3, Doherty was called to answer questions on similar possible problems with ExxonMobil's vessels.
Doherty said that activities in the immediate few weeks will focus on whether there are any archaeological finds in the sea and also to figure out where to drill.
"We don't expect any problems," she said.
"In the next few months we have a very long and robust agenda with Turkey on many issues and we will continue to engage with Turkey on issues that affect the region," Doherty said. She added that this is one of the topics among many "and we will continue to have dialogue with Turkey".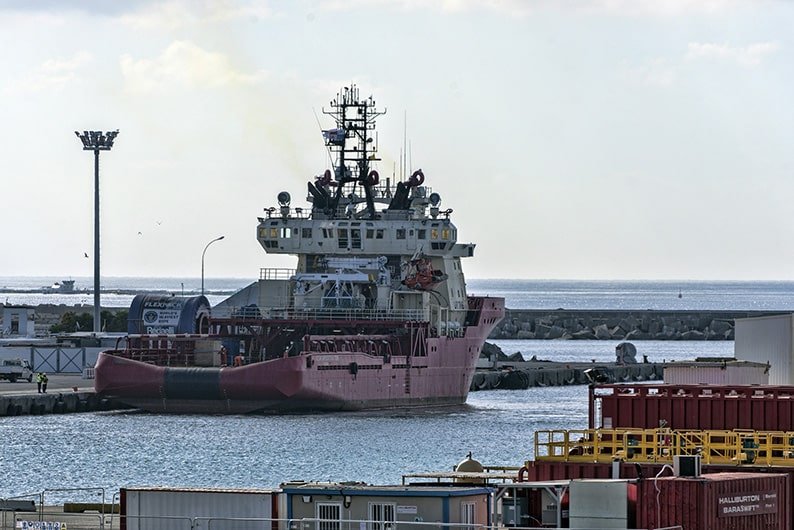 The Ocean Investigator arrived at the Limassol port at around 8.00 am on Wednesday to refuel and pick up equipment necessary for its environmental impact evaluation in block 10. A second vessel, the Med Surveyor, is expected to arrive in Limassol on Thursday.
The two vessels will be conducting surveys in order to establish the best drilling targets. ExxonMobil plans to carry out exploratory drilling in the second half of this year, in late summer or autumn.
According to port director, Panayiotis Agathocleous, the Ocean Investigator has docked at a quay located in the management area of DP World Limassol and is expected to load equipment, which will be transported to block 10 for its scheduled operations.
The vessel will remain at the Limassol port until March 24, he said, but it might depart earlier. This, Agathocleous said, will depend on the progress of operations.
He added that a second vessel, expected to arrive on Thursday, will also load equipment and set off for plot 10.
Doherty pointed out that it often takes several years, maybe even decades, before all the conditions are right for revenue to begin flowing from energy resources and she stressed that the best way to work out how to share resources was a Cyprus settlement.
At the same time, she said, "we believe that the island's gas and oil resources, like all its resources, should be equitably shared between both communities in the context of an overall settlement".
She warned that exploratory activities did not necessarily mean a find and even if there were a deposit it may not be feasible to commercialise it. The price of extraction and transportation costs were other considerations.
"I sincerely hope that both sides use that time to find a way to resume negotiations to reunify the island," Doherty added.She said that ExxonMobil did not intend to drill for several months and that gave ample time "to focus on what really matters which is in my government's opinion the settlement process".
She also said that it was for the Cypriots to decide for themselves how to work out the mechanisms for sharing the island's resources equitably.
"We do think the best way to do it is to have an agreement, to have a settlement on the island, have reunification," she said.
Doherty also referred to the visit by US Assistant Secretary of State for European and Eurasian Affairs Wess Mitchell in Cyprus on Friday.
She said that his trip is part of a broader visit to the region which includes Pristina, Skopje, Belgrade, Athens as well as Nicosia.
In Cyprus, he will discuss regional security issues, management of Eastern Mediterranean energy resources, bilateral relations and the Cyprus problem, she said.