American Academy (Private) Limassol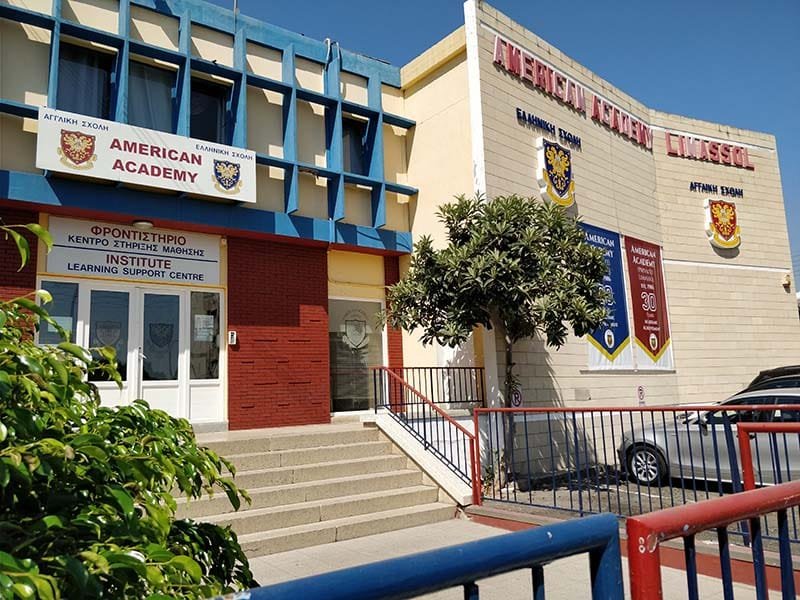 Established: 1986
Language: English
Type: Kindergarten, Primary & Secondary
Age range: 2.5 – 18
Students: 400+
Cypriot/Foreigner ratio: Varies by Class
Principal/Head: Andreas Efstathiou
Student/Teacher ratio: 10:1
Mission: To provide a well-balanced education for students of all backgrounds in a safe and supportive environment from the age of 2 until graduation.
Governance: The Governing Body includes parents (elected by parents at the school), a staff member (elected by staff), a local counselor and members of the local community (appointed by the governing body), as well as the head teacher.
ADMISSIONS
Head of admissions: Samantha Beer
Admissions policy: Kindergarten & Primary: Interview; Secondary: Interview and Placement Test
Scholarships: Each Case is reviewed by the Board of Directors
Mid-term entry: Yes
Applying from abroad: Online Registrations, Boarding School
Tuition fees: Range from €5,130 (Primary) to €8,010 (Secondary)
CURRICULUM
British National Curriculum
Type of exams: GCSE, GCE & A Levels
Languages: English, Greek, Russian, Italian, French, Arabic.
Sports: Sports School, Football, Basketball, Volleyball.
Music: Music Department.
EXTRA-CURRICULAR
Clubs: Languages, Physics, Biology, Chemistry, Duke of Edinburgh, Art, Maths, Literature, Charity, Drama, Music, Sports, ICT and more.
FACILITIES
Physics, Biology, Chemistry laboratories, ICT, art lab, school theatre.
Sports facilities: Football pitch, Basketball, Volleyball, Handball
Bus service: Door to Door service.
POLICIES
School hours: 07:40 – 13:50. After school activities vary
Exams: Mid-Term, End of Year.
Uniform: Compulsory.
Parents' association: PTA active. Frequent Parent Teacher meetings.
Student support: Options Advice, Career Counselling, SEN Support.
HISTORY
In 1986 the American Academy opened its doors in Despina Pattichi Street Limassol to both primary and secondary school children with an initial enrolment of 50 pupils. In 2000, the school opened its first Nursery and Reception classes. In the same year it successfully created our boarding facilities to cater to international students. In 2001 we expanded our educational influence by creating an Educational Learning Center to assist students with extra lessons and top-up subjects as well as dealing with students which have learning difficulties such as Dyslexia and other learning difficulties. In 2001, recognizing the demand for private Greek education, the American Academy in Limassol started a Greek secondary school. 2016 marked the creation of a full time secondary level Sports School for student athletes.
WHAT THE SCHOOL SAYS
What are your strengths? With the low teacher to student ratio we guarantee that each teacher can provide support and attention to each of his or her students.
We have 8 Boarding students, 4 Chinese, 3 Russians and 1 Cypriot. We have had students from all over the world including Saudi Arabia, Nigeria, Ukraine. We have separate living quarters for boys and girls but co-ed living rooms and kitchens. Students from the Boarding house receive further academic assistance when needed after school as well as excursions during the weekend. We have houseparents dedicated to 24 hour supervision.
Do you have open days? We organize events during the year and encourage our parents and prospective parents to join us.
Does parents' association have a role or say in decisions? Our PTA has many active members that have various supportive roles.
Is apolytirion given to students? Yes upon the completion of Year 13.
WHAT THE PARENTS SAY
What do you like about the school? In what way(s) has the school been good for your child?
VICTORIA GOLDMAN: American Academy is more than just a school, it's a family! Excellent curriculum programme, highly-qualified and very attentive teachers! This is the place you feel like home. We are grateful for all these years our daughter has studied in this school
ELLI MARANGOU: Like every parent, my main concern that gives me pleasure is to see that my child goes to school happy and is a happy child. I started having this sense of joy since September when my child began studying at the American Academy. I see my child going to school every day, cheerful and with a positive mood. He goes into a warm and friendly environment, that teaches him to love and enjoy all his classes. Classes that before, he didn't really like. He works on his home work with pleasure and Teachers love him and do everything they can to see him be happy and get the education he needs.  They do this with multiple ways in order to keep his interest high and to elevate his self-confidence and self-esteem. I am so delighted in the decision that our family made to send our child to American Academy.
CONTACT INFORMATION
Address Primary School: 7 Lefkas Street, 3070, Limassol.
Tel: +357 25 382782
Fax: +357 25 735967
Address Secondary School: Despinas Pattichi Str. Limassol Cyprus.
Tel: +357 25 337054.
Fax: +357 25 387488
Email: [email protected], [email protected]
Office hours:Monday-Friday: 07.00-18.00
Website: www.americanacademy.ac.cy