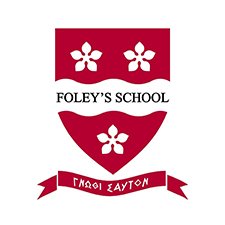 CONTACT INFORMATION
Address Primary: 2, Nikis Avenue, 4108 Lemesos
Tel: +357 25 887777
Address Secondary: 40 Omirou 3095 Lemesos
Tel: +357 25 584191
Email : [email protected]
Office working hours: 08.00 – 17.00
Website: www.foleysschool.com
Established: 1970
Language: English
Type: Preschool, Primary and Secondary private, independent, multinational and co-ed
Age range: 4 to 19 years
Students: 900
Cypriot/Foreigner ratio:   Approximately 3:7
Principal/Head: Chris  Bailey  (Secondary). Lucy Georghiou (Primary)
Student/Teacher ratio: Varies considerably with age group
Governance:  Privately owned
ADMISSIONS
Head of admissions: Chris Bailey/ Lucy Georghiou
Admissions policy: Entrance exams and interview
Scholarships: N/A
Mid-term entry:  Depending on circumstances and year group
Applying from abroad: Yes
Tuition fees: €6,000-€9,900 (Depending on year group)
CURRICULUM
Mainly UK oriented.  Native Greek  follows the Ministry of Education's syllabus
Type  of  exams: IGCSE/GCSE, A Level, Apolyterion
Languages: English, Greek, French, Spanish, German
Sports: Football, Basketball, Volleyball, Netball, Handball, Cricket, Softball, Touch Rugby, Athletics, Swimming, Gymnastics, Table Tennis
Music: Swing Band, Brass Band, Contemporary Music Band, Choirs
EXTRACURRICULAR
Clubs: Basketball, Football – (boys and girls), Gymnastics, Hiking, Hockey, Netball, Tag Rugby, Swimming, Table tennis, Public speaking,Inventing, Robotics,  Chess, Choir, Cookery, Dance, Drama, Debating, Maths, French Cinema, Spanish Cinema, Spanish Debating, Science, Swing band, Brass band, Marching Band, Contemporary Band, Yoga, Duke of Edinburgh International Award.
FACILITIES
Science laboratories, Indoor Theatre, Library, Computer Rooms, Amphitheatre, Sports facilities –  Gym, Basketball Courts, Indoor Sports Hall, Swimming Pool, Athletics Track, Astroturf Football Pitch
Bus service: Yes
Boarding School: No
POLICIES
School hours: Academic lessons: 07:50-13:55 (Primary), 08:10-14:05 (Secondary). Many extra-curricular activities and clubs until 15:30 (primary) and 17:00 (secondary)
Exams: Published online
Uniform: Yes
Parents' association: No
Student support: Yes
HISTORY
The school was founded in 1970 by Ward and Pat Foley in Famagusta. In 1974, after the invasion, it moved to Limassol and both Primary and Secondary sections of the school were based at the Homer Street premises. However,  in an exciting development last year the primary section (Pre-Reception – Year 6) moved to new, state-of-the-art premises in Ayios Athanasios (Nikis Avenue). The building work at this brand-new site continues, with new sports facilities almost completed – including a large sports hall, a 25m swimming pool and a 300m athletics track surrounding an astroturf football pitch.  The construction of the secondary section of the school is now in the final stages and we will all be moving in September 2019.