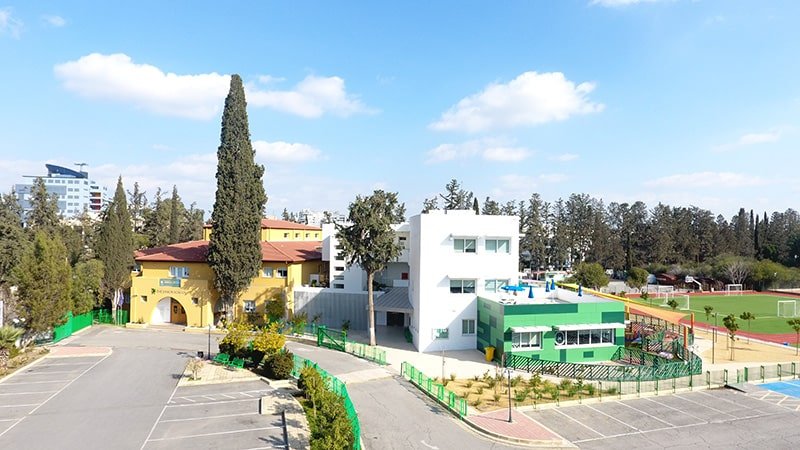 CONTACT INFORMATION
Junior School
Address: Kyriakou Matsi Avenue, Ayioi Omoloyites, Nicosia
Tel: +357 22664855
Fax: +357 22666993
Email: [email protected]
Senior School
Address: Romanou 2 Street Latsia, 2237 Nicosia
Tel: +357 22 660156
Fax: +357 22 666617
Email: [email protected]
Office hours: Monday to Friday 8.30am to 2.00pm
Website: thejuniorandseniorschool.com
Established: 1944
Language: English
Type: Primary (Junior) & Secondary (Senior)
Age range: 2 to 19
Students: 1,300
Cypriot/Foreigner ratio: 65:35
Principal: Deborah Duncan
Student/Teacher ratio: up to 24 children per class (smaller groups in exam years)
Governance: Governed by a group of elected parents
ADMISSIONS
Head of admissions: Christie Kasapi
Entry Policy: Interview, written entrance exam (depending on the age)
Scholarships: Year 7
Mid-term entry: Available if there is space in the year group
Applying from abroad: Yes,  and we can do assessments in the home school
Tuition fees: €4,817 to €7,462 (JS), €7,013 to €7,279 (SS)
CURRICULUM
UK curriculum taught only in English. Plus Greek language for all
Type of exams: GCSE, IGCSE, GCE A level and IAL
Languages: French, Spanish, German
Sports: Football, Volleyball, Basketball, Squash, Tennis, Swimming, Athletics, Rugby
EXTRACURRICULAR
Extensive extra-curricular activities on both sites at the end of the day.
We offer many including sports, choir, orchestra, languages, booster classes, homework  clubs, ICT clubs, drama, dancing, crafts, art etc
FACILITIES
Three fully equipped science laboratories, drama studio, music and recording studio (SS)
Sports: Running track (both sites). Extensive sports grounds: gymnasium, tennis courts, a squash court, two swimming pools, futsal, basketball and volleyball courts (SS), basketball courts, futsal, tennis courts (JS)
Bus service: Yes. Buses to and from city centre (for SS which is in Latsia), plus home buses by arrangement
Boarding School: Νο
POLICIES
School hours: 07:45-13:00 (JS – KS1), 07:45-13:10  (JS – KS2), 08:05-14:25 (SS)
Uniform: Yes. Green, white, grey and black
Code of conduct: Clear behaviour policies in place and rewards and sanctions pyramids in operation at SS
Parents' association: Active PTA on both sites
Complaints procedure: Up to date Complaints Policy compliant with British Schools Overseas standards
Exams: Exam results published online
Student support: Pastoral  support team, learning support department, Counsellor, Careers Advisor
HISTORY
The  Junior School was established in 1944 by the British Council. The school remained under the direction of the British Council until 1948, when it became a non-profit making company incorporated  in  Cyprus, known as The Junior School.
In 2003 the Senior School was established, extending education from 12 to 19 years old and incorporating study for IGCSE and A level qualifications. Due to a rise in pupil numbers and a  need for improved buildings,  in March 2016 the school moved to a new site in Latsia. A new annex with eight new classrooms has recently opened on the Senior School site.