The French-Cypriot School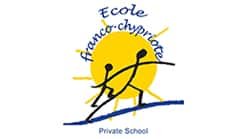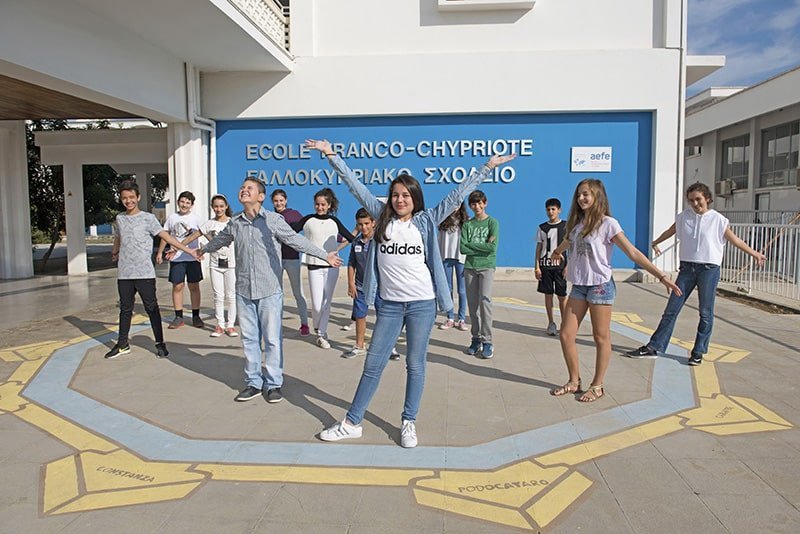 Established: 2012- It is the extension of the Arthur Rimbaud French school which has been in operation in Cyprus since 1987
Language: French-Greek
Type: Primary & Secondary
Age range: 2-17 years old
Students: 274 students for this school year
Cypriot / Foreigner ratio: 46% Cypriots, 33% French and 21% from other nationalities
Principal/Head: Jean-Marie Yhuel
Student/Teacher ratio: 12:1 (differs by class and age)
Mission: Promote the two languages and cultures of France and Cyprus within a European and international context.
Governance: Parent's association
ADMISSIONS
Head of admissions: Mandalena Athanasiou
Mid-term entry: YES (the non-french speaker students have an oral examination with a French Teacher)
Applying from abroad: Yes (the policy is the same as follows)
Admissions policy
Non –french speakers: French is the primary language of the school, so it is highly recommended to register from the age of  pre-school. Exams only  for 6ème (Στ΄ δημοτικού -11 years old) and 5ème (Α΄ γυμνασίου – 12 years old). Important to have a good level of French language
French speakers: Students who do not come from the French system may have to take a test in the French language. Students from the French system may enter without any test
Tuition fees: Elementary school €4640 / High school €5590
CURRICULUM:
France : Two streams: French and Bilingual (French-Greek)
Type of exams: Baccalaureate examination
Languages: Basic languages: French and Greek. Students are also taught in English from Kindergarten and German or Spanish from the age of 12.
Sports: Football, basketball, rugby, ping-pong
Music: Yes (music education)
EXTRA-CURRICULAR
Clubs: Mini-tennis, Arts, Robotics, Chess and Puppets
FACILITIES
Laboratories : Science and computer laboratories
Sports facilities: 2 Basketball courts, 2 football courts
Bus service: Yes
POLICIES
School hours: 07:55-13:15 (Primary school) – until 16:15 (secondary school)
Exams: At the end of middle grade school and at the end of high school only
Uniform: No
Parents' association: Yes
Student support: Yes – Assistance in homework for all elementary students
HISTORY
The Franco Cypriot school has been operating in Cyprus since 1987, and has been transformed in 2012 from a purely French school into a French Cypriot school with the aim of promoting the languages and the two different cultures (French and Cypriot) within a European and international context.
Education in the Franco Cypriot school is based on the humanitarian values on which French civilization is based. The fundamental characteristics of this include, critical thinking, rationality and flexibility, as well as the cultivation of respect for cultural diversity, tolerance and co-existence. This approach aims equipping students with the virtues and skills that will allow them to adapt smoothly to the modern, multicultural environment.
WHAT THE SCHOOL SAYS
What are your strengths?
Emphasis in Language.Teaching is delivered in French (the official language of the European Union). However, the students can choose between two streams: entirely French and bilingual. The bilingual stream offers instruction in both French and Greek. At the same time, students learn English, and from the age of 12 onwards, they also have the option of studying German or Spanish as additional languages.
Globally Recognized Diploma and Baccalaureate. The French school certificate (Baccalauréat) is recognised worldwide and allows access to all universities in France and abroad. In France, Higher Education is provided free by the state.
Do you have open days? This year the schools open day was on 13/11/2017
Can parents visit during school days? Yes, upon appointment
Does parent association have a role or say in decisions? Yes, the parent's  association is responsible for the financial part of the school
Is apolytirion given to students? The students acquire the French baccalaureate diploma in the end of high school equivalent to the 'Apolytireion'.
WHAT THE PARENTS SAY
What do you like about the school? In what way(s) has the school been good for your child?
GIOTA ROUSKI: "As a parent I need to feel connected to the goings on at school as communication is key to my child's wellbeing and education. I want my children to enjoy school and to hopefully see that enjoyment when they come home".
STATHIS HADJIPHILIPPOU: "The thing I like about the school is that is a mixture of different nationalities and my children learn to be with others and share with others. I look for their school to support growth in social skills and to promote values of respect and tolerance. As my children start school I think it is important that as parents we know feel that the school is able to create and safe environment, in more ways than one"
CONTACT INFORMATION
Address: 20 Konstantinou Kavafi, Aglantzia Nicosie
Chypre  P.O. Box 22091, 1517 Nicosie
Email: [email protected]
Tel (Admissions): Athanasiou Mandalena – +357 22 665318
Fax +357 22 665318
Office hours: 07:45 -16:15
Website: www.efcn.info