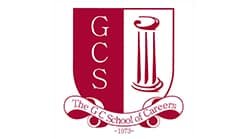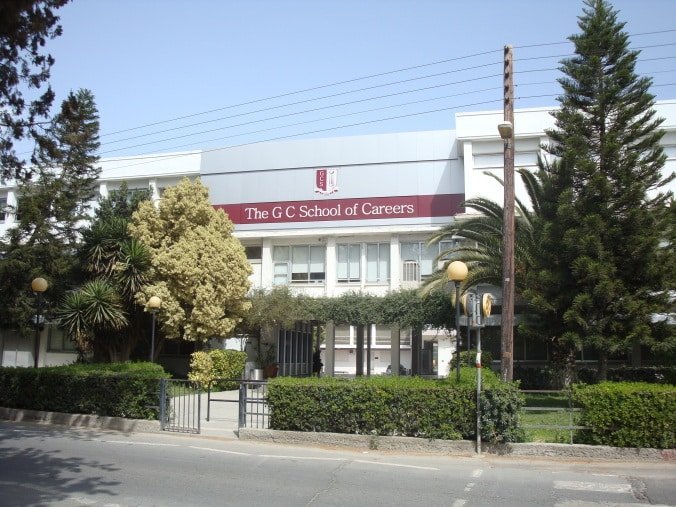 Established: Secondary school: 1973, Nursery and Primary school: 2010
Language: Pre-Primary, Primary and Secondary education
Type: Primary and secondary school
Age range: 3 to 19
Students: Primary 196, Secondary 600
Cypriot/Foreigner ratio: The majority are Greek Cypriot
Principal/Head: Primary: Ms. Panagiota Kalogirou, Secondary: Despo Pambori
Student/Teacher ratio: 6.5/1
Mission: Primary: Our mission is to provide quality education in a safe environment, to empower children in acquiring, articulating and valuing learning, to foster each child's well-being as a foundation in the development of strong, multifaceted personalities, and to cultivate independent and critical thinking skills.
Secondary:To give students the opportunity to acquire a solid education and excel academically, and enable them to develop intellectually and culturally.
ADMISSIONS
Admissions policy Primary: Admission into Primary Form 1 is by personal interview. Admission into Elementary Forms 2-6 is through placement examinations in Greek Language and Mathematics.
Admissions policy Secondary: School entrance examination for form 1, school placement exams for all other forms
Scholarships for secondary school:
One full scholarship and four half scholarships based on entrance exam results; 5 partial scholarships based on overall year assessment
Tuition fees (2017-2018): Primary EUR 6.200, Secondary EUR 7.700
CURRICULUM:
Primary: Curriculum prescribed by the Cyprus Ministry of Education and Culture, with advanced lessons in Greek, Mathematics, and English and specialised classes in Computing, Robotics and Chess.
Secondary: In Forms 1, 2 and 3 English Language, Modern Greek, Mathematics, History, General Science (Chemistry, Biology and Physics), Geography, ICT, Art & Design, Music, Religious Studies, Physical Education and French (Forms 2 and 3). In Forms 4 & 5 the curriculum includes 8 IGCSE subjects, and in Forms 6 & 7 4 A-level subjects.
Languages: English, Greek, French, German
Type of exams: Cambridge English (Elementary), IGCSE, A levels
Primary: End-of-year school exams and external exams (Cambridge English) for Elementary Forms 4-6.
Languages: Greek, English
EXTRA-CURRICULAR
Clubs:
Primary: a wide selection of afternoon clubs to support all children in discovering their interests and developing their talents and strengths. The current club selection includes Music, Football, Drama, P.E., Arts & Crafts, Science & Discovery, Dance, Board Games, Cooking, Basketball, Table Tennis, Wall Climbing, Journalism, Creative Computing and Team Building Games.
Secondary: The School offers more than forty afternoon Clubs which focus on aspects like personal interests, career interests, community service and entertainment. Most School Departments run their own Clubs which encourage knowledge beyond the material taught in class. Many GCS students are also involved in various European and international programmes such as the European Youth Parliament, Model United Nations, the London International Youth Science Forum and the Oxbridge Academic Programmes.
FACILITIES
Primary: Laboratories: Computing, Robotics, Art Room, Music Room
Secondary: The school facilities include fully-equipped Physics, Chemistry, Biology and Computer Laboratories, a Library, Art & Design Rooms, an Auditorium, indoor and outdoor sports grounds and a multipurpose Cafeteria. The GCS Radio Station broadcasts locally and it is run by the student members of the GCS Radio Club.
POLICIES
Classes: 07:35-13:40, Afternoon Clubs or Supervision for primary school until 15:00
Exams: Primary, forms 4-6 – Final Exams in Greek, Mathematics and English
Uniform: Mandatory for all students
Parents' association: Membership is open to all parents. The Annual General Meeting and Elections are held in October.
Student support (Secondary school): The Careers Counsellors, the School Psychologists, the Heads of Departments and the Heads of Year work closely with the School Management to help all students cope with any adversity and improve their overall performance. Most Departments offer their students support sessions after school hours.Two Career Counsellors offer the best possible assistance to students in matters concerning opting for subjects in various Forms, making career-related decisions and setting students on the right track for successful further studies and subsequent professional careers.
HISTORY
Founded in 1973, the School provides high quality secondary education in a supportive and disciplined learning environment. Both the academic and extra-curricular programmes encourage and guide students to excel academically, develop their critical, analytical and transferable skills, and become all-round personalities characterised by self-confidence and broad-mindedness. The achievement of this aim is ensured through continual supervision of each individual student. In 2015 the School Management introduced The GCS Mathematics School and The GCS Sports School, both aiming to develop talented students' special abilities and enable them to acquire new skills.
WHAT THE SCHOOLS SAYS
What are your strengths?
The primary school continues the long tradition of excellence in learning and teaching began by The G C School of Careers, secondary school in 1973. Adopting Greek as its primary language of tuition, the School enriches the national primary curriculum with additional lessons in language and maths. Special focus is also placed on English lessons, eliminating the need for extra private lessons in the afternoon. Specialized lessons in Computing, Robotics, and Chess as well as an array of extracurricular options complete a uniquely designed, well-rounded curriculum. Beginning in 2017, the School has pioneered the use of iPads in the learning experience as part of Apple's 1-to-1 educational programme. Form teachers are carefully selected for their skill, experience and training while subject specialists are appointed for English, Music, P.E., Art and I.T. classes.
Can parents visit during school days? Prior to registering for an admission interview or placement exam, the parents of all prospective students have the opportunity to book an informational meeting and tour of the grounds with the school principals.
Is apolytirion given to students? Students who successfully complete the course of studies in Form 7 are awarded School Leaving Certificate (Apolytirion). The GCS Apolytirion is fully recognized by the Cyprus Ministry of Education and Culture, foreign academic institutions and all local employers. Many university offers are made to GCS students based on their Apolytirion mark.
CONTACT INFORMATION
Primary school:
Address: 6-8 Terra Santa Street, Strovolos, 2001
Tel: +357 22 464420
Fax: +357 22 314308
Email: [email protected]
Administration Office: Monday and Thursday: 7:00-16:00; Tuesday, Wednesday and Friday: 7:00-18:00
Secondary school:
Address: 96 Steliou Hadjipetri St, 2057 Strovolos
Tel: +357 22 464400
Fax: +357 22 356468
Email: [email protected]
Facebook: facebook.com/TheGCS
Office Hours: Monday- Friday: 07:00-18:30
Website: www.gcsc.ac.cy