Xenion High School, Xenion Junior School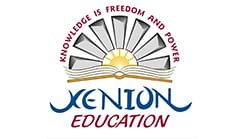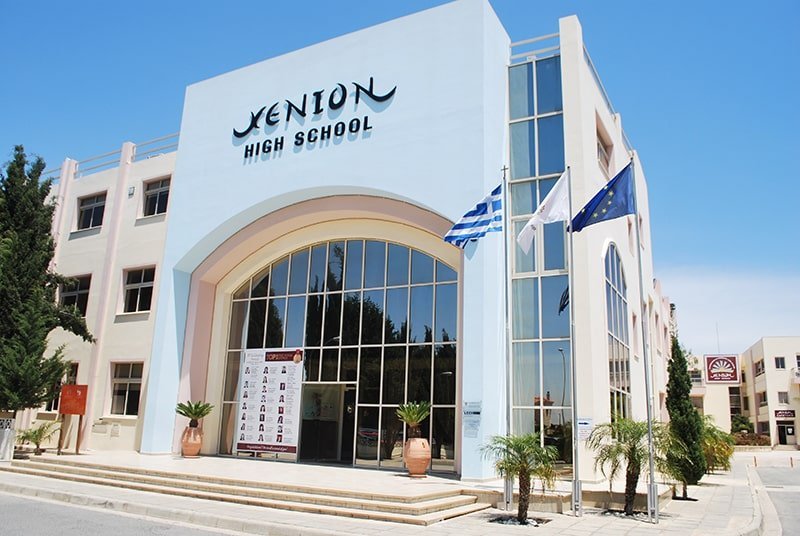 Established:  High School: 2001, Junior School: 2014
Language: English and Greek
Type: Pre-Primary, Primary and Secondary
Age range: 3 years and 8 months to 18 years
Students: Junior School more than 150 (including pre-school); High School 450
Cypriot/Foreigner ratio: 12:1
Principal/Head: Junior School: Xenia Phylactou Monoyious; High School: Katelitsa Zouvani Phylactou
Student/Teacher ratio: 9:1
Mission: To promote, through education of the highest quality, the values, skills and characteristics that should distinguish the new European citizen. To help students to develop their abilities to their fullest extent and produce graduates who are aware of the new realities and, being well adapted to the modern, technological world, are able to take their place anywhere in the world while still retaining their national identity.
Governance: N/A
ADMISSIONS
Head of admissions: George Phylactou
Admissions policy: Entrance Exams in English, Maths, Greek (for Greek speakers) For Junior School, see website
Scholarships: Yes, dependent on results in entrance exams
Mid-term entry: Yes, with satisfactory score in entrance tests
Applying from abroad: On-line application, entrance tests on arrival
Tuition fees: High School: €5,650 to €6,300. Junior School: €4,300 to €4,800
CURRICULUM
Junior School: Blend of Cypriot  curriculum and British Key Stages 1 and 2;
High School: UK and Greek curricula
Type of exams: High School: 2 in-school term exams each year. IGCSE, AS Levels, A2 Levels year, IELTS in year 7. Also individual private preparation for SAT, Test DAF, DELF, TOEFL etc if requested.
Languages: Junior School: English, Greek, Russian, German; High School: English, Greek, German, French, Russian
Sports: Dance, fitness, games, gymnastics, football, volleyball, basketball
Music: Yes
EXTRA-CURRICULAR
European Youth Parliament (EYP), MEDI.M.UN (Model Mediterranean United Nations), CYP (Cyprus Youth Parliament), Duke of Edinburgh International Award, MERA (young researchers), Drama – full productions with all crafts.
Clubs: Computing, Chemistry, Physics, Biology, Business, Robotics, Art, German, Russian, Greek poetry, English Poetry Workshop, Dance, Drama, Raising and Giving (fundraising) Basketball, Volleyball, Table Tennis, Football
FACILITIES
Laboratories: Biology, Physics, Chemistry, ICT
Sports facilities: Volleyball and Basketball courts, futsal (5-a-side) pitch
Library : Yes, Greek and English books, non-fiction, fiction  and classics
Bus service: Yes
POLICIES
School hours: 07:30-13:45 Mon, Tues, Thurs, Fri  07:30-14:00 Wed
Uniform: Yes for both schools
Parents' association: Yes
Student support: Yes
HISTORY
Xenion High School was established in 2001 and was the culmination of more than 20 years of hard work and development of expertise in education. The school has an excellent academic record with Xenion students among the best in the country, or even the world, every year.  100% of our year 7 students secure places at universities in Cyprus, Greece, the UK, the US and Europe. The Junior School was opened in 2014 in response to demand from parents for a private primary school in the area and since its opening the roll has grown by around 25% each year.
WHAT THE SCHOOL SAYS
What are your strengths?  School ethos, high quality of teaching, outstanding campus and facilities, personal care and understanding, strong record of academic excellence (Cambridge Awards for Outstanding Learners etc.)
Do you have open days?  Yes
Can parents visit during school days? Yes
Does parents' association have a role or say in decisions?  Yes
Is Apolytirion given to students? Yes
WHAT THE PARENTS SAY
What do you like about the school?  In what way(s) has the school been good for your child?
STAVRIS ATTOUNI: I am a mother of two students, one has already graduated and the second one is in the third grade of XHS. Xenion High School was our best choice because it provides a high level of education with a personal touch, very good teachers and school managers, excellent opportunity for university studies but most important the development of a student's future character. Apart from the exceptional educational level, Xenion High School contributes in many different ways to the community. In addition it encourages and promotes voluntary work, therefore making students better citizens.
GINA MANOLI: What I like most of all is the high level of cooperation and communication and the great relationship between parents and teachers. I also like the fact that there is such a mixture of children from different countries and backgrounds but they all get on as if they had known each other all their lives. The school is so bright and busy; the teachers are great and the lessons are interesting. They make learning fun and the children really love going there. I'm so glad I brought my children here.
I have a son and a daughter at Xenion Junior School. They have made lots of friends and have become confident learners. I'm sure that the work they are doing at junior school will prepare them really well for high school. They have learned and done all sorts of things that they would never have experienced in most other schools. Their English has improved tremendously and their curiosity about the world has been awakened.
CONTACT INFORMATION
Address: 55 1st April Ave., 5281, Paralimni
Tel: +357 23 811080
Fax: +357 23 730438
Email: [email protected]
Office hours: Monday-Friday: 07:30-15:00
Website: www.xenioneducation.com