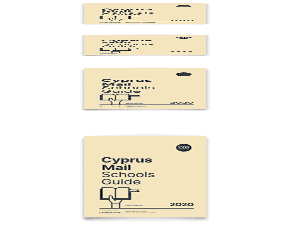 Where do you live?
In Aglantzia, Nicosia
Best childhood memory?
A trip I had to Malta when I was 12 with my parents. We were filming/shooting the landscapes, the small towns and the monuments. I loved it because it is a very graphic, with a character of its own, a little island in the Mediterranean sea.
Most frequented restaurant and absolute favourite dish? What food would you really turn your nose up to?
Havana bar and restaurant in Nicosia. I like it for no specific reason other than it's mine and my friends "summer spot". My absolute favorite food is 'Makaronia tu fournou' and the food I would really turn my nose up to are peas and any kind of liver.
What did you have for breakfast?
Nothing. Too busy!
Would you class yourself as a day or night person? What's your idea of the perfect night/day out?
Night person. My ideal night out would be taking pictures of Cavo Greco at sunset and twilight and then when night comes have a great swim in a beach at Ayia Napa.
Best book ever read?
What did you do in Volos little Costas? It's a Greek teenage book that I really like and that unfortunately right now I can't remember the author's name.
Favourite film of all time?
Dark Knight-Batman 2 with the legendary Heath Ledger and Christian Bale!
Favourite holiday destination (or best holiday ever taken)? What's your dream trip?
Akamas for camping. But my dream trip would be in Los Angeles for one reason: Is it really how we see it in the movies?!
What music are you listening to in the car at the moment?
I always listen to Kiss fm radio here in Cyprus because I like the music they put "from the '80s to today".
What is always in your fridge?
Chocolates. A lot of chocolates!
Dream house: rural retreat or urban dwelling? Where would it be, what would it be like?
Rural retreat for sure! It would be in Stroumpi (village in Paphos district) and it would be a three-floor house with a big swimming pool AND an immense orchard .
If you could pick anyone at all (alive or dead) to go out for the evening with, who would it be?
Ayton Senna (F1 champion) because he is my hero!
If the world is ending in 24 hours what would you do?
I would take a lot of pictures of the twilight, dawn and sunset. Haha.
What is your greatest fear?
Heights
Tell me a joke…
A man that has a pair of LEFT legs goes in a shop and asks for some flip-flips!
5th Cypriot Directors Film Festival-Under the Stars
Organised by The Directors Guild Cyprus in collaboration with CyBC. Supported by the Ministry of Education and Culture. September 12 – 15 at the Constantia Open Air Cinema, Nicosia 8:30pm and September 13-16 at the Derynia Folk Art Museum, Derynia, 8:30pm. Entrance to all screenings is free. [email protected], Tel: 99 694407or 99 629257