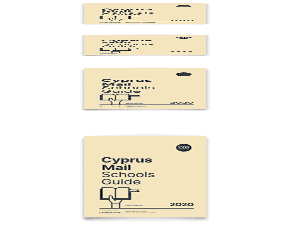 By Alexia Evripidou
What do an American writer from Massachusetts and the plight of women during the 1974 Cyprus invasion have in common? Answer: a feature length film, Eleftheria, Woman of Cyprus. The film, still in pre-production, is the brainchild of writer Matthew Stowell, an American who is married to a Canadian Cypriot who has lived in Limassol since 2005.
The film, which is based on several different true stories, is a powerful drama about a Cypriot mother, Eleftheria, and her 29-year search for her missing son, Spiros. Matthew explains: "Eleftheria is a participant in a very real way in all the significant events of modern Cyprus history: the rebellion against the British for independence in which she loses a brother and husband; the inter-communal struggles between Greek and Turkish Cypriots; the Turkish invasion of 1974 in which her 17-year-old son is taken by the Turkish army, tortured, sent to a prison in Turkey and 'disappeared'; the systematic and brutal rape of all the women of the village (including Eleftheria)".
Matthew came up with the film idea in 1998 during his first visit to Cyprus, where he was taken to the Ledra Palace by his Cypriot wife. There, he met several Cypriot women with banners looking for answers about their missing sons or husbands. Some of the women were on a hunger strike. So taken was he with the cause, that Matthew and his wife joined in, supporting the women with a three-day hunger strike; living only on water, coffee and cigars. His intention: to show his solidarity to these woman as an American who was beginning to understand the pain and journey of the people in this country.
This triggered his in depth research of a multitude of true horror stories belonging to women who had lost loved ones, been raped and had missing family members. He covered all angles and perspectives from both sides of the equation and gradually combined them into one voice, that of Eleftheria.
Beginning his writing career as a journalist in Chicago, Matthew worked as a performing arts critic and went on to write for newspapers and magazines in San Francisco, Boston, Virginia, New York and most recently Cyprus. He has written a series of mystery novels under the pen name of Alexander Lowell. The first Roll Away the Stone was successfully published in 2010 and the second in the series, Blind Faith is coming out in 2015.
With his self declared "sensitivity to injustice", Matthew believes that the stories about Cyprus need to be shared with the world. Even as a 17-year-old boy in 1967, studying to become a medic in the USA army, he couldn't accept injustices. His time as an army medic exposed him to the harsh realities of the Vietnam War through the patients he was treating. The contrast between what he heard from these soldiers to what he was seeing in the media propelled him to action. He joined the anti Vietnam War movement, while still in the army. It was not easy and eventually he deserted the army for a new life, a life ultimately of literature. Even as a young soldier, Matthew always had a passion for stories.
He's very well read in the Greek classics and poetry, but his knowledge of Cypriot history and culture was limited until he married his wife in 1997. Over time, this grew. So much so, that he now wants to help others around the world understand Cyprus' history through his film. "People here may think that everyone in the world knows about Cyprus' history, but they don't. This film could really make a big difference. It can help raise global awareness about Cyprus," says Matthew. One of the characters in the film is an ignorant American detective who helps Eleftheria in her search for Spiros. Matthew explains how he is not her saviour but through the search, the detective learns about the historic problems and in turn helps viewers understand Cyprus' complicated history.
The screenplay has gone through many drafts over the years and Andrew Horton, an award-winning screenwriter and author of over 20 books on film and screenwriting, declared that "the script was in the top 15 per cent of all those he has had the opportunity to judge on a professional basis over the past 30 years". Determined to make this movie happen, Matthew tracked down and sent the script to fellow Massachusetts resident, Oscar winning American-Greek actress Olympia Dukakis. A couple of days later, he received a personal call from Olympia stating that she was very interested in the script.
As well as well known American talent, Matthew is keen to use the very best local talent from Cyprus as well as the UK. Popular Cypriot actors, Christopher Greco and Dimitris Dimitriou are on-board the project, and American Cinematogapher Stephen Kazmierski (from the films Transatlantic, Happiness and You Can Count on Me,) is considering directing the film. Which is all fantastic news, but there is always the issue of money.
For the project to now become a reality, substantial funds need to be raised. On November 29, Matthew launched a campaign on the crowd funding website Indiegogo to help raise the $500,000 needed to get the film on its feet.
"Once a certain amount has been raised, there are other investors willing to help fund the rest," he explains. "We want to start to raise the money ourselves, without government interference, so we can have complete creative control over the piece. We want it to be in English, as English is an international language and will therefore make it accessible to a larger audience".
As part of the Indiegogo campaign, the project offers donators rewards, depending on how much money is donated. For $25 you can receive daily access to the production diary, for $100, you can receive access to the production diary, script pages plus and download of the final film and so forth. The project is available to fund on Indiegogo until January 28 and every cent matters. "Even ten euros makes a difference," says Matthew.
For further information on the film or to contribute, go to https://www.indiegogo.com/projects/eleftheria-woman-of-cyprus-film-project