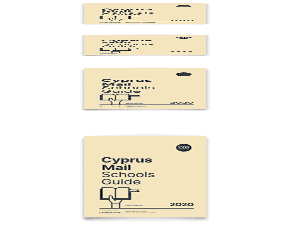 The majority of Greek Cypriot students still study in Cyprus, Greece and the UK, but there are more and more choices opening up for studying in other countries.
Taking into account the growing number of programmes in English worldwide and the need to keep costs low, consultants and universities offer a wide range of possibilities, and students who take them up usually have a good time.
"In general, the universities in the UK are still the well-known ones but this is changing," Adonis Americanos, president of Cyprus association of educational consultants said. "For example in Lithuania there is a very well known medical school. So as time goes by and people have more info this is changing."
Americanos believes the UK is still a preferred destination because of the loans for fees available to students, especially as there are now also loans for postgraduate studies in addition to the undergraduate ones.
"Also," he added, "my prediction is that most Cypriot students will not have to pay back the full amount as they start to work late and don't earn so much. The threshold for Cyprus is a bit high – they start paying at a yearly income of £21,000 (€27,000). If this is lowered, than things will change."
In addition, he pointed out that "students are more open to studying in other countries than before because of the cost of living and the tuition fees due to the economy but the numbers will remain low as long as the loans exist in the UK. Also the problems in Greece have changed things and that's why students study in other countries."
Director of LMC educational services Lefteris Colocassides agrees that the student loans in the UK make it popular, as in the past public universities in Cyprus and Greece were popular because of the low cost and the fact that the programmes are in Greek.
The entrance of Cyprus into the EU encouraged Cypriot students to search for new destinations in Europe, not only because of the cost, but also for the experience, for working and learning new cultures, Colocassides added.
"Some of these new European destinations which can offer them a good quality of education with low cost, are destinations like Czech Republic, Bulgaria, Hungary, Germany, Holland, Sweden, and Finland, to name just a few. Most of these destinations can offer their programmes of study in English," he said.
One of the countries his company recommends is in the Czech Republic.
"For example, Prague is one of the most beautiful European capitals and centrally located so students can move around Europe. There is quality education at good prices especially compared to the UK. You can find programmes which are accredited by the UK and the US.
"Students get small class sizes and critical-thinking based education," Colocassides said, "and they can find programmes in English."
Stelina, who studied medicine in Prague, said she greatly enjoyed her studies there. "First of all I applied because I was not accepted in UK but also because in Prague I could study in English and I already did all my A-levels in English. So far all my employers are very happy when they hear where I have studied," she added.
Nicosia-based consultancy Eurostudies offers a choice of medical schools in 23 countries.
"We send students to countries other than Greece and UK because you can find quality, top ranked universities at low cost in other countries," George Kaskalias, counsellor at Eurostudies said, "the students usually have a good experience as student life is exiting.
"Employers don't just want students from Greece and the UK, they prefer those who are innovative and think out of the box, those who are different."
Students who choose such countries set out to have a different experience. "I wanted a chance to go abroad to experience a different culture other than the UK, to get to know another European country and language. I applied to both Holland and Denmark and I also looked at MA degrees in other European countries but only for English speaking programmes," said Evie Andreou who studied in Denmark. "I believe that unless you go to the Ivy league universities like Cambridge or Harvard it doesn't actually matter to employers which country you have been to. It depends on the individual person's skills."
Indeed, the highest concentration of universities with English as the language of instruction is in Denmark, where 38 per cent of university programmes consist of English-taught courses. In the Netherlands it is 30 per cent, in Sweden 24 per cent and in Finland 23 per cent, according to a study by the organisation StudyPortals.
The proportion of English-taught courses in Germany is just under six per cent of the total programmes available. In France and Italy it remains a much lower proportion, about three per cent. And in Turkey it is lower still at about two per cent, according to their report.
There are reasons even to study in those countries with a small amount of English programmes.
Maria Hinni, 30, completed her studies in Istanbul where she was able to do a masters in a subject which was not available anywhere else, which was also offered in English. "I would do it again, Istanbul is an amazing city," she said.
While there are limited courses available in English it is usually possible to follow a language learning foundation. Nada Papaeftychiou of the Institut Francais de Chypre says it is worth learning the language as French is a working language of many organisations, such as the UN and the EU. France is another example where quality programmes are taught for low fees. "Bachelor degrees are €182 per year, masters €255 per year and PhDs €390 per year," she said, "and students from all countries have the same benefits, for example housing assistance and health insurance."
Apart from great number of destinations in Europe, there are locations further afield such as Canada, which also has its advantages. "Although it is rather far from their homeland Cypriot students choose Canada because of the quality of the education," Timothy Papadopoulos, secretary of the Canadian Universities Alumni Association said.
And according to Rhea Pelides from the Canadian consulate, Canada offers this quality education at affordable prices. Comparing costs, overall it is less expensive than both the UK and the USA, though more expensive than France.