IN THE END it was just as well the Cyprus Republic was not invited to Geneva because it was not needed. It saved the taxpayer an extra hotel bill and air fare and its absence gave the majority of the rejectionists a patriotic excuse not to attend the opening ceremony of the conference, which was just as well because they may have acted inappropriately.
This responsibility was left to Greece's foreign minister Nikos Kotzias, who was openly disrespectful to the new UN Secretary-General Antonio Guterres in front of everyone at the conference. The Portuguese UN chief was reportedly so incensed with him he informed Athens that he did not want him back in Geneva.
Our rejectionists, however, have found a new national hero in the rotund, red-cheeked foreign minister and have done nothing but sing his praises and extol his patriotic virtues since he singlehandedly stopped the conference and pissed off everyone there, including Prez Nik, one of whose aides likened Kotzias' antics in Geneva as those of a "one-man circus".
But for Junior and the rest of the gang anyone who manages to piss off the Brits, the Turks and the UN in one go deserves immediate entry into the Pantheon of Untouchable Cyprob Heroes alongside Tassos, Spyros, Makarios etc.
They were all expressing their gratitude to the big diplomat of Hellenism on Friday and Saturday as he had given them hope that he could blow up the peace process and see off the danger of a settlement for good.
HIS PERFORMANCE in Geneva was a throwback to the antics of Greece's narcissistic finance minister Yanis Varoufakis at the Eurogroup meetings a couple of years ago. Varoufakis' shameless self-promotion may have secured him invitations to TV chat shows all over the world after his resignation but it cost bankrupt Greece an additional 10 to 20 billion euro.
Kotzias was on a similar ego trip in Geneva, boasting about his achievements as foreign minister and talking as if he was running the show. It was clear that he had just one thing in mind – to break up the conference – and he achieved it, to the joy of our rejectionists who were able gloat about its failure.
The same guys now worshipping Kotzias were active members of the Varoufakis fan club, lambasting our government for not following his tough, assertive policy in its dealings with the troika. Once he had driven Greece deeper into the shit they stopped talking about his assertiveness.
But in the case of Kotzias they are in a win-win situation because the deeper he drives the Cyprob into the shit the happier they will be.
WHY DOES Kotzias want to prevent a settlement, asked one of our regulars yesterday. Geneva was not his first attempt to derail the peace process. A few months ago he declared that Greece would not attend an international conference without prior agreement to abolish the system of guarantees, which meant the conference could never take place.
Was he doing this to please Mother Russia, which is openly opposed to a settlement? Kotzias, a Stalinist and long-time member of the Soviet-controlled Communist Party of Greece has never hidden his pro-Russian feelings or links with extremist Russian nationalists. But how can a commie ideologue still have a political affinity with Putin's capitalist Russia?
The answer is very simple – his pathological hatred of the West that was instilled in him from a young age. It is a hatred shared with our own local, die-hard Stalinists who also still worship Mother Russia – old style Akelites like comrade Tof and Nicos Katsourides. Tof and Kats would always campaign against a settlement because it is supported by the West as a matter of principle.
Kotzias' reasons for opposing a settlement may have nothing to do with Russia. He may have realised that a hard-line stance on the Cyprus would not only endear him to nationalists but would also help him lose weight without stopping his habit of eating too much.
SO PROUD was the state broadcaster of itself for sending five hacks to the Geneva conference that it took out a newspaper ad to inform the world of the earth-shattering news about "Rik at the heart of developments in the Cyprus problem."
The advert featured a picture of each reporter that would bring us all "statements, events, implications, behind-the-scenes activity" and finished with the punch-line in bold capitals: "The biggest journalistic mission from Cyprus in Geneva." It was such a pathetically childish boast, it made you wonder whether the campaign was thought up by a 10-year-old that thinks he is better than his friends because he has more toys.
Rik's advert failed to mention that it was sending the biggest number of hacks because it is funded by the taxpayer to the tune of more than €20 million a year and does not have to worry about money like other news organisations. It can waste it any way it wants and boast about it with newspaper ads.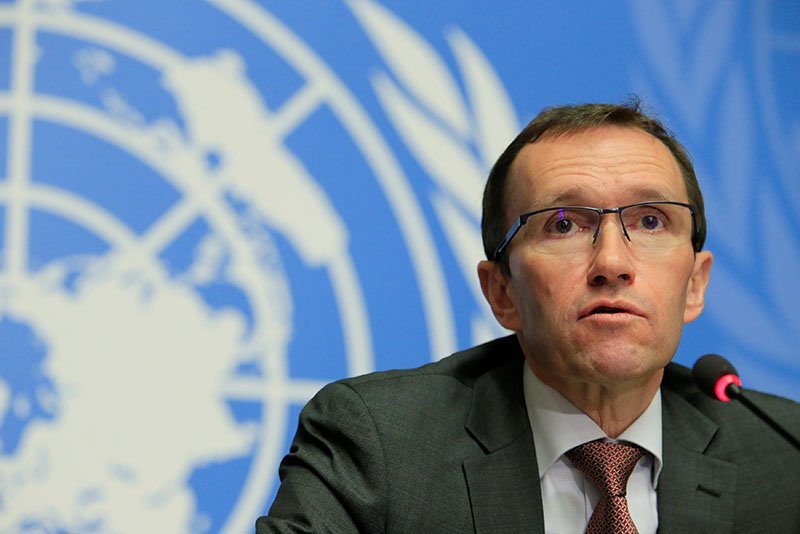 A MEMBER of the biggest journalistic mission from Cyprus showed us that where there is quantity there is quality (I may have got that wrong) by asking Espen Barth Eide the stupidest question he heard at any of the news conferences he gave in Geneva.
On Wednesday, Stella Michael asked: "There is confusion about who convenes the conference because of a statement you made on Monday referring to the two leaders. Would you like to clear up to us who convenes the conference for the security tomorrow?"
It was the Illuminati from what I heard, but Eide could not reveal this so he said: "The UN of course, we are in the Palais de Nations, as you may have noticed Stella. We are here and the Secretary-General is coming tomorrow and I work for the Secretary-General and we convened the conference and nobody else."
WHO COULD have thought that the Geneva conference would have been organised around the sleeping needs of Prez Nik? It was as were the talks in Mont Pellerin. There was always a morning session which may have dragged on beyond lunch-time, but there was never an afternoon session because there was a long break.
It would be followed by an evening session usually beginning at 6 or 7pm which often went on until quite late. This was so that our Nik, who is an early riser (5am apparently), could have his two-hour afternoon nap, without which he reportedly becomes bad-tempered, uncooperative and aggressive.
Having to deal with sleep-deprived, stroppy Nik was the last thing the UN would want.
The afternoon turbo-power nap has its drawbacks. It was while Nik was asleep that Kotzias wreaked havoc in Geneva by unilaterally announcing the break in the conference. He had also used a sleep-related argument, to back his demand for calling off the conference. He was suffering from jet-lag and needed to rest he told reporters – that 100-plus participants at the conference would have gone to Geneva pointlessly was of no concern to the jet-lagged minister.
FREEDOM warrior Dr Eleni Theocharous made her grand exit from Geneva before the conference had even begun, leaving on Thursday and taking her errand boy, Solidarity deputy Michalis Giorgallas, with her. Her patriotic reason for doing this was that she did not approve of the map handed by Prez Nik to Akinci on Wednesday evening.
She said that she told the national council meeting that was shown the map, "I cannot accept the handing of Greek land to Turkey." Why had she gone to Geneva? Was she under the impression that Nik's map would have proposed that all Kyproulla territory would be under Greek Cypriot control?
Rumours circulating among hacks in Geneva were that she had urgent business to attend in Brussels, but could not have left for such a reason so she came up with the map excuse. I do not know if there is any truth in this because Friday lunch-time she was in a TV studio in Nicosia.
What our establishment heard was that she left for economic reasons. She had arranged for Giorgallas to accompany her to Switzerland, but only later found out that the government would only pay for one hotel room for each party. She therefore had to book another room at the Intercontinental Hotel for €300 per night for her errand boy and pay out of Solidarity's non-existent party funds.
HAVING forked out €1,200 until Thursday morning to have Giorgallas with her, she reportedly decided to cut her losses and leave because she did not approve of the map. She was in for another shock when she was settling her bill as she was informed that the government was only paying for rooms and not for the mini-bar, food and other expenses charged to the room.
Dr Eleni's bill came to a reported €700 which she had to pay out of her own pocket. She probably could claim this back from the European Parliament. It was shocking that Nik was so stingy, inviting the party leaders to Geneva to leak confidential documents to the media but making them pay for their food and booze.
Junior was apparently protesting about the high cost of living in Geneva, a bottle of water costing €4. Next time he goes he should ask for more pocket money from his mum.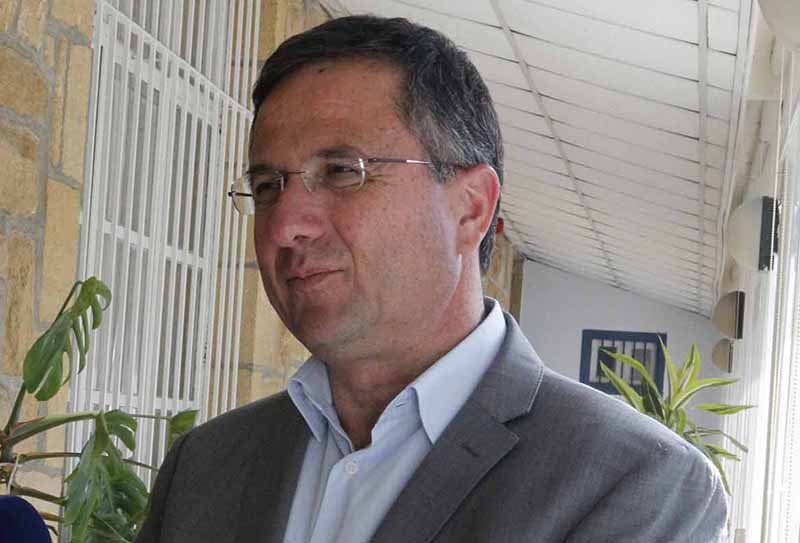 THE FIRST leak by the national council was attributed to the insufferable Perdikis on social media and the tree-hugger felt obliged to respond. Being as sensitive to personal criticism as he is about the environment, he responded to those accusing him thus:
"I would like to make clear the following: a) I am not in Geneva for tourism. I can see the sites of the city in photographs. I am here to defend the positions of the Environmental Movement for a just and viable solution to the Cyprus problem. b) I am nobody's flower-pot. As much as I can I will honestly express my view to the president and his associates as well as in public. c) If the president does not like it, if he wants, he can get rid of me. The airport is next door."
He was being defiant because he knew no airline would allow an unaccompanied flower-pot on a plane.
OUR LEADING daily Phil should be renamed The Negative given its coverage of the Cyprob in the last 20 months. Such unrelenting negativity is almost heroic. It also no longer conceals whose side it is on.
On Tuesday night there was a bi-communal gathering at the Cetninkaya stadium to offer its support to the two leaders at the talks. Phil's Wednesday issue reported "Tens of G/c and T/c expressed their support to the efforts for the re-unification of the island." People who were there said there were at least a six or seven hundred people.
On Thursday night there was a demonstration outside the presidential palace protesting against the Geneva talks. There were just a few dozen protesters, certainly a lot fewer than at the peaceniks' demo, but no number was given in Phil's report, because it did not want anyone to know that only a tiny number went to the anti-settlement demo.
It had even gone against its negativity philosophy to protect the rejectionists.