President Nicos Anastasiades on Saturday met in Lisbon, Portugal with Greek Prime Minister Alexis Tsipras for the first time since the Geneva conference on Cyprus and discussed the issues of security and guarantees.
Anastasiades and Tsipras met on the sidelines of the summit of the Mediterranean European countries (Med Group), in Lisbon," government spokesman Nicos Christodoulides said in a statement on Saturday.
"During the meeting, President Anastasiades informed the Greek prime minister of the latest developments in the Cyprus problem and exchanged views on the current state of play in the talks, with particular emphasis on issues of security and guarantees, as well as Turkey's unacceptable demands for concessions regarding the four basic EU freedoms for Turkish citizens in reunified Cyprus, within the framework of solving the Cyprus problem."
Christodoulides said the two also discussed issues relating to the agenda of the summit of leaders of the seven EU Mediterranean states and other European issues.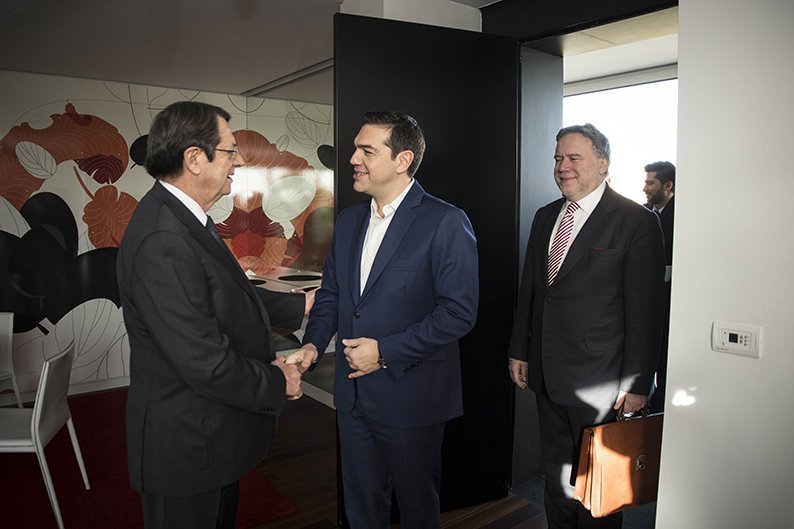 Later, the president addressed the summit informing delegates on the state of play with regards to the Cyprus negotiations.
"The president referred in particular to the EU's presence at the conference in Geneva and the expressed position of both the EU and other member states, that the most effective guarantee for the safety of an EU member state, is its being a member state," the spokesman said.
The position of Greece and the Greek Cypriot side is that the 1960 Turkish guarantee should be abolished but the Turkish side does not want to give them up.
Anastasiades also touched on specific issues discussed at the negotiating table directly related to the status of Cyprus as an EU member state, which directly affect not only the Republic and the EU itself, but all member states.
Specifically, he discussed at length the requirement of the Turkish government, contrary to EU Treaties, for Turkish nationals to enjoy within the framework of a solution of the Cyprus problem, the four basic freedoms of the EU, in a reunited Cyprus. The four basic freedoms are freedom of movement, goods, services and capital within the bloc.
Anastasiades said last week a solution based on such parameters would be 'unthinkable'
In his address, the president also referred to issues related to decision-making, and the need for a reunited Cyprus to continue to be an active and effective member state, as well as the strengthening of the role of the Republic as a pillar of stability and security in the Eastern Mediterranean after a solution.
Referring to the agenda of the summit, Anastasiades noted, among other things, that answers needed to be given to the genuine concerns of EU citizens on issues such as unemployment, social development and social protection, the restoration of a sense of security and the safeguarding of the perspective future of the younger generations through education and creation of new jobs.
After the summit, a joint declaration stated: "We reiterate our support to the ongoing process for the reunification of Cyprus, without guarantees, in line with UNSC Resolutions and the EU acquis and under the leadership of the new Secretary-General of the United Nations. We recall that the Republic of Cyprus is and will remain a member of our Union after the Settlement, and that EU membership is the best safeguard for a reunified Cyprus."