It's hard to tell who is trolling whom online these days.
It seems agriculture minister Nicos Kouyialis fell victim to 'fake news' on Thursday when, fooled by a false tweet, he lauded the US President for his love of halloumi cheese and Cyprus.
The fake post, which included the correct handle for the US President (@realDonaldTrump) was evidently photoshopped.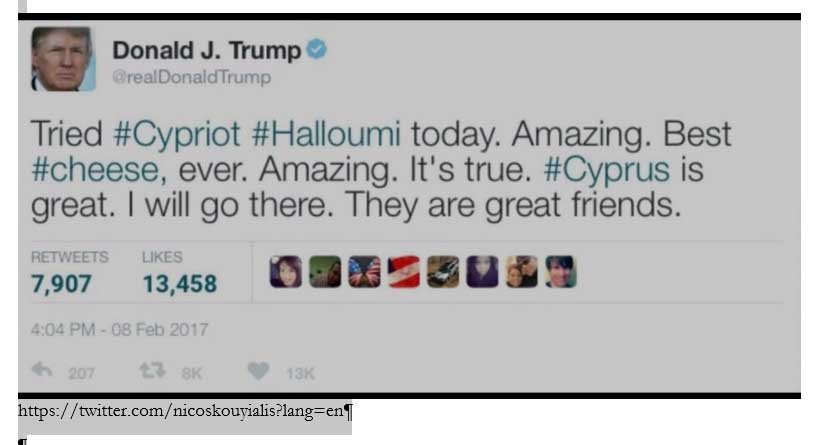 It read: "Tried #Cypriot #Halloumi today. Amazing. Best #cheese, ever. Amazing. It's true. #Cyprus is great. I will go there. They are great friends."
Reacting, Kouyialis posted on his Twitter account: "Bravo, Leader of the Planet! Even @realDonaldTrump eats #halloumi cyprus is great indeed!"
The minister may or may not have thought he was responding to a genuine post by Trump, a prolific Twitter user.
At any rate, Kouyialis, who must have spotted the tweet somewhere online, did not bother to check on Trump's Twitter account, which had nothing of the sort.
Some two hours after his initial post, he tweeted again, hinting that he knew all along the Trump post was bogus and he was just playing along.
"Guys, a little humour never hurt. I saw it [the tweet] and decided to have fun with it."
Suggested tweak to the pranksters: for extra views before people catch on, next time try "absolutely fabulous" or "terrific" rather than "amazing." Also, the English sounded a little Cypriot-English. Otherwise not a bad effort.
https://twitter.com/nicoskouyialis?lang=en