THEO PANAYIDES meets a teenager who says his life is on the race track and who has progressed from karts to Formula 4 with the drive of an outsider
On the phone, when arranging a profile, I often ask the subject to let me know in plenty of time if they change their mind or find they can't make it for whatever reason, since it's a weekly feature and I'll have to find somebody else. It's a standard request, to avoid complications – but Vladimiros Tziortzis sounds almost hurt when I issue my plea. "I'm not the last-minute type," he replies with dignity. "If I say I'm going to do something, I do it!" Not bad for a teenage kid who'll be 20 in April.
As it happens, there is a last-minute change, not a change of mind but a change of venue. We'd initially planned to meet at the Daytona Raceway Karting Centre outside Nicosia, where he does his practice – but he calls me on the day and suggests we meet at "Dad's work" instead, where it'll be easier to talk. "Dad's work" is A Tziortzis Car Services, a bustling garage on the outskirts of Latsia – though in fact Vladimiros works here too, when he's not otherwise engaged. When he's not going to college, for instance (Global College in Nicosia), where he studies Automobile Engineering. When he's not at Daytona, on his go-kart. And of course when he's not in Finland or Spain or wherever, racing Formula 4 – because he's not just a student and clean-living teen but also, to quote his Twitter bio, a "Russian racing driver living in Cyprus, chasing the F1 dream!".
He's not really Russian, or at least not entirely: his mum Svetlana is from Russia but his dad Andreas is a Cypriot and well-known rally driver (now retired) in his own right. "The problem," explains Vladimiros, sitting down behind the desk in his father's office, "is that I reached a stage, when I was 16, when I couldn't find any sponsorship in Cyprus". He was then advised to change his racing licence from Cypriot to Russian "and so doors were opened to me, I got into a Russian team and I race under a Russian flag – but it's always mentioned that I'm half-and-half". He's now on the roster (as 'Vladimir Tziortzis') of SMP Racing, a Russian "sport program" which runs the gamut from karting to Le Mans, IndyCar and even Formula 1, its drivers including Sergey Sirotkin who's a test driver with the Renault F1 team. Last year, SMP took on 10 Russian drivers, explains Vladimiros; this year, all but two were let go – and he was one of the two young men who were allowed to continue, hopefully to Formula 3 and beyond.
Cars at his level zoom around the track at 220-240 km/h (still a long way behind Formula 1, where they start at about 310 km/h). You wouldn't know it to talk to Vladimiros himself, who seems much too polite and unassuming for anything so intense. He's slim (63 kilos), slightly jug-eared and rabbit-toothed, with big clear brown eyes that gaze out very earnestly; he speaks slowly and deliberately, in a voice that often slips into the boyishly croaky. He doesn't seem to have the aggression one associates with top-level motor racing – yet he's been racing all his life, almost literally. "All I want is this," he tells me, making no apology for his relative lack of interest in the world beyond cars. "This is what I was born for."
Is that true? Or was he pushed? Probably a bit of both – but the fact is that one day, when Vladimiros was five years old, his father took him to the track at Dromolaxia and told him to sit inside a go-kart, just to get a feel for it; "And from that day…" he adds, shaking his head as if to say 'The rest is history'. At the age of six or seven he was spending entire days at the karting track, sometimes turning up with his dad in the early mornings before the lady had even opened the gate "then at night she was chasing us around because she wanted to close up, at 11.30 or midnight".
What was he doing all day?
"Training," he shrugs.
Didn't he ever rebel, and just want to play? He was only a little boy, after all.
"There were other kids playing football and so on – and sometimes I'd join them but only after I was done, not during training. And my dad was very strict too, I mean Dad's the one who taught me how to be this way. I got slapped down a lot, like all of us, when for instance I'd say 'I want to go play' – 'No, you're staying here'. So I got used to it."
When he says 'slapped down', does he mean metaphorically?
"No," he replies with a laugh, blushing slightly. Still, the regimen worked: Vladimiros was a seven-time Pancyprian karting champion then went on to race three times in the world championship in Italy, his best finish being 13th position in the Mini TAG category. He might've gone even further – but instead, at 15, he turned his attention to Formula cars, racing in Russia then managing a couple of (expensive) tryouts with the Formula 3 Euro Open at Silverstone and Valencia.
'Expensive' is the operative word here, the financial burden on aspiring drivers being a major deterrent; the world of motor racing seems to be a market where demand far outstrips supply, the number of star-struck young men willing and able to drive really fast being considerably higher than the number of teams willing to sponsor them. Vladimiros has now found a home, of course, and SMP cover a large part of his expenses, not to mention his sponsors in Cyprus – a motley assortment ranging from specifically car-related companies (ALCO Filters, KS Tools, Eneos Motor Oil) to Eurofast, InterTax Audit, Petrosports, Akakiko restaurants and even his own college, Global College – but a recurring theme in our conversation is the endless financial strain endured by his parents for the sake of his racing career (he's an only child, which presumably helps). They're a working-class family trying to raise a Formula driver, in a country where the only sport that matters is football. "I don't talk about the sacrifices I make. Only I know what I've been through," says Vladimiros at one point, and chuckles wryly: "That's just how I am".
That is indeed how he is, i.e. self-reliant, like most athletes. At one point he mentions that he works with a sports psychologist, adding that "I'm not ashamed to admit it" (as if he ought to be ashamed of accepting help from an outsider). He's often had to go abroad and race on his own – plane tickets cost money – with no-one in his corner. I suspect he secretly relishes the narrative of a plucky kid from Cyprus, with a dad who owns a garage and a mother who works in a gym, making it to Formula 1 against the odds.
And of course he does make sacrifices, though he probably doesn't see it that way. His lifestyle is – shall we say – untypical, for a 19-year-old. He's barely even tried alcohol, let alone been drunk on it; every New Year's Eve, or if someone has a birthday, he'll have a few sips of wine, just to join in the toast – but just a tiny bit, "and even that I have to force myself to drink, I drink it with my eyes closed!". He doesn't drink coffee either, and fruit juice only sparingly. He doesn't like clubs, and prefers to go out for a quiet meal. He's picky about whom he hangs out with, and tends to choose friends who think as he does. He doesn't have a girlfriend, though he doesn't preclude the possibility: "It's not wrong to have one, many athletes do. But you have to set limits, and stay faithful to what you're doing. What I've told myself is that, if it happens – which is natural, we're all human – if it happens, I won't allow it to affect what I'm doing".
Any other vices? I don't suppose he smokes?
"Not a chance."
Drugs? Has he ever been tempted?
"Oh, god no! Gross!"
How does he know if he's never tried, though?
"I don't want to try. I mean, these things are not the solution. I know some find it to be a solution – and OK, you never know what problems people may be going through – [but] for me none of these things are a solution. They're a disaster."
Instead he lets off steam in more wholesome ways, going to the gym almost every day, college permitting – he does complicated exercises to improve balance and reflexes, fielding balls as they're thrown at him from all directions – and doing yoga, at his mother's suggestion. Later today, once our interview is over and his working day is done, he'll go to yoga class in the evening, then perhaps a sauna. Tomorrow morning (which is a Saturday) he has cycling at nine, then a Body Pump workout for an hour, then he'll go on a five-kilometre run "which relaxes me" – then, unless it's raining, he'll go to Daytona for four or five hours of practice. It's a kart, of course, not a Formula car; still, it's better than nothing.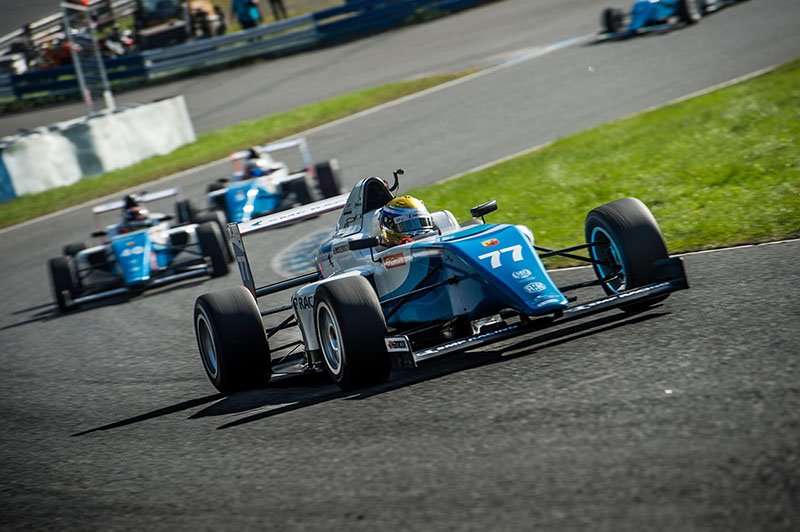 One small detail seems out of place in this very healthy lifestyle: the fact that speeding around a narrow track at 240km/h is in fact extremely dangerous. Not at all, claims Vladimiros, it's probably safer than driving on the streets of Nicosia (he himself has a Peugeot 307, which he drives very conservatively); then again, he's had a few spills over the years. His dad, being an old rally driver himself, appears to have been quite gung-ho about the risks, but his mum was initially terrified. When he was seven, the front axle of his kart broke after a collision, the kart overturned and he flew out head-first, hitting the dirt and requiring a neck brace – but father and son colluded to take the brace off when Vladimiros came home, "so we wouldn't have Mum on our case". (Alas, the truth emerged when one of her clients at the gym, who'd been at the race, asked after her injured son.) Svetlana is more relaxed now, and enjoys spectating – though he doesn't mention if she was present at last year's final race in Finland when his car was bumped off the track, flew up and smashed into a wall at 200km/h! The front of the car was destroyed; Vladimiros himself was entirely unhurt, which he takes as proof of how safe the cars are. His mother may be less reassured.
How to define this very unusual young man? Maybe he's an innocent, with a boy's irrational optimism. Maybe he's a prodigy, who's successfully focused his life to a single burning ambition. Maybe he does lack a certain aggression – were the likes of Schumacher and Senna so good-natured at 19? – yet he'll always do something (he says) once he sets his mind to it. He's a neatness freak, and a bit of a perfectionist. "I want everything in its right place. I want things to be done on time, not tomorrow or a week from now," he says, and laughs. (You're kind of in the wrong country, I point out. "I know," he replies, "that's why I'm laughing.") He's also self-effacing, "not the type who'll meet someone and say 'I'm Vladimiros the Formula driver'. I'm a simple man, I don't like publicity". He's down-to-earth and disciplined, he says, because you have to be: "a driver's behaviour" makes a big difference if he wants to be part of a team. After every session he'll patiently sit down with the SMP engineers and go through his mistakes. Maybe his brake pressure was off. Maybe he wasn't making "one move to the throttle," like a good driver should.
What next for Vladimiros Tziortzis? Hopefully Formula 3 next year, then who knows? Drivers are finding their way to Formula 1 earlier than ever these days; Max Verstappen of Red Bull is even younger than he is. Not that it has to be F1, despite that Twitter bio; touring cars – DTM, for instance – would also count as a triumph, given his humble roots and financial circumstances. What if SMP cut him loose, though? Is there a Plan B? "I don't want to think about that," he replies. "This thing is my whole life."
All in all, he's confident; I assume you have to be. "To tell you the truth, I believe in myself very much," he asserts, "and I don't even want to think that [the team] might cut me. Because they know how much I love it, I think they've realised that. They see how hard I work for every race, and how grounded I am – and how hard we struggle, with my family, so I can be there". He looks at me earnestly, with no trace of cynicism: "And I believe that there's a God, and He watches". Ah, the hopefulness of youth.