Even if the Turkish Cypriot side were to return to the negotiating table ahead of April's referendum in Turkey, progress on key outstanding issues would be unlikely, President Nicos Anastasiades said on Saturday.
In an interview to news portal Reporter Online on the prospects of a settlement to the Cyprus problem, Anastasiades asserted that the recent derailment in the talks is owed either to Turkey's reluctance to budge on security and guarantees, or to difficulties Turkey would rather not address before the April referendum.
He added that the resumption of the Conference on Cyprus in March – per the two leaders' request to the United Nations – looks unlikely at present, which he claimed had been Turkey's goal in interrupting the talks.
"Concessions on the Cyprus problem – if there ever was an intention for any – would cause problems to President [Recep Tayyip] Erdogan's goal of winning the referendum," Anastasiades said.
He added that the Turkish side has not yet exhibited any willingness for compromise on security and guarantees.
"On the contrary, in order to resume the Conference on Cyprus, they set two preconditions: to have progress on the issue of the four freedoms and the effective participation of Turkish Cypriots," he said.
The president reiterated that he has no desire to enter a blame game.
Denying that he has entered campaign mode ahead of next year's presidential elections, Anastasiades said "whoever is elected cannot remain idle for his fifth year, for fear of being accused of campaigning.
"For much of my term I've been fully preoccupied with the talks," he said.
"Now, because of the break, since the Turkish Cypriots have left the table, I am going to focus on addressing problems. And the last thing I would consider is supposedly think of the 2018 elections."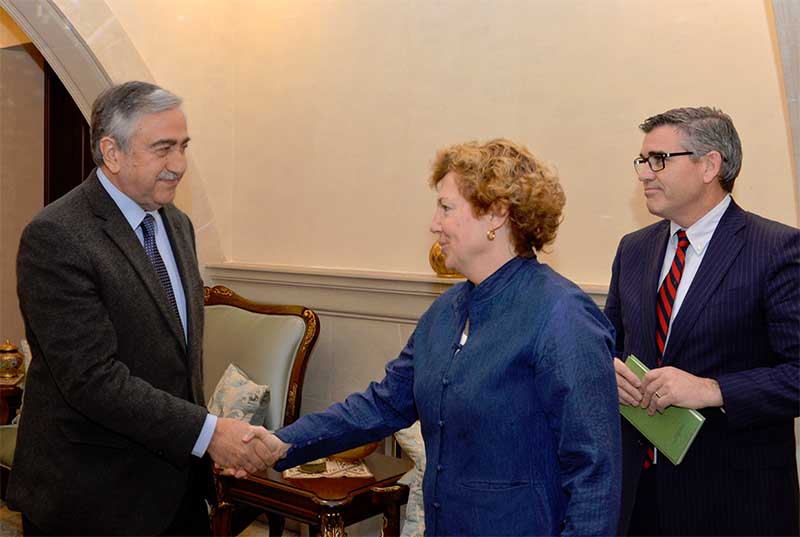 Meanwhile, Turkish Cypriot leader Mustafa Akinci on Saturday met US ambassador to Cyprus Kathleen Ann Doherty.
No remarks were made after the meeting.
But in a subsequent meeting with Turkish Cypriot local community leaders, Akinci said that in the two years he has engaged in talks with Anastasiades, the two have had countless meetings, sometimes almost daily.
Hundreds of people, he said, from both sides, have worked and produced thousands of documents, in a bid to come to an agreement backed by both sides, as well as Turkey and Greece.
Following the remarks, Akinci's session with local community leaders continued behind closed doors.