Against a panoramic view of Paphos one man has spent almost his entire life in the same hotel. NAN MACKENZIE meets the owner of the Axiothea
The great advantage of a hotel is that it is a refuge from home life, hotel rooms inhabit a sort of separate universe, a place where all human life at some time or another has passed through. The longevity of the Axiothea hotel in Paphos ensures there are plenty of stories to tell and the one who is keeper of all his clients' secrets is owner Andreas Michael Georgiou. Diminutive but only in stature, he certainly oozes character and exudes not sex appeal exactly, but an extraordinary masculine charisma and confidence. And although it may seem thoughtless to say it given the enormity of having to go through life from the age of six with only one eye, he does wear the black eye patch extraordinarily well, partnering the look with a white, fluffy beard and long, silky, grey hair that extends down to his shoulders. This is certainly not a man to be missed in the crowd.
But how did he end up wearing the eye patch? Adjusting the elastic strap that holds it in place, the story is told. "I was at home making a wooden boat and while carving it a piece of wood went into my right eye. I was taken to Nicosia hospital but back then they really could do nothing to save my sight so I lost my eye," he recounts almost cheerfully. Having to wear a black eye patch at such an age must have resulted in more than passing comments from his piers? "Children can be cruel of course and at school I was called everything from Sheep's eye to donkey eye, nothing really nasty but the accident did make me a bit more visible which isn't what you want at the age of six, but my school friends eventually got used to having a one-eyed friend and I am happy to say many of them have become old and valued friends who visit me here at the hotel almost every day for coffee."
Andreas was born almost exactly 67 years ago, in Peyia on March 5, a date that is remembered by many as the last time snow fell in the region. Peyia was a tiny village at the time, when the whole of Paphos was considered something of a backwater. "We lived through the bi-communal problems of 1963-64 and I vividly remember an old Turkish lady who used to come out in the summer evenings to sell small bunches of freshly cut jasmine, she only possessed one solitary tooth and in contrast to her sweet-scented evening business, during the day she would sell pieces of fresh tripe from her basket."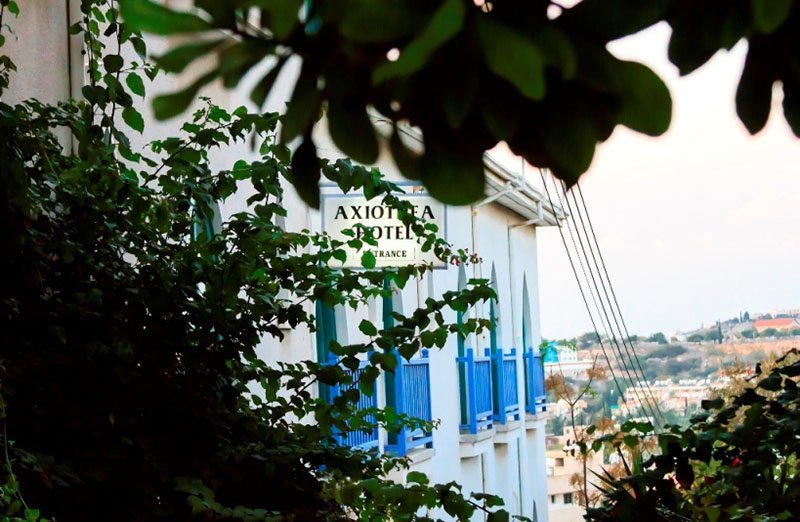 By this time Andreas' father had moved the family to a house in Paphos which is still part of the hotel and from which he slowly started to build what is essentially now the core of the property although more rooms have been added but "always with one eye on trying to keep the place as traditional and as simple as possible". And Andreas has always lived there – "my tiny flat is close to the reception area so I am always here to help guests even if they check in at 3am". But after school and the army he did take a break from the island, studying political science in Long Beach California.
For a 19-year-old whose only previous travel experience was driving to Nicosia, turning up in the middle of the so called 'summer of Love' the culture shock was quite powerful. "I would describe those first few weeks as totally amazing, and quite frightening at the same time for I had lived a somewhat sheltered life up until then, but I loved and still love music so that scene suited me," he said. "When I hear or play the music of that era I am immediately transported back to my days as a student in the sun and surrounded by beautiful people, of being in a VW camper van and being stopped by the police and everyone passing to attend a sit in protesting against the Vietnam war all shouting at us to 'hang on in there man' and giving peace signs as they drove past".
But a trip to a protest concert against the Vietnam war and black civil rights was so disappointing it put him off further experiences, "plus I had to study as my parents had worked long and hard to send me there so I had that sense of needing to pay them back". His own father did not have such an opportunity as at the age of 12 years he had to walk from his home in Peyia all the way to Limassol to get a job in a bakery and one year later had to walk all the way back home again.
For four years Andreas bathed in a background of great music and although a man of the 'old school' he just smiled when I asked if it was four summers of love and studies, taking on the mantra of hippie guru Timothy Leary when he told all young people to 'Turn on, Tune In and Drop Out'. "I had great experiences but no there was always that side to me of responsibility to my parents and the sacrifices they had made for me to be there. But I did meet Peter Fonda just after the release of the now cult film Easy Rider written and starring Fonda [also Dennis Hopper, Jack Nicholson and Karen Black], and at that time Fonda was very heavily into environmental issues, the film however really does encapsulate the dreams, hopes and also the strange hopelessness of the 1960s counterculture".
So the California excesses were not fully embraced by this man now in his early 60s but he still loves his music. You can see a hint of them though in his flashes of his intelligence, his throw away remarks and what seems a real fear of seeming too serious or caring too much and he does seem far more complex than he looks. His greatest passion to consume much of his life in the intervene was his wife, who died a few years ago from cancer. They were happily married for 30 years and the memory of her is still vivid, accounting for a deep sadness when his memories start to flow. He couple had two sons, one of whom works with his father in the hotel, and Andreas now has grandchildren.
After his studies Andreas returned to Cyprus and worked for the ministry of foreign affairs, but the life of a civil servant was not for him and he left Nicosia to return homeward to become an hotelier, taking over from his father. And part of his qualifications for looking after paying guests is his impartiality, his oddly old fashioned manner, and his sense of loyalty – I can see he is capable of reacting like Dracula faced with a crucifix if any slight is made against either his family or his friends as there is a definite edge to him in this regard, despite the fact he is actually quite shy.
We sat in the large, comfortable reception area which offers hotel guests a stunning 180 degree panorama of Paphos town and its suburbs (Axiothea indeed), for this hotel sits on what is called a Pleistocene Marine terrace and this rock formation underlain by calcareous sandstone that is around 650,000 years old. The floor in the foyer is also a testament to age as it was an 85-year-old man who cut every flagstone, all 500 square metres of them, which will probably last just as long. I say this with some level of confidence as the solidity of the rock upon which it is built helped the hotel survive intact even after the devastating 6.5 Richter scale earthquake in 1953. Even though he was a small boy, Andreas remembers the earthquake and believed his first sight and sound of a bulldozer had been the real cause of all the damage in the town.
From the outside the hotel boasts a sunny salmon pink paint job, the arched, church-like windows are painted in turquoise, and can be reached (although not exclusively so) from 63 steps leading up from the main road, which are now called Sonia's Steps after an 80-year-old Swedish woman who was a regular guest and who stoutly refused any help with her cases, always managing to look exceedingly proud at still being able to mount those steps.
But what about famous visitors? "The Queen of crime fiction PD James stayed with us many years ago – she was here on a lecture tour about forensics and I enjoyed talking to her every evening over a glass of wine. Then we have had many artists, writers and you can see some of Christos Christou's lithographs hanging on the walls – he is an old friend – also Glyn Hughes stayed with us, and the painter Humphrey Ocean. We have welcomed officials from the British Council and military gentlemen and of course we also find so many of our guests are repeat visitors so I can greet a huge number of them by name and have got to know them really well over the years".
Andreas and his hotel are true hidden gems that genuinely shine in this somewhat dimmed and busy world we inhabit and I tried very hard to winkle out of this man some colourful stories about guests and any past outrageous activities but failed miserably as not one juicy morsel dropped from his lips, for this is a man who genuinely does turn a blind eye.