THEO PANAYIDES meets 'the showgirl' of local Blues band whose life offers many of the elements of a good Blues song: violence, excess, self-destruction and – inevitably – the love of a good woman
I'm sitting in a basement with Manolis 'Big Mo' Vourakis. It's his in-laws' basement but it's been converted into a makeshift studio, a place for practice as well as the regular guitar lessons that pay his bills. Six electric guitars hang on the wall along with a 'Blues Glossary' and a poster for a concert by Blues Wire, a legendary Greek band – now in their 33rd year of existence – with whom he played for a few years in the late 00s. We're accompanied by the working musician's friends, coffee and cigarettes; Manolis takes a drag, hunched forward slightly. "I don't necessarily believe that less is more," he muses. "Less can be more. But more is also great."
He's talking specifically of his playing style – as seen in The Zilla Project, the much-loved local blues band he's fronted for the past six years – but that quote could equally apply to his personality in general. 'Big Mo' is a man of big passions and big appetites, a big voice and a somewhat bulging waistline testifying to a "humongous quest for junk food ever since I was 17" – though in fact the waistline used to be bigger (he weighed 137kg in his early 20s) and he's wrestled down his junk-food obsession, especially since a successful but still ongoing battle with diabetes.
It's not just the look of the man, however; it's also his style. "Sorry, I gotta sneeze," he says at one point (his English comes with a light American accent, cultivated during his years in the States to erase any tinge of Greece from his 'blues voice') – then lets fly with a huge sneeze ending in a loud "Whoooah!". He's solicitous, calling me an hour before the interview to ask how I take my coffee, and heart-on-sleeve sentimental when he talks about friends and loved ones. Also in attendance is Stefanos Meletiou, the Zilla drummer known as 'Medicine Man' (all four musicians have nicknames, the others being Loizos 'Lou' Pafitis on bass and Nicolas 'Honeyman' Melis on piano); Stefanos is waiting outside but Manolis calls him in, hugs him and plants a big kiss on his cheek. "He's my favourite guy," he tells me later. "Guy? Drummer? Colleague? Partner?" He shrugs expansively: "I love the kid! We've been playing for more than 10 years together."
He sits in the small studio, puffing away and sipping espresso. The place is infested with mosquitos, presumably due to some water leak that's still being investigated. "The good thing is they don't bite," says Manolis, then slaps at a bloodsucker and amends the statement slightly: "They don't really bite". His voice has a hint of a wheeze, whether from cigarettes or singing the blues. He's 41, bearded and bearlike, prone to back-slapping and displays of devotion. At one point, Claudio Saghbini – the band's manager, whom Manolis effusively calls "a fifth member" and "a great person" – comes in to say goodbye; it's apparently Claudio's birthday, and his parents are also in town. Someone else might've just waved in passing but Manolis makes a big production of it, pausing the interview to send Claudio off ceremoniously: "Enjoy your birthday. Have a good time with your parents and everybody. Say hello to Nicola. Tell everybody I said hi. Enjoy your day, man".
One reason why Claudio is a 'great person' is that he's in it for the love of music, not the usual commercial reasons. "Money?" laughs Manolis. "You gotta be shittin' me, there's no money. There's no money, man. There's no. Money. I mean, there's no money when you're trying to differentiate yourself. If it's not pop, there's no money". Blues music has always been niche – though Zilla have played almost every local venue, to appreciative audiences – and has always come with an edge. It's the music (like the Greek rembetiko) of the poor and oppressed, the music of slaves and cotton plantations, "its topics are women, troubles, drugs, all the dirty stuff that's related to the margins".
I assume his own background wasn't quite like that?
"I was never a slave," he admits dryly.
In fact he was born in middle-class Thessaloniki, the only child of an insurance agent and a social worker – even though, as it turns out, Manolis' life offers many of the elements of a good blues song: violence, excess, self-destruction and (inevitably) the love of a good woman, in this case his wife Georgia who saved him from the turmoil of his teens and 20s. "I was very angry," he recalls. "As a teen and a young adult, I was a pretty angry guy". It didn't stem from some big childhood trauma; his parents did divorce, and it did affect him, but it wasn't that per se – it was just frustration, "unprocessed stuff", all the expansive energy I'm now seeing in the 41-year-old version turned inwards, eating away at his psyche. He wasn't mean, just angry. He got in loads of fights, but never threw the first punch (which inevitably meant he lost most of them); "I have never been able to hit a woman or a friend," he says – not an academic proviso, since at least one girlfriend ended up striking him during an argument in those early years. He loved women (he still does), but music was his main outlet. By his late teens, dashing his father's hopes that he might follow him into the insurance business, he was playing live three or four nights a week, becoming a staple of a music scene that included Blues Wire (his youthful idols, and later bandmates) and one George Nicolaides, known to his friends as 'George-zilla' because of his volcanic temper – he once "beat up a whole tavern" – who later moved to Cyprus and became the original drummer in the band which Manolis named after him, The Zilla Project.
Cyprus wasn't on the cards, at that point. That came later, thanks to Georgia, "this interesting woman I met in America". They met in Boston, where he'd gone to study at the Berklee College of Music – though in fact, by the time she happened to hear him playing at a local bouzouki place, he'd dropped out of college and hit rock-bottom. "I left with the best of intentions to go to the States," he recalls, "but I couldn't handle it. I thought I wasn't worthy, I thought I wasn't good enough". His guitar-playing was certainly good enough – he was named Berklee's 'Blues Guitarist of the Year' for 2003-04 – but he couldn't study or pass exams. His weight ballooned; he lost self-belief. He must've been a sight at Berklee, this 137-kilo Greek guy with a bad attitude. "I was quite a figure, true," he chuckles. "True. People remember me. I left an impression".
He left school, but stayed in the States (it's the cradle of the blues, after all). His visa expired but he stayed on illegally, working in various capacities – sound engineer, guitar teacher – and playing undemanding music at bog-standard venues like that bouzouki place. He was making ends meet, but the spark was gone; "I'd already decided," as he puts it, "that I will never be an artist, or good enough for anything". Georgia changed all that – firstly, by falling in love with Manolis, but also, as a qualified therapist, by diagnosing that he suffered from ADD. His macho side initially rebelled ("ADD is for pussies, this is American bullshit that they feed to children!"), but eventually he saw the wisdom of what she was saying. In 2007, having married and moved to Cyprus – and learned to work on his disability – he went back to Berklee, did a year's worth of work in a semester, and got his degree.
So I guess Georgia rescued him?
"Absolutely. I'll say it aloud, and I'm proud. She saved my life!"
That, you might say, was Act One, the angry young man learning to calm down and focus. Act Two takes us to around 2012 – a more creative time, but still (as it turned out) quite troubled. This was the time of Blues Wire, his mentors, with whom he played for about three years – though of course they were in Greece and he was in Cyprus, necessitating constant back-and-forth travel. This was also the time of The Zilla Project, who played their first gig on New Year's Eve, 2009 – but initially they were just a side-project of a rock-cover band with much the same personnel called Broken Tribe, so Manolis was playing in three bands, hardly sleeping at all, and still eating badly and getting no exercise. In the middle of it all, aged 34, he was diagnosed with diabetes – Type 2 but insulin-dependent, meaning he had to inject himself with insulin several times a day.
For a couple of years he tried to treat the disease the normal way, with injections, pills and diet – but it wasn't working. "My diabetes was going to shit," he recalls, "and I really felt I was on my way to saying bye-bye, I was in a really bad state". His saviour this time wasn't the long-suffering Georgia but a more unlikely candidate – an 'alternative' Russian doctor offering a treatment so bizarre that Manolis is reluctant to even talk about it. He eventually divulges that the treatment was needle-based – but in no way was it acupuncture, he adds emphatically. Acupuncture involves thin needles that barely pierce the skin, this was thick, skewer-like needles that go all the way in, "250 a day, all over your body, for 14 days, and you're gushing blood!". Whatever the precise details (he's happy to talk off the record, to fellow sufferers), the treatment seems to have 'rebooted' his body as intended; he's still diabetic, and careful to diet and keep fit – but he's no longer insulin-dependent, and the disease seems to be under control. The doctor did claim he could get rid of diabetes altogether if Manolis submitted to a few more treatments, but our hero couldn't face more needles. "Really heavy, man," he recalls grimly.
Then again, he can handle it now. Act Two is over, and we're now in Act Three – a transition symbolised by the birth, right around the time he was "fighting off" diabetes, of Manolis' daughter Chara, who's now four years old. For this child, I would work digging ditches, he says, waxing sentimental again. "I don't care if I ended up playing alongside [blues legends] BB King, Albert King, and they were all alive and we were playing together" – he'd still choose Chara (the name, fittingly, means 'Joy') in a heartbeat. And of course there's also his other baby: The Zilla Project, albeit now without George-zilla himself who went back to Greece, to be replaced by Stefanos – but does appear, as a kind of in-joke, in the title of the band's 2014 album This One's For the President.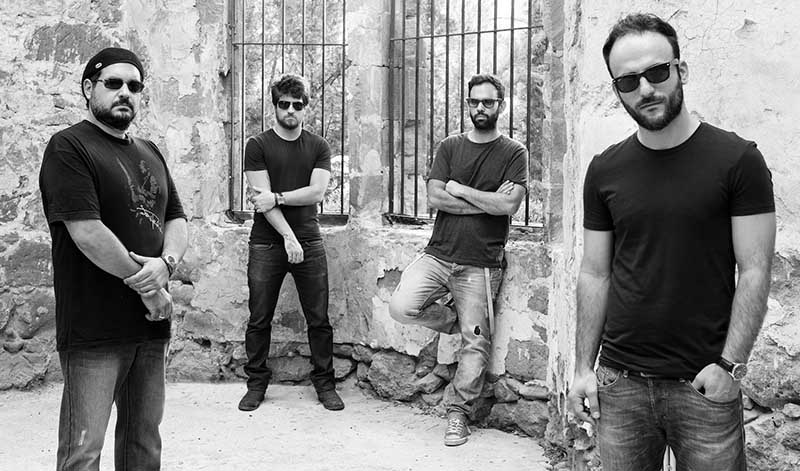 The band are now writing their second album, taking a break after years of workaholic gigging that culminated in being invited to play at the UN Christmas party in Geneva last December. For Manolis, Zilla is "a great leap", the realisation of a lifelong dream to front his own blues band. For years, "I knew I was good enough, but always as a second guy" – and Blues Wire, much as he loved playing alongside his heroes, only reinforced that assumption. It's a whole other level being a frontman, not to mention being judged on his voice as well as his guitar-playing – but he's managed to evolve nonetheless, becoming not just "the face" of the Zilla Project but happily enmeshed in a work relationship every bit as complex, and rewarding, as his personal ones.
"It's a tough thing to be in a band," muses 'Big Mo' Vourakis. "It's like a marriage with four. And those four are artists and musicians." Have they ever come close to breaking up? "Many times," he replies at once. "I mean, we love each other and that's a given" – but they disagree, they're only human. A band has to move as a unit, that's the whole point – but each of the four brings a different shading, a different role. What's his own role in the Zilla dynamic?
"I'm the showgirl!" he replies merrily – meaning the rock star, the diva, the quote-unquote artist of the bunch.
Does he still lose his temper, like he did when he was younger?
"AbsoLUTEly!" he replies, then nods ruefully. "Yeah, I lose it. I'm not – listen man, there's no such thing as perfect… I fail. It's my fault. I cave under pressure. I'm very sentimental about things. I'm the frontman, it's my responsibility to lead the whole thing."
It takes passion to be a musician, even more so to be a blues musician. Isn't it frustrating, though? Always looking for the spark, always struggling to make ends meet? Always trying to soar, when the world seems intent on weighing you down?
"Well, it's not a frustrating life," he mutters, mulling the question over. "Life is frustrating – but it's wonderful as well, so… I mean, it is what it is, man."
He regrets nothing, says Manolis. Sure, "I could be better off financially, I could be living in another country". He could've stayed in the States and might be playing music every night now, instead of seeking venues in a country without even a dedicated blues bar. He might've followed his dad into the insurance business. Diabetes also took a toll: "Getting sick at 34, I felt like an old man really early… I had to gain back my youthfulness". All true – but the point, as he says, is that all those choices, all the things that happened, all the things he didn't end up doing, lead directly to where he is today – playing in a band he loves, with a little girl he adores and "happily, happily married with the love of my life". It just works between him and Georgia, they admire and support each other, and she really is "a person of the soul". He pauses, leans forward in his chair and adds, in a kind of stage whisper: "She's hot, too!". Sometimes, more is just more.