Representing people society might view as unsavoury, THEO PANAYIDES meets a lawyer moved by what he sees on stage with enough human connection to want to change the world
You can tell that Andreas Christou is going places. For one thing, he's 29 – he'll be 30 in October – but could pass for 10 years older, a bulky, bearded man with a booming voice, receding hairline and a kind of declamatory eloquence that only adds to the impression of maturity. For another, he was on TV just a couple of weeks ago, talking passionately of Law 41(I)/2016 – it concerns the sentencing of drug offenders – which he feels should be changed. And, for yet another, he's a lawyer but has also excelled in the world of amateur theatre, not just fooling around on a Saturday afternoon but directing award-winning (albeit still amateur) productions in Greece and Cyprus.
Andreas belongs to a very specific category of people: the activists, the congenitally righteous. You might call them 'people with a sense of mission'. They're the people who want to change the world, even as kids. They do well at school, and impress adults with their extracurricular activities; as a youngster, Andreas was very active in the Red Cross – preparing Christmas packages and so on – and also took part in the 'Parliament of Teens' (the Greek youth programme that brings selected teenagers together in a four-day facsimile of the real Parliament). He was the only 'MP' from his school, and wrote an essay on the plight of people with "special abilities" in order to be selected.
These are the civic-minded folks who grow up to be teachers, or priests, or missionaries (it's no surprise to learn that Andreas is devout and religious, even if he seldom has time to go to church these days) – or of course lawyers, but not corporate lawyers. He only does criminal law, he explains, "and I deal quite a lot with juvenile offenders, with drug offences and with sexual offences, which derive a bit more from human psychology". He's not a state lawyer, working at the firm of Elias A Stephanou in Nicosia, which invariably means that he's almost always a defence lawyer, often for people whom the rest of society might find unsavoury. He hasn't had to defend any rapists yet but has dealt with a few sexual-harassment cases, mostly to mitigate a guilty plea – though "it's not always black and white", he cautions, nor is it so impossible that the victim (or alleged victim) has their own agenda. Still, even if a client is guilty as sin, he believes there are always mitigating factors: "The principle of justice is that we are all potentially criminals. A person ends up being a criminal because something happened".
On paper, he might seem impossibly virtuous. In addition to his ordinary caseload, he's also been active in the Cyprus branch of Transparency International (his boss, Elias Stephanou, was the public prosecutor in the case of former deputy attorney-general Rikkos Erotokritou), and rails against the "koumbarokratia" – the nepotism and all-pervasive favours for one's koumbari, ie close friends – that holds sway in Cyprus. He's unshakeably polite, seemingly unable to address me in the informal singular form of Greek (I'm an older person, you see) despite my repeated pleas. His personal habits are frugal: he doesn't smoke and very seldom drinks, maybe half a glass of wine every few months, though admittedly he doesn't exercise as often as he should. "I neglect myself, generally," he laments. "I neglect Andreas". He also tends to talk about himself in the third person.
On paper, he might seem a little humourless. It's easy to imagine that, in 20 years – once he's reached the places where he's undoubtedly going – he might turn into one of those ponderous middle-aged people, a pillar of the Establishment going on about 'Andreas' and his many solutions to the world's problems. At the moment, though – right now, at 29, sitting in the conference room in the empty office on a Saturday morning – he just seems passionate, a young man with ideas and unstinting energy. He's emotional, indeed his eyes grow moist more than once as he recalls this or that example of human connection ("Because always, at the epicentre [of our job], is the person!" he booms). And of course there's the theatre.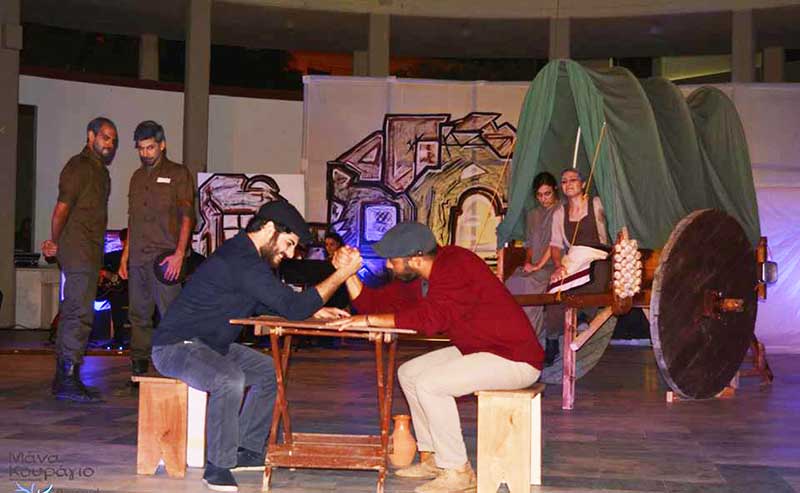 Theatre is a huge part of his life, says Andreas; "I love the law, but I'm in love with the theatre". He's been involved since the age of 12, having caught the bug thanks to a theatre-going auntie. First it was school plays, then an ambitious production – a mediaeval farce, of all things – during his National Service, with fellow soldiers learning their parts in between furloughs and sentry duty. Then he went to Thessaloniki to study Law in 2008 (Law was his first choice, and Thessaloniki his first-choice university; he's not the type to drift into things by chance) – and, once there, founded a theatre group called 'Mute Applause', which became wildly successful. There's a Panhellenic festival of amateur theatre in the town of Distomo, he tells me; dozens of groups apply from all over Greece, and six or seven finalists are chosen. Mute Applause made the list three years in a row, and swept the board in 2011 with a play called I Ksetheomeni ('The Exhausted Ones') – a lively satire, with the 12 gods of Olympus turning up to skewer modern Greece – winning Best Production, Best Director for Andreas himself (he's an actor and director, mostly concentrating on the latter in recent years), a music award and two acting awards. "Just talking about it makes my hair stand on end," he admits, his voice shaking slightly, rubbing his arm as if to feel the upturned hairs. "Because, you know, the feeling was intense. And the feeling is what remains".
Still, directing plays while you're a student is one thing. Directing them when you're a criminal lawyer with a full slate of clients is something else – especially since Andreas' current theatre company, Dimiourgin, isn't even based in Nicosia but in the village of Avgorou. He has no connection to the village but a friend wanted to start a company there, primarily to heal the local feud between Left and Right. That's now been healed, Dimiourgin rising above party politics and also attracting actors from all over Cyprus. Last year they staged Brecht's Mother Courage and decided to apply to Distomo (which is also open to Cypriots) – and the result, once again, was a triumph, with a second win for Andreas as well as the top prize and assorted acting awards. He recalls one detail of the production, the mute daughter singing a poem after her death, dressed all in white – actually an improvement on Brecht, who has her stay mute – and seems about to cry again. "These are beautiful moments," he explains, "and it moves me to think about them."
It's a big deal, a troupe from a small Cyprus village beating out productions from all over Greece. Andreas deserves a lot of credit, being the one who inspires these young actors (most in their teens and 20s) and gets them to dig deep. Unsurprisingly, he doesn't do it with dry acting exercises: "I'm always there for the team," he explains. "Their psychologist, their friend who they can share their problems with". His directing is, again, a kind of human connection, emphasising one-on-one meetings with each actor in addition to group rehearsal. Indeed, his two vocations seem to complement each other: theatre makes his courtroom orations a bit more dramatic – while being a lawyer trains him in intimacy, in listening to people and honing in on their strengths and weaknesses.
"I get close to the people who come here," he tells me – the 'people' in question being troubled, scared, often young, often junkies or suspected sex offenders. "I believe there are people who come here as defendants who [also] need help and support. And you can't view it in a sterile way – that you're just their lawyer, and that's all you're doing. You're here for another reason too, that's why you do this job. It's not just sterile legal stuff."
It's a tricky one, because he's not doing corporate work: he's dealing with vulnerable people who may have done terrible things – and it's also not a balanced relationship, since he's always in control. "I want to help," he insists. "Not to satisfy my ambitions or ego. I want to help my fellow man." His precise relationship with his clients is delicate: you become involved, he says – you can't help it – but you do have to keep a certain distance. Andreas seems to keep less of a distance than most lawyers: he'll often head down to the Central Prison on a Sunday to visit clients, even after their conviction, and he almost tears up again when he recalls the young sex offender who entrusted him, Andreas, with the awkward task of picking him up from prison after his release and taking him home to his family.
He's a friend, lawyer, social worker; you have to be, in Cyprus, since the infrastructure is so limited. Law 41(I) is a case in point, on the one hand allowing judges, for the first time, to assign an addict to a rehab programme instead of a prison sentence – but, on the other, excluding serious crimes like robbery and burglary (which of course are what an addict is most likely to have committed). That's why he was on TV, he insists, to try and correct this obvious injustice, "not to play the big-shot lawyer". He tries hard to be humble (or to sound humble, some may add cynically); he insists he has no desire to go into politics, though he'd very much like to be a judge someday. What might he be like at 39? Can he stay so attached to the humanistic side of the job? "I believe I won't betray my principles," he replies, adding that he'll quit the profession if he ever feels that "Andreas is being alienated… I often tell my friends, if you ever see that something's going wrong with me, slap me!".
Not that his friends see a lot of him. "My personal life has become quite negligible, I would say," he admits ruefully. He'll often do a day's work in the office then head off to Avgorou in the evening for rehearsal – not to mention the prison visits, and one-on-ones with actors, and reading up on cases and preparing his courtroom speeches (which tend, unsurprisingly, to be quite emotional). It's a seven-day week, "there isn't a day when I'm not busy with something, and I say that honestly". He sleeps around four hours a night, and tries to catch up on the weekends.
It's a pretty intense lifestyle, I point out. Why does he do it?
He sighs deeply: "Because that's how Andreas is. Andreas will never change. Even though I always say I want more time to myself, I want a personal life, I want, I want…"
Does he even feel like a young man anymore?
"Yes. I do feel young. I feel like a very tired young man, I should say!" he adds, and laughs wryly.
What makes Andreas Christou tick? It's hard to get a rounded understanding of a man who devotes his life so completely to one thing – or two things, but in his case the two are just sides of the same coin. "It's all about people, always," he declares in his booming voice; trying to help, trying to make things better – and the quest for connection, his profound sense of mission. "Criminal cases aren't going to disappear. They'll still be there. Let's just try and reduce these bad situations that people have to go through. Reduce them. Lawyers are never going to run out of clients… Right now, everything's out of control," he sighs. "No-one cares if the problems exist – or they might care, but I don't see any action". It's not so much that he's liberal while society is conservative (he's against the legalisation of non-medical marijuana, for instance, despite his experience with drug offenders). It's more that he puts himself out there, while society stays home reading Facebook.
It does seem like he gives a lot of himself, I note sympathetically.
"Yes, yes, yes," he nods. "And I'm not just saying that, it's the reality. You know, I'm not into selling myself. This is Andreas Christou," he adds, as if to say 'Take him or leave him'. "I don't even care about selling myself. I don't even care if people like me or they don't like me."
Some are bound to say 'He's just doing it to get ahead', I point out. 'He's doing it because he's ambitious. He's doing it to stand out from all the other lawyers'.
"He's doing it for Andreas," he replies, cutting off those hypothetical critics. "Above all for Andreas, so he can feel at peace with himself as Andreas, and be able to give all that he can give in this world. Because Andreas wants to give." He sounds pretty cool, this Andreas.