RULING Disy and main opposition Akel MPs voted on Friday to reverse a previous parliamentary decision to commemorate the 1950 'enosis' (union with Greece) referendum in public schools that led to the interruption of reunification talks.
Thirty MPs voted in favour and 20 against during a tense session that saw Disy MPs walk out briefly after an Elam MP described them as traitors for proposing an amendment.
Elam supporters sitting in the gallery booed the Disy MPs, prompting House Speaker Demetris Syllouris to order the public to leave the hall.
At the same time, Elam MP Linos Papayiannis and Akel MP Giorgos Georgiou exchanged words, prompting others to intervene before matters got out of hand.
The discussion restarted without Disy MPs, who left the room in protest, and with Syllouris allowing the public to remain but demanding order.
Disy MPs returned to their seats after the Elam MP finished his speech.
The proposal was voted into law by 16 MPs from the ruling party – Andreas Kyprianou and Eleni Stavrou broke ranks and opposed – and all 14 Akel MPs in attendance. A senior Disy official, Soteris Drakos, also announced he was resigning in protest to the vote.
Disy's proposal, designed to overturn parliament's decision in mid-February, which introduced a short in-class commemoration of the 1950 referendum for 'enosis' in state schools and caused the withdrawal of the Turkish Cypriot leader from the peace talks, was supported by main opposition Akel.
Its approval would pave the way for the resumption of talks, already announced for Tuesday.
Elam supporters had assembled outside parliament to protest against changing the decision.
Some verbally attacked Akel leader Andros Kyprianou as he was leaving parliament after the plenary session ended, calling him a traitor and shouting that he should be ashamed of himself.
Speaking to reporters after the incident, Kyprianou said Akel "will not kneel before troublemakers".
"Whether some like it or not, this is a democracy," he said.
"These same attitudes are what led us to the great disaster of 1974."
The passing of the proposal was hailed by Turkish Cypriot leader Mustafa Akinci, who said it's now time to look forward and start a new phase in the talks.
Before the vote, parties debated the issue, following a highly unusual move by Syllouris to take the floor and argue in favour of having the vote postponed.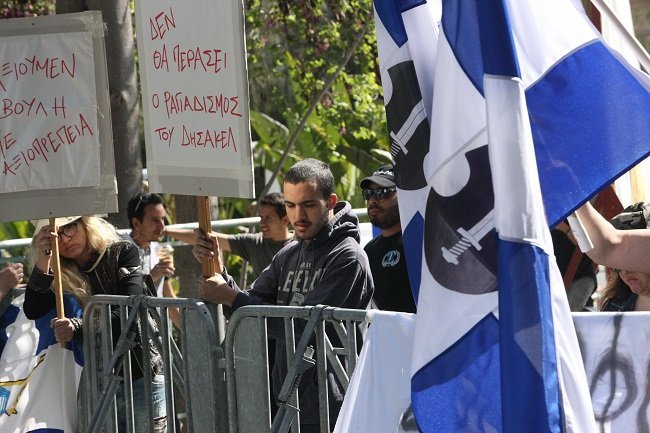 The Greens' Yiorgos Perdikis said the party would vote against the proposal because giving in to Turkish demands would only serve to encourage her.
"Today, parliament is about to intervene in the Cyprus problem, succumbing to illegal and despicable demands," he said.
The same argument was made by Solidarity's Michalis Yiorgallas, while the party's other MP Yiorgos Papadopoulos said history would list those who voted in favour of the proposal in "its darkest records as Ephialtes" – a reference to ancient Greece's most infamous traitor.
This sparked outrage among Disy and Akel deputies, and Syllouris asked that the remark be retracted.
Citizens' Alliance leader Yiorgos Lillikas said his party too would oppose the proposal, but went out of his way to appear conciliatory, refraining from incendiary language because "it wouldn't help with anything".
"I would accept humiliation, if humiliation were guaranteed to lead to a just solution of the Cyprus problem," Lillikas said.
"But it won't – it will just lead to the resumption of talks. And if we have already allowed Akinci to intervene, then his interventions will simply increase, both in number and scope."
Edek leader Marinos Sizopoulos blamed the entire political fracas on Disy, which "had the chance to vote against the Elam proposal" when it was first tabled on February 10, but didn't.
Nicolas Papadopoulos, leader of third-largest party Diko, said deciding on Disy's proposal was triggered not by popular demand but because "the other side is demanding it".
[smart-photo]
[/smart-photo]
"The message we are sending is that we are susceptible to blackmail and pressure," he said.
"We are being led to complications. We are being driven further from a solution to the Cyprus problem."
On this day in 2004, he said, referring to the famous televised appeal to reject the Annan plan read out by his father, late former president Tassos Papadopoulos, we were asked to defend the honour and dignity of the people.
"Thirteen years later, that is exactly what we will do," he added.
Akel leader Andros Kyprianou said he was saddened by the level of dialogue witnessed at the plenum.
"Some are exercising the rhetoric of hatred, which this parliament has voted to make illegal," he said.
"We are breeding fanaticism."
Akel, Kyprianou said, disagreed with Disy's proposal, but would support it as a means to kick-start the stalled Cyprus problem negotiations.
"We disagree with transferring power from an elected body to an appointed individual," he said.
"But it's not a matter of principle."
Defending his party's proposal, Disy leader Averof Neophytou said the debate was focused on issues that "should have been considered closed since the establishment of the Republic of Cyprus" in 1960.
"I checked to see for statements commemorating the 1950 Enosis referendum by any of the parties now demanding its commemoration in state schools on January 15, 2017," Neophytou said.
"I found nothing."
Detractors, he added, correctly pointed out that the parliament's decision was merely an excuse for the Turkish and Turkish Cypriot side to withdraw from the talks.
"An added political reason [to pass it] is to remove the excuse from Mr Akinci's hands," Neophytou said.
Later, the House rejected a proposal by the Green party to call on President Nicos Anastasiades to ask Akinci to remove the flag of the so-called Turkish Republic of Northern Cyprus, which is plastered on the south-facing side of the Pentadaktylos mountains, as a gesture of good will.
The proposal was rejected by 22 votes versus 13 in favour.