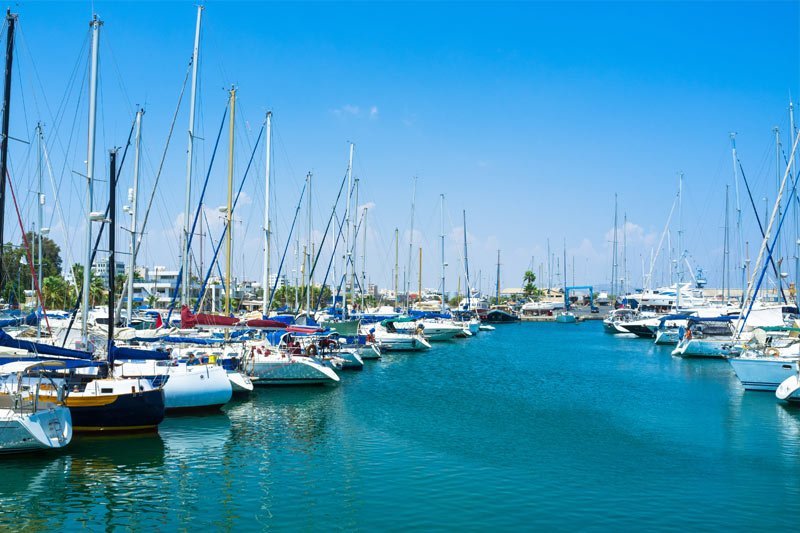 OPEN FOR BUSINESS
Larnaca Marina
34°55'0N, 33°38'0E
Contact Details:
Monitoring channels 8 and 16.
Larnaca Marina,
CY 6023, Larnaca, Cyprus
Tel: + 357 24 653 110
Fax: +357 24 624 110
Email: [email protected]
Security
A gated area with 24-hour police presence at entrance and regular patrols.
Facilities
Dry Dock for repairs and maintenance with slipway and 50-ton travel lift.
Fresh water supply.
Electricity – single and 3-phase.
Crew facilities, showers and washrooms.
Large car park with controlled vehicle entry.
Fuel station. Grey and black water discharge.
Refuse Collection
Waste oil and battery disposal.
The discussions over expanding and completely renovating this marina have been going on for decades. The latest plan calls for a project combining the marina and the neighbouring port.  Progress is expected this year, but naming an opening date is a long way off.  Full progress details can be found elsewhere in this section as we monitor the situation.
Situated close to the centre of Larnaca, it is within easy walking distance of the shops, cafes and restaurants.
In years gone by, it was a popular marina for live-aboards, but the trend has changed.  Even so, it remains much in demand.
Indeed, it is invariably full, so visitors must check to see if space is available.
Berthing facilities for around 400 yachts of various sizes. Berthing charges vary according to the duration of stay and the length of the vessel. The minimum depth of the useable part of the marina is approximately 1.5m and the maximum is 3m.
There is also a large area for maintenance facilities and boat storage.
Selling an outboard engine, a catamaran or anything that's nautical?
If it's a private sale we will carry your advert for FREE in our classified section.
Just fill in the form and we shall do the rest.