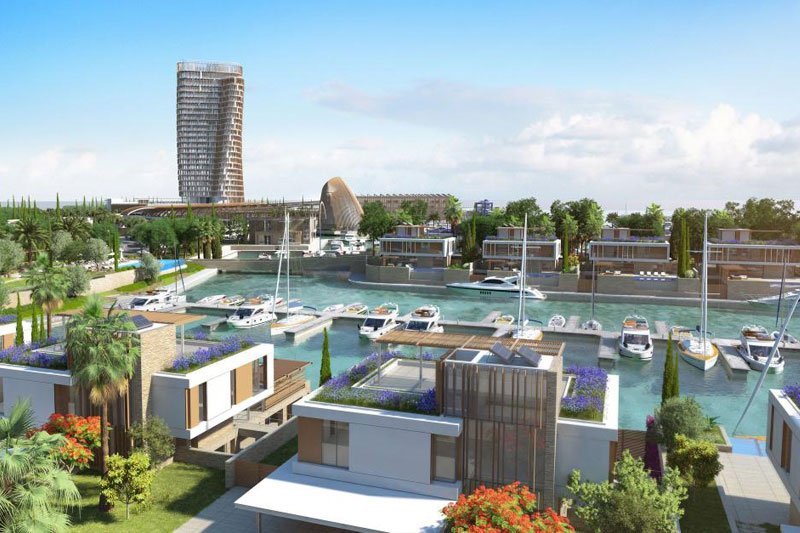 By 2019 Cyprus' fourth marina should be up and running in Ayia Napa, Cyprus' liveliest tourist destination.
Work started on October 1, 2016 after the foundation stone was laid by Finance Minister Haris Georgiades.
It is a €220 million project by MM Makronisos Marina Ltd backed 80 per cent by Egyptian billionaire investor Naguib Sawiris' Gemini Real Estates Ltd and 20 per cent by the Cyprus-based Caramondanis Group. The entire project is scheduled to be finished by 2021 complete with shops and housing.
First for realisation will be the 600-berth fully serviced marina and boatyard as well as shops and waterfront restaurants and other amenities for residents and visitors.
The marina's wet slips will accommodate yachts up to 60 metres in length and 80 metres by advance arrangement. Amenities offered will include comfort stations with showers and toilets, internet access, a crew lounge, a yacht club and beach club.
The second phase will be both a residential and commercial area with the construction of 190 luxury one to four-bedroom apartments in two twisting-shaped towers of 25 and 26 floors. In addition, there are 29 villas. The east tower is expected to be finished in 2020 and the west tower in 2021. Twenty per cent of the project had been sold by end of January 2017.
Construction works are expected to create more than 800 jobs for contractors and subcontractors while 200 people will be employed for the operation and management of the project after its completion.
Prices for residential developments start from €500,000 for a small apartment and are up to €5.2 million for a villa. Properties are being sold through a 50-year sublease until 2067 and a long-term lease agreement until 2139.
While the project has been advertised in a few local magazines, its main promotion is at big boat shows abroad. A launch party which took place in Dubai on January 28 was the beginning of an international advertising campaign and was aimed at getting wealthy Arabs to buy flats and villas.
From the onset of the design process for the Ayia Napa Marina project, ΜΜ Makronisos Marina Ltd has stressed that the project will be sensitive to the need for environmental protection, specifically addressing the flora and fauna in the area where development will take place.
Read also: Gerry Caramondanis, from rags to riches
Selling an outboard engine, a catamaran or anything that's nautical?
If it's a private sale we will carry your advert for FREE in our classified section.
Just fill in the form and we shall do the rest.