THEO PANAYIDES meets the retiring captain of the island's football team that has been in the Champions League the most times, who has had to fight to follow her sport
As you read this in today's Sunday Mail, Margarita Sophocleous – the 30-year-old football star who could plausibly be described as the most successful player in the local women's game – may be playing the final match of her career. The season's almost over; her team, Apollon Ladies, have won the title, as they've done for the past nine years. There are two games left, she explains as we sit in the St. Raphael Hotel in Limassol: "This Sunday [i.e. last Sunday] we have a Cup semi-final, and next Sunday [i.e. today] we have the final against either Ayia Napa or Barcelona". After this she'll be retiring, her career cut short by a chronic knee injury.
So why, if it's so cut and dried, do I say that Margarita 'may' be playing her last game today? Some will assume it's because, at the time of our interview, she doesn't know for sure that Apollon Ladies will be in the Cup final – but in fact she seems to take it for granted that her team will prevail over Chrysomilia Agiou Amvrosiou in the semi, as indeed they did a few days later (they won that game 10-0). That opens up a whole other can of worms, of course, raising questions about the strength in depth of the local women's league – but we'll get to that later.
No, the real reason for that 'may' in the sentence is because Margarita's retirement isn't absolutely, 100 per cent set in stone. It's almost set in stone; she's had problems with her knees for years, and the pain has got much worse in the past few months. Looking at the match report for that 10-0 semi-final victory I note that she only played 45 minutes, getting substituted at half-time (granted, Apollon were already five goals to the good by that point). When the final whistle blows today, she'll almost certainly hang up her boots – yet the club have been asking whether the retirement is official, so they can throw her a party, and she finds herself unable to give a definitive answer. Margarita has unfinished business, especially in the Champions League.
Apollon, as Cyprus champions, have been playing Europe's finest in the Champions League for the past nine years. As in the men's game, there's a group stage followed by knockout rounds – and the team have almost always made it through the group stage, only to stall in the Round of 32. Again and again, she's faced the frustration of failing to qualify for the last 16, feeling it even more acutely in her position as team captain. (Margarita is the captain of the island's most successful side – plus a captain of the national team – therefore arguably our most successful player.) Last year was especially galling, since Apollon led Slavia Praha 2-0 in the second leg. The first leg, in Limassol, had finished 1-1, so even a 2-2 result would've seen them through on away goals – but Slavia turned the game around, winning 3-2. "After the game, I remember I didn't want to leave the pitch," she tells me. "I was way over on the other side of the pitch. Everyone left, I just stayed there". Teammates came over to try and console her; she was inconsolable. Even then, she knew it was likely to be her last Champions League.
This year's tournament starts in June. In the next few weeks, says Margarita, she plans to go abroad and see a specialist about her knee. If a way can somehow be found to keep her going for another Champions League campaign – not regular first-team football, just the big European games – then she'll put retirement on hold for a few months and give it one last shot, like a battered-but-unbowed athlete in a Hollywood movie. If she can lead Apollon Ladies to the last 16 (and beyond?), literally with the last few kicks of her career, it'd be a fairytale ending to an already fascinating story.
It was hard enough getting into football in the first place. "My parents weren't in favour of my playing football," she recalls. "Never mind that I'd started playing at seven years old, growing up in a village with nothing but boys!". That's the fascinating part, that she spent her childhood (till the age of 15) in Kato Milos, a tiny village just below Agros on the Limassol side. At the time, there were only 50-60 inhabitants; there was no internet – computers only arrived, sparking much excitement, about a year before she left – and not many kids. "It's a small village. There weren't 20 young people, there were literally only 10 of us. Out of the 10, two were my [older] brothers and five were my cousins, plus two other village kids". Nine of the 10, all except Margarita, happened to be boys; "I grew up" – she hesitates, as if trying to avoid a bad word – "as a tomboy. There's nothing wrong with that". Last week they were all in the village for Easter, and her cousin pointed out the church square to his girlfriend: "Look," he crowed, "that's where I taught Margarita to play football!". It's true, she admits with a shrug. That's how it happened.
It occurs to me later that Margarita has always played in defence (she's a centre-back, colloquially known as a "stopper"), which must also have come from her childhood. I can see it now, 10 kids split into two teams of five – and of course the boys want to show off and score goals, so Margarita (as the youngest sibling, and the only girl) is told to stay in defence. Easy to imagine her in the open fields around Kato Milos, stubbornly honing her skills day after day like one of those Brazilian street-kids – only to have the last laugh years later, when the boys are all in boring nine-to-five jobs and she alone is a professional footballer.
Professional? Well, yes and no. There are "different categories," she explains diplomatically. About half the team are currently foreign players, from countries like the US and Sweden, and of course those players are fully professional; at the other end of the scale, Cypriot women in the smaller local teams play mostly for "their own satisfaction, that they're doing something they love". Margarita is somewhere in between: for the past three years she's been working in the accounts department of a food-importing company – but she also gets a salary from football, albeit not enough to live on, and her commitment is akin to a professional's: training every weekday for an hour and a half, starting at 6.30pm (i.e. after the day-job), same again on Saturday morning, then a match on Sunday.
Still, as already mentioned, not all local women's clubs are so organised. Apollon are head-and-shoulders above most of the competition, hence their dominance; looking down their list of recent victories, scores of 10-0 or 11-0 – while unusual – are not unheard-of, much to Margarita's embarrassment ("We want the game to be competitive," she insists; "Not just 'let's go, win the match and go home'"). Women's football lags well behind the men's; if you asked someone which Cypriot team has appeared the most times in the Champions League, they'd say Apoel – and, if you gave the right answer as Apollon Ladies, they'd probably call it a trick question. Even a local derby, like the game between Apollon and Barcelona FA (nothing to do with the 'other' Barcelona), attracts about 400 spectators, "which for us is great"; women's football in the US or France fills entire stadiums.
The problem is simple and deep-rooted: many parents – even now – don't want their daughters to be football players. Margarita's own family, when she told them of her plans a decade ago (she was nearly 20 when she joined a team, initially Salamina; "I started late"), found it "something – strange, shall we say? Something masculine. Football was masculine. It took years for them to realise that yes, girls play football too, it doesn't mean that a girl who plays football isn't a woman". What we're skirting around here – partly, at least – is the issue of same-sex attraction. After all, what finally convinced her folks to let her play (not that she needed permission, being already an adult, but she wanted to have their support) may have been that one of Margarita's female cousins was already at Salamina, "so we'd be hanging out together. Because they were afraid that, by getting into football I'd – you know, all the stuff you hear. That I might – change direction. That kind of thing."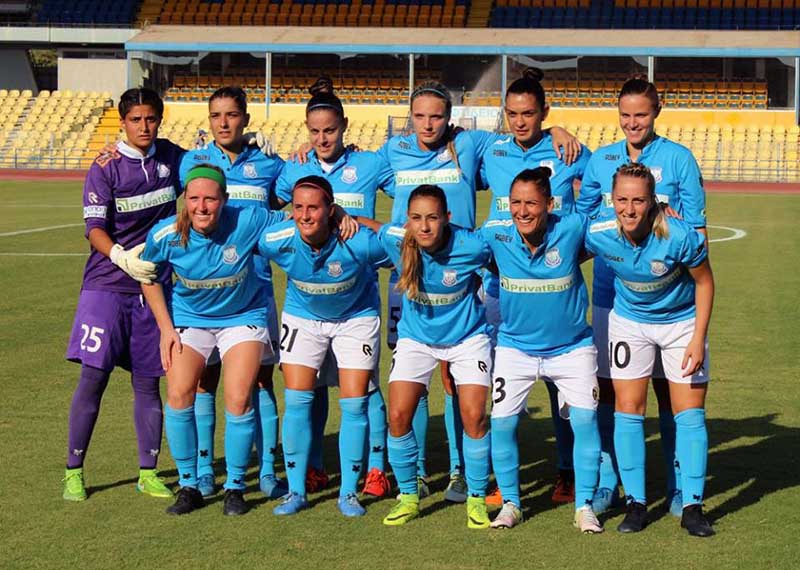 Admittedly she was something of a special case, a village girl with over-protective parents who kept a tight rein on their only daughter. Her dad wouldn't even let her go to her junior-high graduation party, even though the whole school was going. Even in Limassol – where the family moved in her teens – "I'd tell them 'I'm going to a club' and it was 'Be back at such-and-such a time', even though I was already 20 or 21!". Growing up, she had no idea that women's football teams even existed. "In the village, you grow up differently. You think life is a fairytale," she muses. "You limit yourself. If I was in the village, I might not want an iPhone," she notes, indicating the phone on the table between us, "I'd just want a Nokia. I might not want Adidas, I'd just want a shoe to wear. You're more innocent in the village." Limassol was only half an hour away, yet her early years in the city came as a shock. "I was very closed-off as a person," she recalls. "I'd come from a village, I didn't know anyone. I was very closed-off."
Some of that remains, even now: a composed, self-sufficient quality, a dogged quality that goes best with introverts. She is, after all, a defender, her job being to fend off and close down opponents. Sports have always been her passion (not just football, but athletics and volleyball), and she plays single-mindedly: "The opponent might be out in front, one-on-one with the keeper – but I won't sit and watch her. I'll keep running, because I believe I can stop her". As a person, too, she seems sturdy, as if long since resigned to the fact that she can't rely on others for validation. There's an inner core to her, something going on behind the sharp, inquisitive face with its clear eyes and toothy smile. It's no surprise to learn that she's devout, or indeed that she does her praying in a way that values privacy and inner communion, heading to a tiny monastery outside Limassol – she dislikes big churches with lots of people – where you can "close your eyes and say what you want to say".
Yet she's not so closed-off anymore. Football has changed her, being a captain has changed her, life in the city may have changed her, and the years have certainly changed her. She's candid, accessible, unafraid of the press; we chat together like old friends. "I wasn't a sociable person," she recalls, looking back. "Growing older, though, you realise that you meet people, different kinds of people – and it's nice to meet people, and to give them a chance to meet you".
Apollon Ladies go out together a lot (they also get recognised often, at least in Limassol), "teasing each other, having a laugh" – and Margarita is also discovering a passion for travel, doubtless to compensate for having grown up in a small village. She went to the US in January, and loved every minute: "You see things and just go 'Wow'… Or, for instance, you see two guys holding hands, walking down the street," she adds, thinking perhaps of her own early hassles with fearful parents, "and you think 'Gosh, we [in Cyprus] really live in a bubble sometimes'. And you think, why should I care if these two are together? What a great thing, for everyone to feel free… Freedom is a great thing," she says, as if casting off three decades of cosy-but-oppressive village life. "A very great thing."
A chapter is ending for Margarita Sophocleous, a new chapter opening. Whether she retires today or somehow keeps going for another few months – even if she caps her career with a famous Champions League triumph – her football years are drawing to a close, and her priorities may be changing too. Turning 30 didn't depress her (she's not the type) but it's made her more determined to enjoy life, possibly in line with her new love of 'freedom'. "You just realise you're never coming back," she muses. "You're never going to live these things again, so enjoy them now".
At least she won't have to work at the food-importing firm anymore. Apollon, much to her delight, have offered her a job on the administrative side – and maybe, why not, a sideways move into coaching someday. After all, the local men's game was moribund for years before taking off; the same thing could happen in the women's game – but first you need football academies to train young players, which means you need girls coming into the sport. Someone just needs to "explain to parents" that the dangers are overstated, and indeed that football can change a girl's life for the better. 'Could that someone be you?' I ask – and she's silent, the bright eyes shining.