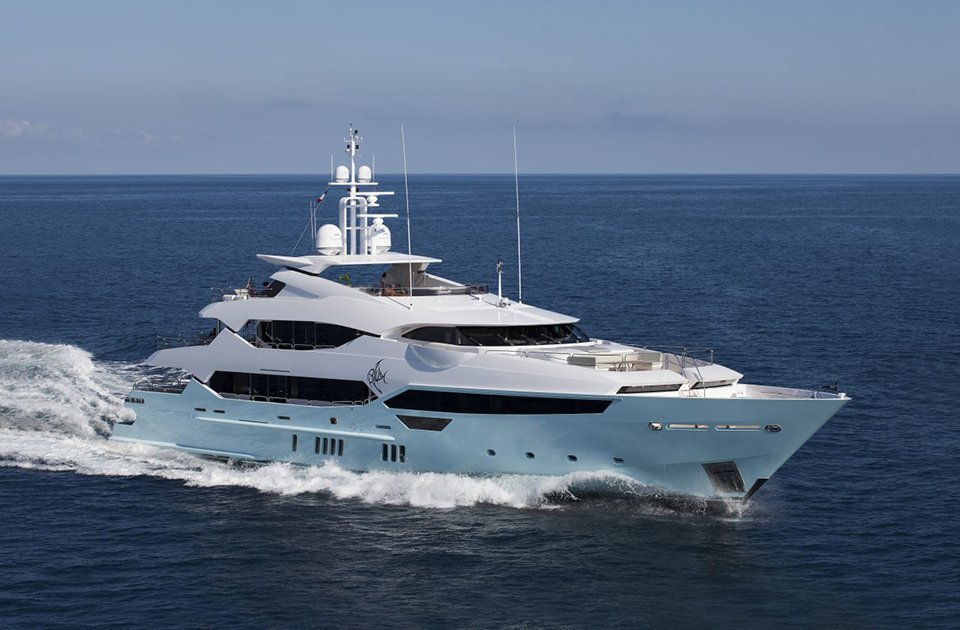 By Andria Kades
Over 100 exhibitors are taking part in what is set to be the largest boat show ever organised in Cyprus at the Limassol marina this week.
Exhibitors from Cyprus, Greece, Russia, Switzerland and Italy will be showcasing everything from "small hooks to a super yacht 50 metres long," co-organiser of the event Aristos Aristidou told the Sunday Mail.
For the first time since the Limassol boat show began in 2008, entrance to the three-day event, from May 5-7, will be free in a bid to drum up as much interest in boating amongst the public as possible.
"We made that change because we want all visitors to have the opportunity to see the exhibitors and all the products and get them close to the marine industry," said Aristidou.
"Even visitors that are coming to the marina just to have a coffee, we want them to see the exhibition. Because you never know who is going to be interested in becoming a boat owner or a fisherman or a diver."
The 110 exhibitors at the Limassol boat show will be showcasing a variety of products ranging from snorkeling, diving, fishing, water sports, services relating to boats and yachts and insurance companies as well as firms representing large yacht companies from England such as Princess and Sunseeker.
"For the first time, we are going to have boating debuts in the Mediterranean happening at our show. We have improved the seminars and shows for the three days of the event," Aristidou added.
This year, the event is co-organised by Aristidou and the Limassol marina and is a far cry from its humble beginnings in 2008 when the event actually took place at a parking lot near Limassol's old port.
"It was something like a small miracle for the people that participated back then. More than 30 boats were sold and that was a record for the time."
An agreement had been reached with the then mayor of Limassol, Andreas Christou, that all proceeds from the exhibition would go towards building a slipway to get boats in the water "which was the main problem for many boat owners".
Due to the financial crisis, no boat show took place in 2013 and 2014, but returned 2015, taking place under the watch of the Limassol marina.
Last year, the two co-organised the boat show, and according to Aristidou are coming back even better this year.
"It has expanded by 400 per cent and is going to be the biggest event yet."
Advertising campaigns have been carried out in countries such as Israel, Egypt, Beirut and to a smaller extent, Oman.
While Cyprus' marine services have always been a source of interest to foreigners living on the island, the local market is now beginning to grow, Aristidou said.
"There is a permanent interest from foreigners living in Cyprus. The Russian market is really helping the industry."
Where the medium yacht category is concerned, "a lot of British residents buy these kinds of boats" yet since Cyprus' economic recovery, a smaller market of locals is slowly growing, he said.
While many are still holding back because "people are a bit scared", Aristidou is confident that interest will grow.
"I believe the only thing that kept us back were the economic problems of 2012 – 2015. Actually, last year was the first time after four years of depression that during the event we managed to sell yachts and boats and equipment worth more than two million euros, so I believe we will start growing from now on, and I'm sure that if we keep the pace up then very soon the event will become a regional international event."
Yet despite the years of experience, the only predictable thing about buyers' interests is how unpredictable it is, he said.
"At a boat show is that you can never have expectations. I remember in 2011 when we organised it at My Mall in Limassol, a sheikh visited and said 'I want this boat.' A guy came from the back, paid for the boat and left.
"You never know what to expect. Last year, two boys from Israel came to the boat show and visited the Sunseeker stand. You could never imagine those boys were millionaires. They said 'How much is this boat?' '€1.3m' And they bought it."
Stories like these are one of the reasons why people love boat shows, according to Aristidou.
Long term, what would make the marine industry really kick off would be a solution to the Cyprus problem, Aristidou said.
"This would create a boom factor in the yachting industry because that means you would be allowed to go across Cyprus and then even go to Turkey and from there on, coast to coast, easily and safely to Greece."
The current status quo, means if someone has a small yacht, for instance 10metres long, this could only be used to go from Limassol marina to Lady's Mile beach or Zigi perhaps and back.
"If there is a solution, with this boat, you could go to the Aegean sea and to the islands. Everything would change. The cost would change, the services and we would have a lot more visitors."
In the meantime, however, Cyprus' push for more marinas is certainly in the right direction, Aristidou said.
Limassol now boasts two marinas, the Limassol marina near the old port and the other at St Raphael, while a new one is being built in Ayia Napa. Though both plagued by long delays, a huge extension to the existing Larnaca marina is planned and one in Paphos.
"If the supply is more than the demand that means that the rates are going to be lower and even average people will be able to have their boat here," said Aristidou.
When the Limassol marina opened in 2014, this reduced the rates of the St Raphael and Larnaca marinas.
"I'm sure when Ayia Napa marina is ready as well, everyone will reconsider their prices."
Selling an outboard engine, a catamaran or anything that's nautical?
If it's a private sale we will carry your advert for FREE in our classified section.
Just fill in the form and we shall do the rest.