In a moody, black-clad Goth girl in the graceful body of a model, THEO PANAYIDES finds someone content with being sad
Andriana Sophocleous is 1.82m tall and weighs about 59 kilos. This may seem an impersonal way of describing someone, but that's how it goes in the world of modelling; indeed, the website for Madison Model Management – who've been Andriana's agents almost from her first modelling job a couple of years ago – only supplies models' names and measurements followed by their height, bra and shoe size, those being much more professionally pertinent details than their hobbies or interests, let alone what kind of people they are. In a word, they're product.
Andriana isn't famous yet, and doesn't really sound like she wants to be – but she's "pretty well-known," as she puts it, having done work (whether catwalks or fashion shoots) for Timinis, Adam Zohar and NatarGeorgiou and appeared in glossy magazines like Omikron, Must and Madame Figaro. Her walk isn't that great in high heels – "I never really learned" – but she modelled for Madwalk last year, and may do the same this year. She usually gets about three jobs a month, on average, making around €100 a pop. That's not very much, I point out. She inclines her head, as if gently reminding me of something I may have forgotten: "For an 18-year-old, it's pretty okay".
She is indeed 18, the best years of your life according to some (nostalgic) people. Does she feel the way 18-year-olds are commonly presumed to feel? Andriana pauses, thinking about it; she's blonde and blue-eyed – her mum is a Pole raised in Scotland – with freckles on her nose and a poised, rather dreamy expression. "Hmm… I mean, I don't think I'm your typical 18-year-old," she demurs uncertainly. "I mean, I've had a pretty rough past. I live with my aunt. I model… I don't know, it's kind of a weird phase."
We're sitting in the garden of an old house in a slightly rundown part of Nicosia, surrounded by animals. There are six dogs – Voulas, Hera, Ares, Laika, Hermes and Nino – plus an assortment of cats, most of them neighbourhood cats who drift in and out. The only permanent resident is Yiannakis who seldom ventures out of the house, possibly embarrassed by the fact of being a female cat encumbered with a boy's name (Andriana brings her out at the end; she has the lazy, well-fed look of the professional house-cat); others include ET – "'Cause he looks like an alien" – and The Kraken, as in 'Release the Kraken'. Andriana's aunt Antigone has already brought us fresh lemonade and the jam tart known as 'pasta flora', serving her niece two pieces of cake (to be fair, they're small pieces; still, so much for anorexic models) before leaving us to it. "Who's your favourite?" I ask Andriana – indicating the dogs who are barking, cradling in her lap and sniffing madly – surprising her in mid-mouthful. "Mm-hm-hm," she mumbles, threatening to burst into giggles as she tries to indicate her favourite dog (Laika) and swallow the cake at the same time.
Aunt Antigone is an artist, working as an art teacher at the Pancyprian Gymnasium which is also where her niece goes to school (she's now graduated, barring only final exams at the end of this month). Why does Andriana live with her aunt – and previously her three cousins, who are now at university – however? She pauses again, as if taking a breath before diving down into murky waters. "Well, as I said, I had a pretty rough childhood," she replies carefully, the domestic situation having grown especially toxic in her early teens when her nine-years-older brother was away studying, leaving Andriana alone in the chaos.
Does she mean parents fighting and so on?
"Yeah, fights and lies and – other bad things. Two years ago – around two years ago – there was a really big fight at home, and I had to call the police and an ambulance had to come, stuff like that."
Was she herself a victim of this violence?
"No, no; only psychologically." She chuckles nervously. "Yeah, things were tough, and from that night my aunt came, she picked me up, and I never went back." Her folks are still in Cyprus – now divorced – but "we don't have much contact".
Did they try to get in contact?
"They did in the beginning. But they saw that I didn't want anything to do with them, so they kind of – stopped."
Does she miss her old life?
No, because of the fights, she replies at once – then thinks about it. "I guess I kind of miss something that wasn't really real," she ventures. "I miss the idea of having a family. But I know that I'm better off where I am now."
Aunt Antigone is a hero, of course; still, it can't have been easy getting used to living in what is, after all, someone else's home. (Andriana is currently installed in one of her cousins' old bedrooms.) "We got on pretty well from the beginning," she replies when I ask if she and her aunt had any problems. "I'm just… I'm kind of shy, so it makes people think –" She shakes her head, preferring to drop the subject – but later admits that it took her a whole year just to open up, "just to be able to say when I need something, when I want something". For a year, I assume, she stayed in her shell, even though she'd been getting (and continues to get) regular counselling – and even though, by that time, she'd started modelling, which must surely be a boost to a troubled girl's self-esteem.
Well, maybe. But she is, it must be said, a reluctant model. "I don't like makeup, I don't like fashion!" she wails. "I just want to be myself." Andriana was spotted in the street, at 16, by a man scouting models for a fashion designer – and, though initially sceptical, she decided to go for it. Before that point, she'd never even thought about modelling; even now, she doesn't think there's anything special about her, ascribing her success to the fact that there aren't many tall, blonde, blue-eyed girls in Cyprus. "Don't you think you're beautiful?" I ask, deciding just to ask her point-blank. "No," she replies at once. Really? She doesn't? "No, no, no. I'm very uncomfortable with my looks."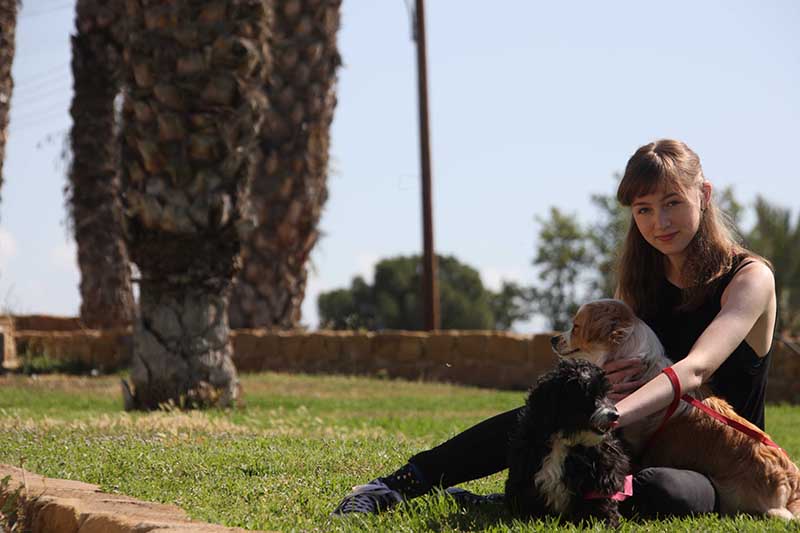 What does modelling actually involve?
"It involves – wait," she replies, and breaks off to calm down the dogs, who are barking en masse at a passerby. "Sorry… OK. It involves a lot of hands on you – in your hair, in your face. People fixing you up, you not really talking". She laughs, as if to say 'What a job, eh?'. "That's basically it. You're just supposed to sit down and look pretty!"
Do the other models enjoy it?
"From what I see, they seem pretty content with what they're doing. They're laughing, they're having fun. And usually I'm just [sitting] on the side, like, 'OK, is it time to go out yet?'." Doesn't she chat with the others? "I try," she replies with another nervous laugh. "But then the awkwardness and the shyness kicks in, so…"
She's shy, she keeps telling me so, "very shy and very closed-off". She thinks of herself as a misfit, insists Andriana, "I'm just not into the stuff other kids my age are; I'm into alternative things". She's like some moody, black-clad Goth girl in the graceful body of a model. People at school see her (she presumes) as weird and awkward. How many really good friends would she say that she has in the world?
"Uh, like two."
Why not more?
"Uh… I think it's mostly my fault, 'cause usually I feel like a person isn't – different enough, so I just push them away. 'Cause I feel like they're going to push me away, once they realise that I'm not… like that."
Do they expect her to be a certain way? Because of her looks, perhaps?
"I don't know," she replies with a hint of desperation. "I just feel like, whatever the case, I'm going to disappoint them. So yeah, I just – keep away."
You don't have to be 18 to sympathise with that kind of tricky emotional Catch-22: self-destruction as survival technique, a recalcitrant trait many end up carrying into adulthood – the hallmark of the sensitive person who fully expects rejection, and pre-empts it by rejecting the other. Human behaviour is complex, you could spend a lifetime trying to decipher it. "The world is, of course, nothing but our conception of it," goes an Anton Chekhov quote which is also the intro on Andriana's Facebook page; 'Andriana Sophocleous (Melancholy)' is the name at the top of that page. Why 'melancholy'? "Because I usually am melancholy," she replies candidly, defining the word as a sense of "being content with being sad". Should we be content with being sad, though? Shouldn't we try to be happy? "Well, it has its own, kind of, unique beauty. Being sad, and just being negative!". She laughs at her own outrageousness. "Yeah, I dunno," she concedes. "Being happy is all right as well."
How much of this is due to the trauma of a difficult childhood, and how much is simply a case of being 18? Hard to say – but there is an undoubted caginess to Andriana, all the more striking since she's so obviously smart and articulate. It's notable, for instance, that she loves art and poetry, which are both quite abstract – but not movies, which deal more directly with human emotions. (It's like you don't really trust people, I suggest. "I don't," she confirms.) It's also notable that she mentions Charles Bukowski and Friedrich Nietzsche, whom she loves for being nihilists with a jaded view of the world. Come on, I tease light-heartedly, the world is beautiful!
"No, I don't think it is."
"You think human nature is inherently…?"
"Evil," she completes with a nod.
Animals, on the other hand, delight her; they always have. She'd originally planned to be a vet, but couldn't get the grades and has now switched to psychology (not counselling, even though it's helped in her own life; she's interested in forensic psychology, or even animal psychology). School, incidentally, seems to be little more than a minor distraction, allowing her to get good grades – she has an 18/20 average – with minimal effort; not because of the modelling, which she juggles easily enough, just because of "who I am as a person. I don't want to study".
She may indeed be something of a neo-hippy, with potentially radical politics and a yen for a truly alternative lifestyle. She rails briefly against the "one per cent" who cause all the wars and manipulate ordinary people – and also seems to have little time for most of her peers, who live in a bubble and want nothing more than to settle down with a 'safe' degree and a good job. "Kids are starving, there are wars – and meanwhile kids [in Cyprus] are on their phone, they're crying because their boyfriend left them, and I'm like 'Hello?'." Yet she doesn't want to be an activist; quite the opposite, she wants to withdraw. She'd like to live somewhere "isolated," says Andriana, "like, I dunno, in a forest somewhere… My dream actually is to build a farm and, like, have animals. So somewhere in Nature". She also, very much, wants a family, "to live what I didn't have the chance to" and give her own kids what her parents were unable to give her.
So a farm, with some rugged farmer type, and about six kids and 20 dogs?
"Yeah," she replies, laughing delightedly. "That's my ideal life!"
Andriana Sophocleous may be 1.82m and 59 kilos, but that doesn't really tell you much about her. She's happy enough to model now and then ("It's pretty solid work"), but it's fair to say she's not really model material – so what will become of this rather unusual girl, as she stands on the brink of adulthood? Well, for now she needs to pass those final exams, so as to enrol at the University of Cyprus – though another idea is to study in Scotland where she could also meet up, for the first time, with her family on her mother's side. It does matter, I suspect, that gap in her life due to the difficult childhood. It's something she'll have to make peace with, one way or the other.
Meanwhile, the future looms large. It'll probably take weeks before she even plucks up the courage to talk to anyone at university, she notes ruefully – yet she also affirms that "I like being different, I like being weird, I like being awkward. Because I'm myself". At least she's an adult now, I point out. "Yeah, that's good. But it's also kind of scary. Because I don't really know if I'm gonna be able to cope with –" she pauses briefly, indicating life beyond her aunt's little garden – "the big world out there". I wish her well.