THERE is just nothing Prez Nik could do to please presidential candidate Junior and his loyal Dikheads, or the rest of the rejectionist mob. Even if Nik triumphantly led the National Guard into Kyrenia and raised the Greek flag on the Pentadaktylos mountain range, Diko would issue a statement criticising him for being too merciful to the Turks.
It would have been unreasonable of Nik, now that he has become a born-again rejectionist, to expect the plaudits of his new comrades despite his achievements. He may have led the talks to deadlock and made the collapse of the peace process a formality thus saving the Cyprus Republic and securing the preservation of the status quo but Junior refuses to give him any credit.
Nik has achieved all the objectives of the rejectionists so it was a bit cheap of Diko to issue a statement on Friday claiming "president confesses the failure of his tactics and strategy" and arguing it was "confirmation of the imperative need for a change of strategy."
His strategy of pretending to be interested in a settlement while doing everything he could to achieve deadlock was a resounding success for which Junior, if he was fair, should be congratulating him and singing his praises. Nik, after all, is on the verge ensuring the Turkish troops will stay in Cyprus forever and Famagusta would remain in Turkish hands.
What else does Junior want?
THE PROBLEM for Junior is that he will have little to differentiate himself from Nik in the presidential elections now that the latter has also become a champion of partition. The Diko statement made it clear that the party did not buy Nik's embracing of the rejectionist faith.
"The recent change of his rhetoric does not mean his positions have changed. The concessions and 'generous offers' remain," it said. Nicholas Papadopoulos who "has been asking for some time now for a New Strategy on the Cyprus issue," had been "vindicated." The statement's conclusion said it all. "The new strategy demands a new president."
But more than a new president, the new strategy needs content, which it never had because that would have ruined the fairytale appeal of the slogan. Unless Junior's mum is prepared to buy her boy tanks, planes, missiles and soldiers that he could use to defeat the evil Turk any talk of new strategy is a scam.
The truth is we do not need a new strategy because the old strategy of pretending we really want a settlement and then claiming that it is not good enough for us has served us extremely well. It was followed with resounding success by all our presidents, especially by Junior's dad who used the old strategy to turn himself into a national saviour. Why change a winning formula?
PREZ NIK never had any intention of changing a winning formula although initially he created the impression that he would be different from his predecessors. He just pursued the old strategy with much greater thespian skills and a much better sense of theatre than the Ethnarch.
His latest performance, at the 127th session of the Committee of Ministers of the Council of Europe that was held in Nicosia on Friday, deserved an Academy nomination for an Oscar for Best Actor. This was when he made participants think that he really wanted to "finally break the current impasse," which he had been the cause of.
"I have put forward a creative proposal as to the methodology we could adopt that would allow us to finally break the current impasse, bridge the differences, and establish the parameters, through a sequential approach to constructive negotiations to reach a comprehensive settlement on the Cyprus problem," he said.
As if it is not bad enough posing as a supporter of a settlement, the great actor is now also posing as a great intellectual. It will not be long before he gives a TEDx talk about the sequential approach to constructive negotiations for fooling people.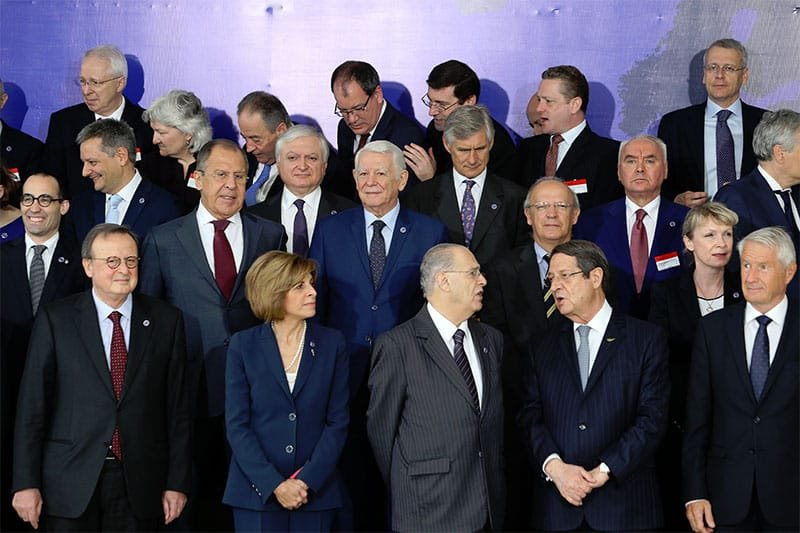 WAS IT a coincidence that one day before the Mother Russia's foreign minister Sergei Lavrov was due to arrive in Kyproulla his ministry's spokesperson Maria Zakharova issued a statement saying allegations that Russia was trying to hinder Cyprus peace talks were absurd? A case of the lady doth protest too much?
Of course the spokesperson repeated Russia's principled stand on the Cyprob. "We regard as unacceptable any attempts to use external influence to artificially accelerate the process and achieve a settlement at all costs."
Mother Russia always finds good reasons why the talks should not proceed but would never dream of hindering, as Zakharova informed us.
Lavrov met foreign minister Ioannis Kasoulides on Thursday after which they spoke to the press and Kasoulides thanked Lavrov for Russia's principled stand on the Cyprob. Asked about Turkey's provocations and unacceptable behaviour in our EEZ, Lavrov avoided taking a principled stand in our favour, taking care he did not say a word that could have caused offence to the Turks.
This caused great disappointment to Russia's main cheerleader in Kyproulla, Phil which sadly reported "mild Russian response to Turkish threats."
Strangely, no principled statement followed Lavrov's meeting with Prez Nik on Friday. Perhaps this was because the foreign minister's response to Turkish threats was mild, to put it mildly, but he could have publicly congratulated our Prez for his "creative proposal as to the methodology that would allow us to finally break the impasse."
A GROUP of Russians with Cyprus citizenship applied to the interior minister for permission to set up a Russian political party last week. A Russian customer of our establishment described this as a "silly idea," claiming that a couple of his countrymen undertook the initiative because they wanted to become MPs.
The idea that you could have a party representing the nationals of another country is not just unprecedented it is absurd. It is doubly absurd in the case of Cyprus in which we have at least three parliamentary parties that are proudly and openly pro-Russian. We do not need a fourth, even though it would consist of Russians rather than Cypriots.
SELF-IMPORTANT, bash-patriotic Simerini columnist Dr Yiannos Charalambides, who also happens to be Dr Eleni's assistant at the European Parliament, showed that he does not always subscribe to the view that the pen is mightier than the sword.
Last Wednesday in the refectory of the European Parliament in Strasbourg the self-regarding and humourless Dr Charalambides attacked journalist Thanasis Athanasiou because he disagreed with his Cyprob views. Athanasiou was sitting at a table with a Cypriot MEP and Dr Charalambides (he is a doctor of International Relations) talking about the Nik-Mustafa meeting that had just ended.
The good doctor did not like what he heard from Athanasiou and attacked him verbally and physically, grabbing him by the collar with the intention of hitting him. This is what Athanasiou said on his Twitter account:
"As soon as he attacked me, he was grabbed by the Cypriot MEP who held him so he would not attack me again… Charalambides was swearing at me, shouting that he would beat me up. I was urging him to respect the place we were in and he responded by telling me, 'let's go outside' to sort this out. I refused and then he told me 'if I catch you outside…'"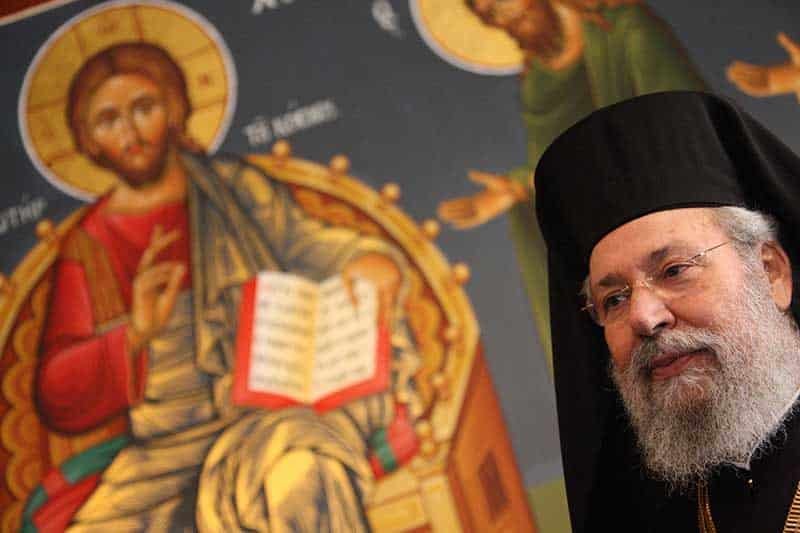 ARCHBISHOP Chrys can always be relied on to offer some entertainment with his ignorance. Speaking on CyBC TV one morning last week he demanded that the Turkish settlers were sent back to Turkey. "They are Anatolians, they are uncouth, they will never become European, not in 100 years, and if they stay here they will spawn a dozen children per family; where are we going to go."
If an uncouth, uncivilised, Paphite peasant could become Archbishop and a European in much less than 100 (through divine providence he has not spawned any kids as far as we know), what would stop the uncouth, uncivilised Anatolians from doing the same. OK none of them would become archbishop but becoming European is not so difficult. Let us not forget that a cultural backwater like Paphos is currently European Capital of Culture.
A DOG manicurist (yes there is such a profession) in Nicosia uses business cards to promote her business with the slogan "I like it doggie style." Sometimes the English language plays terrible tricks on people unfamiliar with slang. Some years ago, a person at the Mail's classifieds desk took an advert for 'French lessons,' not knowing what it really meant and the ad ran for a couple of days before someone who knew what it meant pulled it.