The winning architectural proposal for the new archaeological museum in Nicosia announced this week aims to encompass three main elements of Cyprus' history, the architectural team awarded the project has said.
The project by Greek architect Theoni Xanthi will focus on three thematic units – the prehistoric period, the island's timeless relationship with the sea, and the Cyprus' ancient city kingdoms.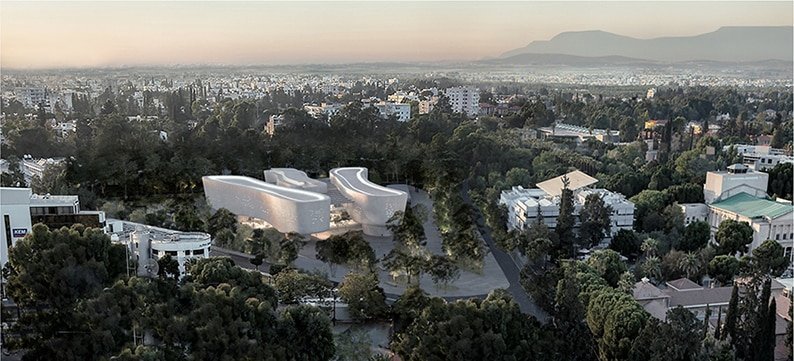 The new museum will be built on land opposite the House of Representatives that used to house the old Nicosia general hospital.
Construction of the new museum is budgeted at €75 million, with work scheduled to start sometime next year.
The Cyprus archaeological museum has been at its current location, an old building opposite close to the new site since 1909.
"An archaeological museum protects memory and interprets the past, but is at risk of remaining idle as it deals exclusively with the past, thus requiring an injection of present time," the winning team said.
"The museum's location is in-between the city's green and urban zones, so it has the ability to function as a unifying presence and contribute decisively to the revamping and upgrading of Nicosia's urban environment."
The museum's elevated structures allow the ground-level to be freed up so that the city's large public space can be accommodated.
"Starting with the central square, which will also tie in with the parliament building, it continues with the area outside the entrance, and a linear park alongside the Pedieos river will surround the library and the Department of Antiquities," Xanthi said.
"The second level – the River level – a small city will spring out around the museum's atrium, surrounded by the restaurant, temporary exhibitions, and the library. A quieter and more protected periphery will feature the laboratories. And in the middle, the children's educational garden."
Accessibility, according to the architects, has been studied both with respect to bicycle lanes and ground-level and underground parking spaces, so that visitors, caterers, and auxiliary services can approach unencumbered.
"We sought to design a modern and innovative building that will be a refreshing gesture toward the city of Nicosia," Xanthi said.
"The space and design of the museum can host a range of activities and cultural events. The museum itself, with its valuable collections, can become, in our view, a landmark for the city and Cyprus."