Greece bid farewell on Wednesday to former conservative prime minister Constantine Mitsotakis, one of its most prominent politicians who was both revered and loathed for pushing for early austerity.
Mitsotakis, whose political career spanned more than half a century, served as prime minister from 1990-93. He died on Monday aged 98.
Hundreds of supporters queued outside Athens's Metropolitan Cathedral, where his body lay in state, to pay their respects before a grand public funeral. A private service and burial will take place on Thursday on his native Crete.
In a reminder of his divisive legacy, a few boos were heard as leftist Prime Minister Alexis Tsipras arrived.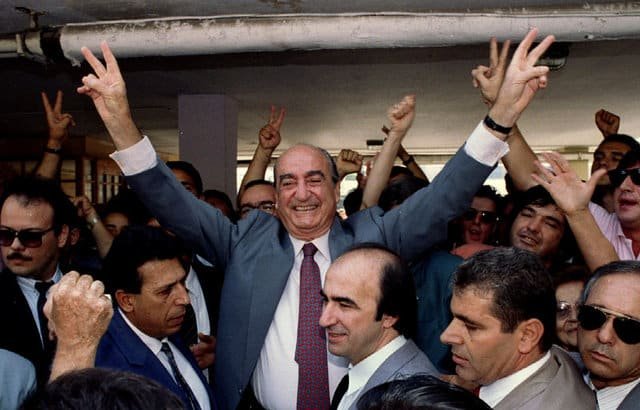 "He was Greece's greatest politician. A visionary slandered by the rotten political system," said a 65-year-old pensioner who gave only his first name, Yorgos. "We wouldn't have been in this state if they had let him do what he wanted."
Others praised him for being ahead of his time.
"He was a serious politician who put the country's best interests first," said Katerina Zarakou, 65.
A nephew of liberal statesman Eleftherios Venizelos, Mitsotakis fought in Cretan resistance against the German occupation and was first elected to parliament in 1946 at the age of 28.
Barring the years he lived in exile in Paris during Greece's seven-year dictatorship, he held several ministerial posts and eventually become leader of conservative New Democracy in 1984.
With a one-seat majority in parliament, Mitsotakis pushed for spending cuts, reforms to the civil service and privatising urban transport. It sparked major union strikes and violent protests.
He maintained that had his policies been adopted, Greece could have avoided a pummeling debt crisis which erupted in 2009 and forced it to turn to the European Union and International Monetary Fund to avert bankruptcy and a euro exit.
In one eerily accurate prediction, he said in 1994: "The tragic problem of the Greek economy is that it cannot withstand burdens and deficits…. It will not be long before Greece can no longer borrow and it will resort to the International Monetary Fund."
Two of his children also entered politics, his son Kyriakos is the incumbent leader of his New Democracy party, now the opposition, and his daughter Dora Bakoyanni was former foreign minister and mayor of Athens.