THE INDEPENDENT candidacy of Mike Spanos looks almost certain to be backed by the comrades of Akel whose politburo, central committee and supreme soviet, predictably, failed to find another possible candidate to propose and give a choice to the sheep (also known as the party base), that will be asked to ratify the candidacy in early July.
The wise leadership of the party could not trust the sheep to make the correct choice if it proposed two possible candidates – not to mention the danger of confusing them – so it went for the democratic method, traditionally favoured by communists, of just having one. There would be no surprises in July when the party base democratically chooses the party's presidential candidate.
On Wednesday former mayor of Limassol Andreas Christou issued an announcement saying that he had been asked about standing but said no because the election tribunal was to examine his appeal against the result of last December's mayoral elections, which he lost by less than 10 votes.
It was a pretty lame excuse but it is a mortal sin for commies to cite personal reasons for refusing to serve the party when it calls on them to do so.
CHRISTOU, who was forced against his will to seek a third term as mayor, could not say I feel too old and after a political career as deputy, minister and mayor I want to retire from politics and get the chance to spend all that money I am receiving in state pensions on travelling and other leisure pursuits.
He highlighted the matter of service to the party in his statement. "I never refused contributing to and serving the party… I am forced, however, by things, to make this statement for all those that are genuinely interested, but mainly for those that refer to my 'refusal'."
He could have been honest and said that he felt he was unsuitable for the presidency because he was getting on in years and lacked the energy for such a demanding post, but that would have implied the party leadership, which is infallible, had been wrong to ask him.
The former mayor proposed two other Akel losers as possible party candidates – former deputy and minister Kikis Kazamias and narcissistic MEP Takis Hadjigeorgiou, who had managed nothing in his life except his public image – but the party leadership did not deem them worthy of discussion. Perhaps it is infallible after all.
THE PROPAGANDA machinery of the party has already started engaging in low-level cultivation of a new image for Spanos with Akel spokesman and former Tof flunkey Stef Stef even trying to change his name when speaking on a morning radio show.
He referred to the candidate as 'Michalis Spanos', something that was immediately picked up by the presenter who asked whether Akel would not be calling its candidate 'Mike'. He was christened Michalis and not Mike was Stef Stef's immediate response, which was a tad hypocritical, considering his party leader is called Andros even though he could only have been christened 'Andreas' in the Orthodox church. He might not call himself Andy, but still, nobody is christened Andros.
Spanos handled the matter in a much smarter way when asked in a TV interview on Sigma whether he was Mike or Michalis. He said some people called him Mike, some Michalis, some Michalakis and his close friends Misha but he always responded regardless. The big question was why nobody ever called him Mikis?
One thing he said in the interview must have incensed the comrades. He was asked about his lack of involvement in politics and with the parties, which the presenter said were the "constituent cells of democracy," a key phrase regularly used by Akelites.
The parties were the "malignant cells of democracy," said Misha and he was absolutely right. It was a great sound-bite, but was unlikely to endear him to the leaders or the sheep of the malignant cell that will back his candidacy.
MISHA, who said he was "fanatically in favour of a settlement," avoided responding to an allegation that he used Tymbou airport, published in a Turkish Cypriot paper, by commenting instead on some of the "vileness" and lies said about him.
The first horrific lie he categorically denied was that he dyed his hair. He never did such a thing thus putting an end to speculation that he used the same Limassol hairdresser as Prez Nik. Other vicious lies were that he had €300 million NPLs, that his kids were adopted (even if they were, why did it matter, was it a slur on his manhood?) and that he was an agent of the Americans.
As regards the last lie, everyone knows that Akel would never dream of backing an American agent.
ELSEWHERE on the election front, Yiorkos Lillikas' candidacy suffered a major setback when on Friday a group of Alliance members, including one of its deputies, who quit the party a couple of weeks ago, set up their own patriotic Autonomous Citizens Platform.
The Platform, according to deputy and former TV presenter Pavlos Mylonas would be "autonomous, uncompromising, seeking justice, freedom and dignity." Sounds more like a hippy movement from the sixties rather than the ultra-nationalist platform that would oppose bi-zonal, bi-communal federation and "propose an assertive strategy" on the Cyprob.
The poor old Paphite will have trouble convincing voters to back him, even if he has the support of Mother Russia when three quarters of his party's leadership team walked out on him because he was not deemed uncompromising enough in seeking justice, freedom and dignity.
As for the guys of the Platform, it does not say much about their intelligence that it took them a few years to realise that the party they belonged to existed exclusively as a vehicle for Lillikas' uncontrollable, personal, political ambitions.
BEFORE the Platform announced its assertive strategy Sigmalive, which has become a zealous champion of Junior's candidacy, posted "N. Papadopoulos' Decalogue for a new strategy on the Cyprus problem." The Decalogue was part of a letter Junior sent to Prez Nik last February and was no different from Lillikas' new strategy.
The tenth commandment, titled "Creating a real political and economic cost to Turkey," we have been hearing for the last 30 years. President Junior would achieve this by suspending the opening of Turkey's EU accession chapters, suspending funding by the EU, preventing the upgrading of customs unions and, most importantly, "imposing sanctions against Turkey for issues such as the continuing violation of human rights in Cyprus…"
Junior's brilliant new strategy has one minor weakness – it fails to reveal who would impose the sanctions against Turkey. He should tell us if we are going to vote for him.
THE POSTING of the Dikhead Decalogue may have been intended to deflect attention away from Junior's 'cabbage' remark that sparked his non-stop ridiculing on social media. Told on a radio show that the issue of security would be discussed at the Geneva conference, Junior said "Great cabbage" (spoudea ta lachana), a Greek idiomatic expression similar in meaning to the ironic use of, 'big deal'. I do not know why people made such a big deal out of the cabbage comment, considering it was not any sillier than most remarks we are accustomed to hearing from Junior. Spoudea ta lachana if he said great cabbage about security. I think we should start taking Junior a bit more seriously now that we know he will impose sanctions on Turkey if elected.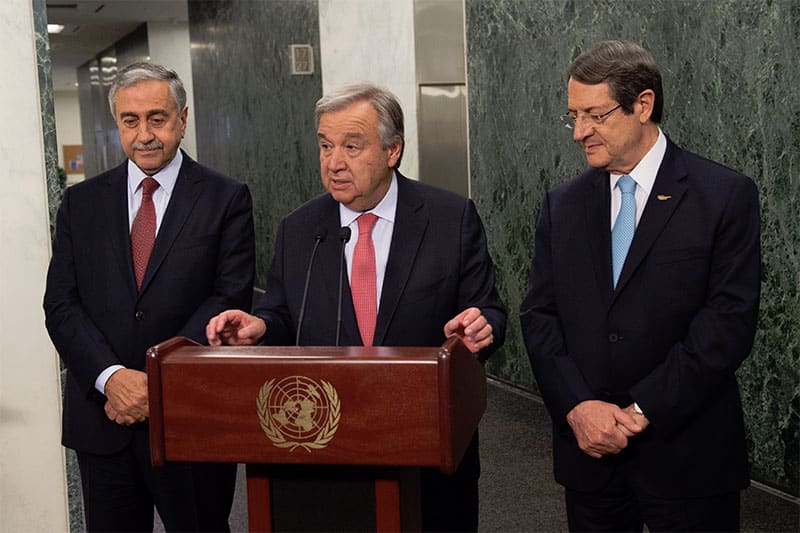 PREZ NIK'S creative proposal, for a new methodology of the Cyprob talks ended up in the recycling bin at the UN HQ in New York during the dinner hosted by UN Secretary-General Antonio Gutteres last Sunday night.
Guterres allowed Nik and Mustafa to have their say during the dinner at which Espen Barth Eide was also present and then told them that the Geneva conference would be re-convened before the end of the month. Security and guarantees would be discussed but so would the other chapters and the conference would be open-ended.
This meant that Nik and Mustafa would have to stay in Geneva until there was a deal. If they failed to reach a deal, the process would be wound up and the Cyprob declared unsolvable by the UN. The implication was that there would be no other initiative and that Unficyp would be pulled out of Kyproulla in the near future.
Nik could not turn down the UNSG's proposal even though it left him no escape route and no possibility of playing the Turkish intransigence blame game.
Instead he tried to save face back home by insisting a 'common text' outlining the procedure that would be followed on security and guarantees in Geneva was first agreed.
On Friday the UN announced the date for the start of the conference but there was no text, prompting the acting government spokesman to declare that if it were not ready before June 28 "then we would not be able to go to Geneva."
Disagreement over the text could be Nik's escape route after all. He could object to the excessive use of subordinate clauses or the lack of semi-colons.
TASS NEWS agency wasted no time in reporting the views of our overlord the ambassador of Mother Russia Stanislav Osadchiy about the re-convening of the Geneva conference. Tuesday lunchtime it reported that Osadchiy welcomed the news but noted that only the EU would be invited as an observer and not the five permanent members of the Security Council.
He also expressed the wish the two sides would find "mutually acceptable solutions to all pending issues, mainly to issues of security and guarantees." Why is he so concerned about security and guarantees? Is it because Mother Russia believed security was the best hope of being a deal-breaker? Prez Nik is clearly in agreement because a day rarely passes by without him mentioning that he would never agree…
After receiving some criticism of always reporting the views of Osadchiy, Tass decided to ask for comments from the ambassadors of the other four permanent members of the Security Council. The Chinese and French ambassadors were fully supportive of the peace efforts and unlike Osadchiy did not try to stir things up by mentioning security and guarantees. Perhaps this is because their governments do not have a principled position on the non-solution of the Cyprob like Mother Russia does.
COMMENTING on the outcome of the New York dinner, Lillikas spoke of the danger of the Cyprob being declared an unsolvable problem and the international community stopping dealing with it. The hypocrisy of the guy is legendary.
When the international community deals with the Cyprob he complains about foreign pressure, attempts to impose a settlement, suffocating time-frames, the laying of traps against our side and so on. He should welcome the international community giving up on the Cyprob because all the above would end.
He might not be able to pose as a brave resistance fighter against the evil foreign plots if this happened but at least the danger of an unfair and unjust settlement that would turn Kyproulla into a Turkish protectorate would have disappeared for good.
More importantly, the final acceptance of the failure of peace talks, which have been going on aimlessly for 50 years, would enable Lillikas and Junior to put into practice their new Cyprob strategy that is certain to be a resounding success, especially once they imposed sanctions on Turkey. As Junior would say 'great cabbage.'