At the front line in historic times, THEO PANAYIDES meets a woman who has always done her duty, whether for family, country or cause
The black-and-white photo dates from the early 60s. That, at least, is a reasonable guess, given that the men at the head of the conference table are Archbishop Makarios and Fazil Kucuk, president and vice-president of the newly constituted Republic of Cyprus. The occasion may be a briefing or press conference – but the eye immediately goes to the young woman seated about halfway down the table. Partly it's because she's the only one looking at the camera, partly because she's wearing the saucer-like sunglasses that were popular in the 60s – but mostly it's because she's so young, not even 30, wearing a half-smile and a light summer dress, and looks so fresh and alert compared to the stodgy men around her.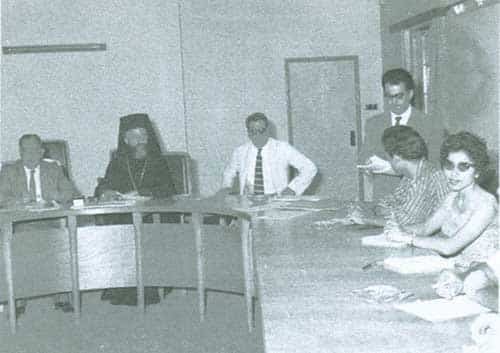 That was the story of Maroula Violari-Iacovidou's life, at least in the early years. The photo appears on the cover of a short pamphlet, published last month for a ceremony honouring Maroula as "the first Cypriot female journalist" – the 'Cypriot' tag added because there were indeed a couple of foreign-born women working in journalism when she started out in the mid-50s (Lana Matoff, later der Parthogh, and Barbara Cornwall, later Lyssarides, both at the Times of Cyprus) but she was the only local girl, a fresh petite presence surrounded by stodgy men, and remained so for about four years. "I decided that, since I was the only woman, I didn't have the right to fail," she says now, recalling the newfound responsibility of single-handedly representing her gender. "Because everything I did stood out. I was alone."
Women, it goes without saying, weren't expected to work in those days. Prior to making in-roads in the world of newspapers, Maroula had achieved another milestone, becoming the first girl from her mountain village of Spilia to graduate from the Pancyprian Gymnasium; three other girls had enrolled, she explains, but all three dropped out in their late teens to get married. One assumes there were quite a few frustrated Cypriot women who dreamed of becoming journalists in the mid-1950s – so it's rather ironic that Maroula was allowed through the door without even asking, or wanting, to join the profession. Her plan was to be a teacher, and she'd already passed the exams – but almost exactly 62 years ago, on July 3, 1955, a gentleman named Vias Markides who was editor of Ethnos newspaper (and also president of the Pancyprian's alumni association, so he had connections) attended the graduation ceremony where Maroula won a prize for her writing skills, then asked the headmaster to approach her with an offer of employment at his paper. She had no experience writing news stories – only essays and fiction – nor any special ambitions in that direction; it was mostly due to the headmaster's urgings that she said 'yes' at all.
To this day, it's not entirely clear why Markides (and managing director Zenon Severis) decided to take a chance on a woman journalist, especially without being asked. It's not like she came from a wealthy or well-known family: her dad was a self-made man who sent five of his seven offspring to the Pancyprian and laboured – rather like a journalist himself – to connect Spilia with the outside world, frequently driving down to Nicosia and bringing back a cargo of newspapers (including the Cyprus Mail) for the village coffee shop; but he wasn't rich, and made his living as a fiddler at weddings. More importantly, although Maroula had proved she could write, it takes more than a way with words to be a journalist. "It took boldness as well," she nods. And what about herself, at 18? "I was bold," she confirms. "Before I'd even graduated I'd become a member of Eoka, from May 1955."
Now we're talking. It's unclear if Maroula's bosses at Ethnos knew or cared about her Eoka affiliations – it wasn't the kind of thing you made public – but there's no doubt that "the struggle", as she calls it, played a pivotal role in her life. The struggle was where she met George Iacovides, a fellow journalist who became her Eoka 'contact' then, later, her husband of nearly 50 years. The struggle was how she came to know Tassos Papadopoulos and Glafcos Clerides (another future President of the Republic, Spyros Kyprianou, was the London correspondent of Ethnos). The struggle may have been what tipped the balance to accept the newspaper job, knowing she could probably do more for Eoka as, to put it bluntly, a propagandist. "We were trying to boost people's morale," is how she puts it. "Whether that counts as propaganda I don't know, but that's what we did. We didn't change the facts – we just honoured our heroes' sacrifice… This, in my opinion, is permissible when you're fighting for freedom."
The struggle had been in her heart from way back. The first prayer she ever learned, as a three-year-old in 1940, asked God to bless Mummy and Daddy and "help the Greeks win the war" (they were fighting the Italians at the time). Later, called upon to welcome visiting clergy to her primary school, she'd always ask them to "bless us so we can achieve the enosis of Cyprus with Greece". The struggle placed her in hairy situations, frequently stopped by British soldiers after curfew and having to make up lies ("We've had reports of a fire in this neighbourhood…") when her journalist's 'curfew pass' wasn't enough to persuade them. The struggle marked her first baby steps as a reporter, rushing out to the street, notebook in hand, after the deafening eruption of a bomb blast or standing outside the Central Prison – still just a teenager – to cover the executions by hanging of Karaolis and other heroes ("When we heard the national anthem, we knew it was all over"). The struggle emboldened her to tell Makarios to his face that he was "misinformed", when she met the Archbishop for the first time in Athens – he'd just come back from exile, this towering figure, and Maroula barely over five feet tall – and he said he had information that morale was low back in Cyprus.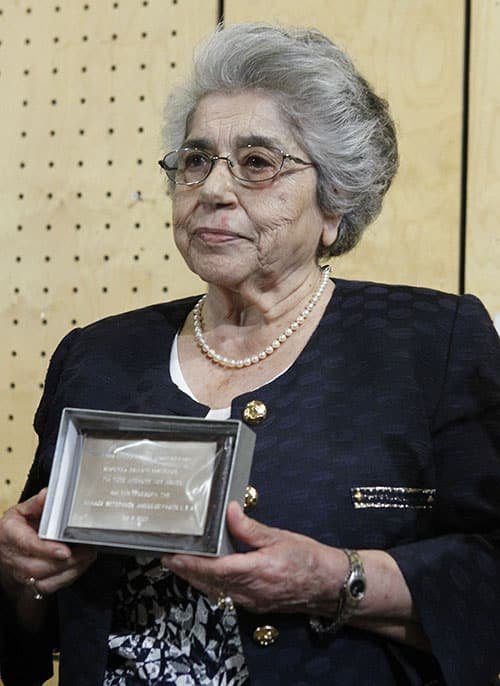 By that time, in early 1959, she'd left Ethnos for Ethniki, a new paper designed specifically to support Eoka – but in fact Ethniki was short-lived and it wasn't long before Maroula left the newspaper business altogether, with its long hours and unsociable lifestyle. (Reporters typically started around 10am, wrote in the office till six or seven then moved on to the printer's where they stayed till two or three in the morning, walking back through seedy neighbourhoods where a young lady shouldn't really be walking.) Post-independence she rapidly became a civil servant, first at the Ministry of Education then CyBC from 1966 till her retirement in 1997 – which is also, to be honest, where our conversation starts to deflate slightly, both because her life became more settled (with the obvious exception of the invasion in 74) and because Maroula has only good things to say about our dysfunctional Corporation, even breaking out the old excuse that its ratings are low so it can't make enough from advertising; as if a state-funded channel should have to rely on advertising.
Actually, she has good things to say about everything. She insists she never experienced any sexism, and even the boys at the printer's – rough, foul-mouthed men working in torrid conditions – turned into "angels" when she came in for the night's shift. There was never a case of a source being less forthcoming, or an interviewee less respectful, because she was a woman. One explanation could be that a sole female journalist isn't actually enough to provoke a reaction; it's only once the women start arriving en masse that men might feel threatened. But another explanation is surely that Maroula herself won them over with her dignity and humility. "Respect is something you earn, and inspire," she tells me, adding that "I never gave anyone any reason [to dislike me]"; she worked hard, wrote well, and appears to have very little ego. The 'first female journalist' label may be a bit misleading, calling up suggestions of some fiery activist. In fact Maroula is low-key, and so self-effacing that it took repeated pleas before she agreed to the recent tribute.
Was she ambitious, as a person? "I wouldn't say so. I just wanted simple things in life… I wanted to have a nice family – and I do believe that family is everything. I received a proposal to go into politics once [as an MP], and I said no, it's not for me". She was always active in committees and associations, serving on the Media Complaints Commission or the Organisation for the Blind – but that was different, that was social work and came under the rubric of 'duty'. Maroula has always been big on duty, very much including the duty – the responsibility – of breaking new ground for women in her not-really-chosen profession. She's a big believer in doing the right thing, and proudly tells the story of her son Evelthon, 12 years old in 1974 (she also has a daughter, Eleni), going out in his Boy Scout's uniform to help pack food for refugees, after having heard on the radio that help was needed.
She strikes me as an otherwise-modest person who becomes a soldier to a cause, drawing strength from the thought of a larger purpose. Family and country ("the struggle" again) are perhaps her twin pillars, two kinds of faith demanding two kinds of duty. Religious faith, too, seems to be present, judging by the icons ranged beside the 'I Love You Grandma' buttons and book-lined shelves (mostly politics and history) in her small apartment. She shows me a scrapbook of newspaper clippings, a plaque from last month's ceremony, and a few slim volumes of her own poetry.
There's a sadness here as well, I have to say. The flat is modest, Maroula looks a little tired. She'll be 80 in December, and suffers from osteoporosis and other health issues. It all seems so long ago, this talk of Eoka – indeed, this talk of newspapers. Now it's all Facebook, or at least it's all online. Like many people her age, Maroula is upset by the "lack of respect" she encounters in the young nowadays. And of course there's something else as well: her husband George – not just husband but Eoka contact, confidant and fellow journalist – passed away 12 years ago, a gap in her life that's never been filled and in all likelihood never will be. How, I wonder gently, does a woman deal with becoming a widow?
"They say," she replies soberly, "that the pain is diminished with the passage of time. But I reply that the pain is not diminished. It grows deeper." Maroula nods gravely: "It grows deeper. The longer I live, the more I miss him. When I see my grandchildren – our grandchildren – growing up, every time I turn around and look at them I miss him more, because I think 'He had a right to see them too'."
He was the man of your life, I mutter awkwardly, as tears begin to trickle from Maroula's eyes.
"It's not easy," she replies with dignity. "I was with him for 50 years. It's very, very difficult." Later, she shows me a poem in her latest collection titled 'To George' – but another of her poems (titled 'To My Four Grandchildren') expresses the loss even better, all the more poignant for being reflected through moments of joy. I'll copy it here, though of course poems always lose in translation:
'I looked around again
and again saw nothing.
The void grew bigger
the pain grew deeper.
I heard your voices and your laughter
and they all said
life is beautiful
since I have you
my angels!'
Marriage, you might say, was another of those larger causes to which Maroula Violari-Iacovidou devoted herself so unstintingly – just like Eoka, and CyBC, and journalism, and Cyprus in general. Looking back, the editor of Ethnos made a pretty good choice 62 years ago, whatever his reasons may have been. Did being a news reporter change her, as a person? "I don't think I changed," she replies with a shrug. "I mean, I never stopped being myself… I don't regret anything I did, it was all so – imperative". Given the times in which she lived, there was never a choice; at least in terms of doing one's duty.
Now, of course, it's all different. Values have changed, Cyprus has changed, society has changed, just like the fashions on the girl in that black-and-white photo – indeed, like the girl herself. "What we lived may seem strange today," she muses. "To us, however, it was our life." I say goodbye, briefly haunted by the image of a fresh, petite young thing in a light summer dress, surrounded by stodgy men.