CYPRIOTS woke on Friday to the ashes of ten days of make-or-break talks in Crans-Montana, Switzerland, which crashed and burned in the early hours, giving way to the blame game, at least until the smoke clears when the UN issues its report later this month.
Both sides accused the other of being responsible for the gigantic failure of talks that seemed to swing between 'almost there' to 'never there' from day to day until an exhausted and clearly disappointed UN Secretary-general Antonio Guterres, after 15 hours of negotiating, called a halt at 3.15am Cyprus time.
Guterres' news conference lasted only 3.5 minutes. He said he could not isolate a particular issue as the death knell for the talks, but was firm that the conference was over and he wished "the best for all the Cypriots north and south".
UN Special Adviser Espen Barth Eide tweeted on his way out of Crans-Montana later Friday: "Close, but not close enough: A somber mood as delegations leave #CransMontana, after 10 days, without agreement".
Close, but not close enough: A somber mood as delegations leave #CransMontana, after 10 days, without agreement. #ConferenceOnCyprus pic.twitter.com/oTNNapR5gw

— Espen Barth Eide (@EspenBarthEide) July 7, 2017
The blame game began with Turkish Foreign Minister Mevlut Cavusoglu who tweeted within minutes of the collapse that "unfortunately" the Greek Cypriots' 'zero guarantees, zero army' red line could not be overcome. He even suggested that negotiating within UN parameters might no longer be the answer for Cyprus.
Government Spokesman Nicos Christodoulides, shortly after said it was Turkey's stance on security and guarantees and their position on the remaining chapters that "not only steers away from the UN secretary-general's framework, but could in no way be accepted".
Greek Foreign Minister Nicos Kotzias posted on Twitter that "Turkey's intervention rights on the island could not be made acceptable. The dream and the plan for a solution to the Cyprus issue are still open."
In a press briefing, he expressed Greece's willingness to work for a fair and sustainable solution so that Cyprus could become a normal state without guarantees and guardians.
And while President Nicos Anastasiades made no statements at all on Friday, Turkish Cypriot leader Mustafa Akinci held a news conference during which he repeated several times that the problem was the insistence on zero troops and zero guarantees by the Greek Cypriots. "The Conference started with it and finished with it," he said.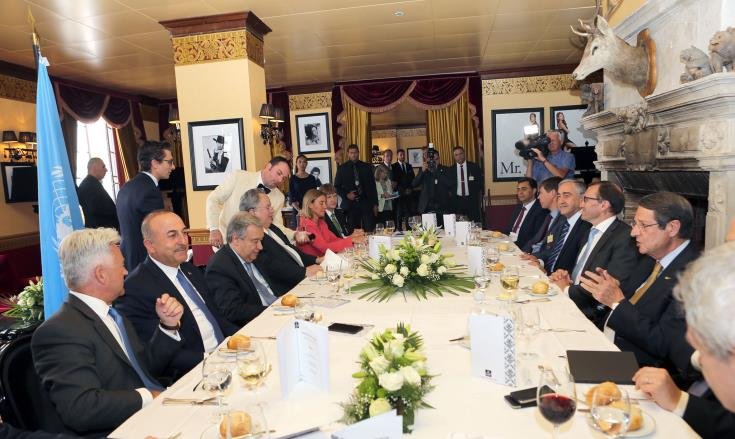 The perspective from diplomatic circles surrounding the talks was different. One diplomat in Crans-Montana lamented that the sides had come "so, so close" to succeeding, a Reuters report said.
Indications which had emerged that Turkey was considering relinquishing intervention rights vanished when the Greek side asked for that commitment in writing, it said.
The Greek Cypriots had indicated readiness to make concessions on Turkish Cypriot demands for a rotating presidency, the other key issue.
Reuters said the source found fault with Turkish Cypriots for being "a bit greedy" and "overplaying their hand", but also Greek Cypriots, who possibly made a tactical error in asking for a written commitment from Turkey relinquishing its intervention rights before a deal had been agreed.
"I just don't think there is a sense of trust there. We were really, really close," one diplomatic source added. Sources also said the four-hour dinner had been marked by "yelling and drama".
A UN source close to the talks said: "Turkey conceded in private to us to end guarantees and right of intervention. When we signalled this to [President Nicos] Anastasiades, he started insisting on zero troops. He simply didn't want it. Tonight's dinner was a disaster and he was behaving really badly."
CNA quoted a UN official who expressed intense disappointment with the outcome. Replying to a text message he said that "it was just tragic". "We were so near and nevertheless failed. Very sad". However, CNA said he did not reply to their question as to why Guterres decided to end the conference he had previously described as "open ended".
The agency said that according to its sources, there was no deal due to Turkey's insistence on retaining the guarantees and on maintaining Turkish troops on the island. On the guarantees and the right to intervention, Ankara wanted a review of the presence of troops in 15 years and not withdrawal.
On the territorial level, the Turkish side would only accept the return of part of Morphou to the Greek Cypriot constituent state, in an agreed federal solution. Furthermore, Turkey wanted any agreement reached to become primary law of the EU, while it insisted on equal treatment of Turks in Cyprus with Greeks residing on the island after a political settlement.
Greek Cypriot and Greek sources told CNA that Anastasiades and Kotzias repeatedly asked the Turkish side to submit their proposals in writing. Guterres intervened so he could take note of the Turkish proposal, but Cavusoglu denied he had ever agreed to the immediate withdrawal of guarantees.
Anastasiades' phone call with Greek Prime Minister Alexis Tsipras after midnight was about the prime ministers from the three guarantor powers possibly going to Crans-Montana to close the chapter on security, but the sticking point was the fact that Turkey did not submit any written proposals. Sources told the Cyprus Mail that Anastasiades wanted to delay the arrival of Tsipras until the very last minute while Britain's Theresa May, and Turkey's Binali Yildirim were prepared to join the talks.
Yildirim said on Friday that Turkey would do everything within the framework of international law to defend the rights of Turkish Cypriots.
Meanwhile, Britain and the EU expressed their continued support for a possible Cyprus solution.
UK Minister for Europe, Sir Alan Duncan, said; "This is a disappointing outcome. The UK continues to be a strong supporter of a settlement. Now is a time for calm reflection and consideration of future steps. The commitment of the UK to a deal on Cyprus remains unwavering."
Alexander Winterstein, deputy Chief Spokesman for the European Commission, said the EU stands ready to support any future initiative to resolve the Cyprus issue.
"The EU, as you know, has been supportive on both political and technical levels, and we remain committed to supporting both sides to reach a viable settlement in the future," he said.
Echoing the UNSG, he said Crans-Montana was not the last chance and he did not exclude further initiatives in the near future.