POLICE are requesting a European and international arrest warrant for a British man, who with his wife, allegedly left a Paphos hotel and scores of tourists high and dry by not paying an accommodation bill, and for allegedly selling passes to an annual music event for last month that never took place.
The couple, who have been outed on social media by disgruntled posters, had fled to the UK after a Cyprus arrest warrant was issued last year following a complaint by the hotel over the non-payment of a €25,000 bill for the tourists who attended the 2016 event.
This week, a former associate of Brian and Emma Norman told the Sunday Mail the pair had left their home in Liverpool. A representative of the hotel said he heard they had gone to the north of the island from the UK.
The annual event, which successfully began in 2015 is titled '3 the soul' saw soul music lovers travel to Paphos for a week's holiday, take in an array of respected soul DJ's and acts and party in the sun. The booking included accommodation and event passes, guests paid for their own flights.
After a successful event in 2015, things started to go wrong last year after the Normans allegedly failed to pay a €25,000 hotel bill, where guests attending the event were hosted. Following a complaint by the hotel, Cyprus police issued a warrant for their arrest last August.
Despite this, the pair continued to advertise their 2017 event due to take place in Paphos last month, and are still taking deposits for 2018 through their website, which is still active. Hundreds of people have been left out of pocket over this year's cancellation.
A spokesman for the hotel in question which wished to remain unnamed, spoke to the Sunday Mail.
"Brian Norman is a professional conman and even though all of this has surfaced, he is continuing to advertise for a similar '3 the soul' for 2018," he said.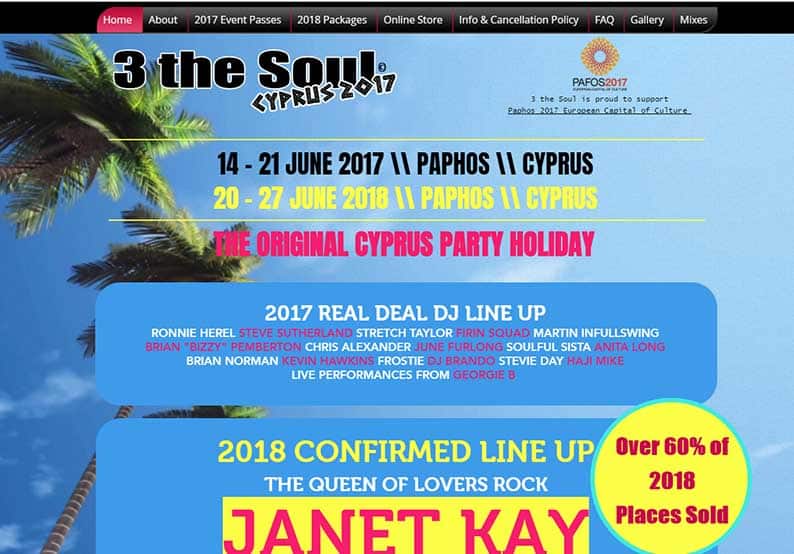 The spokesman said that the hotel was hosting clients from the couple's event last year and a small deposit was taken ahead of the arrival of around 120 or so guests. "He cheated us out of around €25,000 euros and falsified documents to keep us dangling," said the spokesman.
Paphos police spokesman Michalis Ioannou confirmed that a Cyprus arrest warrant was issued for Brian 'Yanky' Norman in August last year and that police have now also requested a European and International arrest warrant.
"We can confirm that Brian Norman sent an email to the hotel showing what we discovered to be false receipts of a transfer of €17,855 into the hotels account. He was also due to pay a further €7,296 when the guests checked out. The total amount owing is €25,151. He has a warrant against him and is on the stop list," he said.
After trying to appease the hotel, Norman 'disappeared', and is believed to have returned to the Liverpool area of the UK with his wife.
Norman was due to arrive in Cyprus last month for the 2017 event and authorities were poised to pounce. He never arrived but more than 100 of his paying clients did and found themselves stranded as the accommodation Emma Norman had allegedly booked for them was never secured.
The Sunday Mail has seen an email from the timeshare development in Chlorakas in Paphos, stating they were indeed approached by Emma Norman on July 5 last year to hold an event there from 14- 21 June 2017. However, on July 8, 2016, they declined her proposal.
The stranded guests somehow found out about the hotel with the outstanding debt and made their way there instead. "We accommodated them and I brought the police here to explain the situation to them. Despite everything, Norman is still advertising. I was told on Thursday that they have fled the UK and are now in the north of Cyprus. These people need to be stopped," he said.
The couple's representative Debi Jones has also been left distraught by the alleged scam and hopes the pair are brought to justice swiftly. She has worked with the Normans as their rep since the first '3 the soul' event in 2015, but says she obviously never really know them.
"Many of us have been left angry and disappointed and with many questions. I have been lied to by the Normans constantly and I realise now I never knew them at all."
Jones was due to fly to Cyprus on Monday June 12, but the day before, Norman informed her that the event had been cancelled.
"He called telling me that the event had been sabotaged and if he flew to Paphos he would be arrested, it didn't make sense to me and I told him they couldn't cancel as there were 300 people flying out on the following Wednesday and we couldn't disappoint them."
Jones suggested that she fly out as planned, and along and his wife and the DJ's could run the event. He refused and cancelled, she said.
"The Normans had told us all the hotel had cancelled but we found out that no hotel had ever been booked."
Jones said that the Normans had promised to refund all of the guests, but weeks later it seems only a few have been received.
"Three hundred guests booked and the majority of them have received nothing and emails have not been answered and requests for refunds ignored."
She said the duo have left their rented house in Liverpool.
"I didn't sleep for days and I am still reeling with shock that two people I once thought were my friends could do this to so many good, hard working people."
Paphos police confirmed that the latest incident has been reported to the authorities in the UK by the latest group of tourists wanting their money back.
Attempts by the Cyprus Mail to contact Brian Norman via social media have proved fruitless, but the couple's website at www.3thesoul.co.uk, which proudly displays a Pafos2017 European capital of culture logo, remains active and accepting deposits for 2018.