'At the moment there's the impression that the acreage is disputed', expert says
CYPRUS should at least look into the possibility of seeking international arbitration regarding the boundaries of its and Turkey's respective maritime rights around the island, before the situation potentially escalates, an energy analyst has told the Sunday Mail.
"The sooner the better," said Charles Ellinas.
Things could get hairy next year, when ENI and Total aim to commence exploratory drilling for gas in their block 6 concession, to the southwest of the island, which Turkey claims partially falls within its own continental shelf.
Meantime the Turkish vessel Barbaros Hayreddin Pasa is currently conducting – ostensibly at least – seismic surveys in that very same offshore block.
With the dispute not going away – underscored by Turkey's encroachments into Cyprus' Exclusive Economic Zone this month – Nicosia must act, and fast.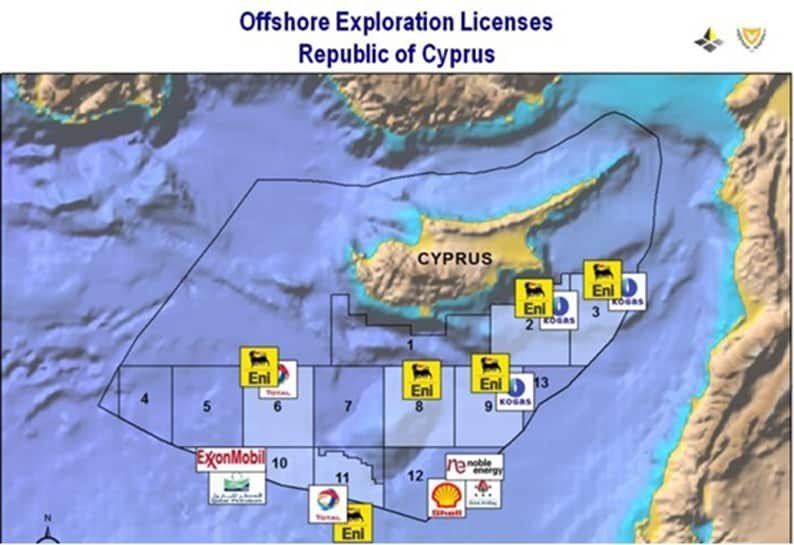 Avenues which Cyprus could explore to resolve the matter include the International Court of Justice and the International Tribunal for the Law of the Sea.
It should be noted that Turkey is not a party to the Law of the Sea Convention.
Ellinas thinks that if there is any risk from an arbitration finding, that risk will be to Greece (islands in the Aegean), rather than to Cyprus.
But whatever it does, Nicosia should get cracking now.
"Unfortunately, in Cyprus we always tend to leave things until the last moment, when it's too late. The present administration is no exception."
Should Cyprus get a positive outcome – a decision upholding the EEZ declared by the Republic, though without having consulted Turkey it has to be said – that would be a major plus.
"Even if Turkey does not respect the finding, the decision will be there, creating a fait accompli, and taking away the moral high ground from under Ankara's feet."
Ellinas points out, for example, how international media have been walking on eggshells in their coverage of the Turkish incursions into the EEZ.
"At the moment there's the impression that the acreage is disputed. But a decision by an international body would telegraph to the world that this is not the case."
But that is not all. From statements by senior Turkish officials, it can be deduced that Ankara is actively seeking to acquire a drilling platform.
Its claims on Cyprus's EEZ aside, Turkey has long been making noises about a drilling platform, which it needs at any rate for other hydrocarbons explorations, for example in the Black Sea.
But one can be almost certain that it would deploy such a rig to Cypriot waters.
"Which is why, again, we must act quickly before we're boxed in."
And according to the analyst, such an acquisition is well within Turkey's reach. Because several drill ships are currently idle, prices have dropped, going for anywhere from $200 million to $400 million.
Over the past weeks, the government has said that it is using diplomatic and legal means to counter Turkey's actions in the EEZ. No official has elaborated on what these steps are.
Turkey claims that part of Cyprus' block 1, as well as the northern sections of blocks 4, 5, 6 and 7 fall within its continental shelf.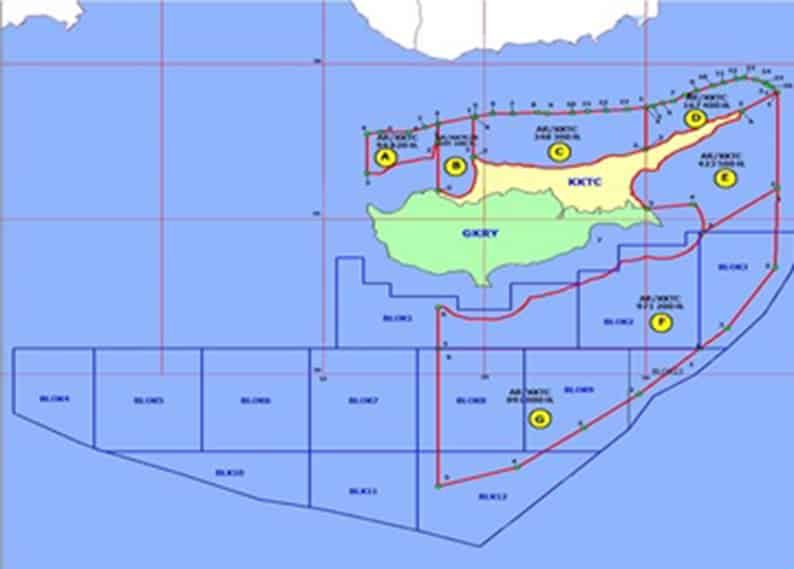 Ankara also supports the breakaway regime's claims on blocks 1, 2, 3, 8, 9, 12 and 13, including within few kilometres from the Aphrodite gas field.
Ankara's position is that the EEZ of an island should be specified in terms of its coastline when compared to Turkey's coastline. Since Cyprus' coastline, in particular the Republic's, is dwarfed by Turkey's shoreline, on the face of it Turkey's claim appears logical.
But in Ellinas' opinion, Turkey's position – that islands cannot have an EEZ – is untenable when it comes to Cyprus, because it is taken out of context.
"Cyprus is not merely an island, and an inhabited one at that, it is country that is recognized by the UN and is a member of the European Union. That is why Turkey's aforesaid argument – which it cites in relation to the Greek islands in the Aegean – cannot apply in Cyprus' case."
As long as the issue remains unresolved, Turkey can be expected to continue its scaremongering and harassment tactics in the eastern Mediterranean.
"To be pragmatic, you have to put yourself in Turkey's shoes. They can't just drop these claims of theirs," Ellinas offers.
So far, Nicosia's response has been measured. Officials have stressed the need for a low-key approach, thus diffusing tensions.
Whereas Turkey has not sought permission from Cyprus, the jurisdictional coastal state, to conduct surveys in the island's EEZ, it has strictly speaking not violated Cyprus' sovereignty.
Despite the hype – with part of the media to blame – all the Turkish military and naval drills have been taking place in international waters. And Turkish warships have stayed well outside the exclusion/safety zone around the West Capella drillship in block 11.
French energy giants Total, who leased the West Capella, have repeatedly indicated they will not interrupt operations unless the crew is physically endangered.
Total have said the target in block 11 could prove to be a reservoir roughly the size of the Aphrodite gas field – between 4 and 5 trillion cubic feet.
It is also important to recognize, says Ellinas, that any revenues to Cyprus will not come before 2018.
If the target does contain a reservoir, it would take two to three years for Total to finalize development plans, and another three to four years thereafter for construction of the infrastructure around the well.
Beyond that, Cyprus must wait until the companies' investment is paid for before revenues stream into state coffers.
The anticipated income for Cyprus? A ballpark figure of €500m a year over a 15 to 20-year period.