PREZ NIK, I hear, has returned to his ashtray-throwing days, even though there are not always ashtrays available when he loses his rag, which reportedly has been happening frequently since his triumphant return from Crans-Montana, where Turkish intransigence was 100 per cent to blame for the failure.
Although the explosions of anger and the temper tantrums usually take place behind closed doors, he also gave a public display last Monday when he addressed an anti-occupation gathering of Kyrenians and the cameras were there to film the speech he gave in a rather demented state.
It was not just the crazy waving of the arms and the aggressive tone, but there was also the mad stare as he performed his character assassination of the country's favourite whipping-boy, Espen Barth Eide, whom he declared a liar. It was a touch ironic that Nik, not renowned for always telling the truth himself, took such offence at the Norwegian's alleged lies.
"It is lamentable for people who allegedly express international law, like the Special Envoy of the SG, to lie publicly in order to cover up Ankara's intransigence," a fuming Nik said on Monday night and added: "One wonders, when there are such people representing the UN, how could it be possible for Turkey's intransigence not to intensify?"
And instead of contributing to re-unification, what people like Eide did "was to justify the occupation force as if they represented it".
Therefore, Eide was not just a liar but also a fraud, posing as an impartial UN mediator.
AT LEAST Nik phrased his accusation more eloquently than Greece's foreign ministry which a day earlier came up with the sort of put-down you would expect to read in a yellow rag or hear from an Elamite.
Eide, the ministry statement said, made comments "like someone who intended to resign as a UN mediator, in view, as it seems, for the more satisfactory position of press secretary of the Turkish government." This is the high-level diplomacy exercised by a foreign ministry under an unrepentant Stalinist minister.
Nicos Kotzias' Stalinist breeding was also evident in his interview last Sunday in Phil in which he accused Eide of having secret meetings which aimed to blacken the common front of Nicosia and Athens. We know how Stalinists love to uncover imaginary conspiracies as a way of discrediting their enemies.
Therefore, Eide was not just a liar and a fraud, he was also a conspirator and we should be grateful to our new national hero Kotzias for uncovering him.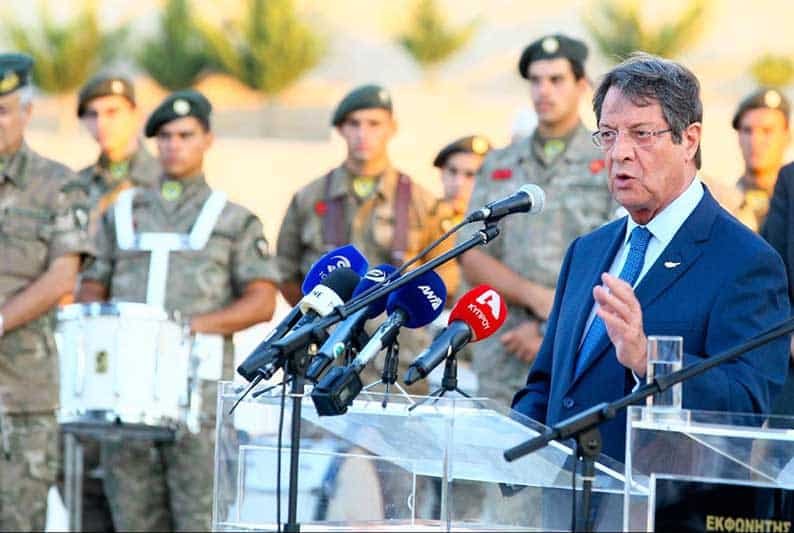 DURING his angry tirade, in which Nik officially christened Eide a liar, he also said he would expose his lying.
"What they ignore," he said, "was that their minutes and our minutes (of the contentious last supper), with every detail, will be publicised so that at last who is telling the truth will be revealed."
It was an unfortunate remark because in the end technically speaking the only one revealed as not telling the truth was prez Nik, because despite repeatedly threatening to make the minutes of the dinner public he did not do so. Did this qualify as a lie or was it just a change of mind.
If it were a change of mind, how was Nik going to get the UN minutes of the talks, which he also promised to make public? All day Wednesday, the news websites were informing us that the minutes would be made public, but by night it was announced that Nik had changed his mind, and he had found a plausible excuse for his volte face.
He attributed the volte face to a plea by the UN Secretary-General, "whose constructive approach to the Cyprus problem I deeply appreciate". Now how truthful was that? Does anyone believe Guterres had nothing more important to do than follow the antics of our prez and issue pleas to him about the minutes?
The plea not to publish, according to a report in Alithia, came from the UN Under-Secretary-General for political affairs, Jeffrey Feltman, who is not Guterres, to our perm rep at the UN Kornelios Korneliou, who is not Nik.
IT WAS WEIRD how Nik deeply appreciated Guterres' constructive approach to the Cyprob, but at the same time heaped abuse on the guy's special advisor, in whom the UNSG, repeatedly expressed confidence for his handling of the Cyprob talks. This was a logical inconsistency rather than an untruth.
It was peculiar that the appreciation was unaffected by the UNSG's failure to understand what Turkey's foreign minister was telling him about security and guarantees, as our government maintained. Perhaps it was Eide who had misunderstood Cavusoglu and ended up telling all those lies that would have been exposed by the publication of the minutes, had Guterres not intervened personally to protect him from the embarrassment.
DOUBTS were expressed about the very existence of minutes that Nik was threatening to make public by Giorgos Lillikas, who said if there were detailed minutes, these had to be sent to the members of the UN Security Council, so they would not be fooled by Eide.
Aware that the narrative of the minutes was at risk, Nik got his negotiator, Andreas Mavroyiannis, to appear on the CyBC morning radio show on Wednesday morning and inform the public that he kept the minutes at the last supper. "I have a habit of keeping minutes at meetings," said Mavroyiannis, on the radio thus dispelling doubts about their existence.
But if they were detailed enough or gave a full account of what was said, Mavroyiannis did not say. Nor did he say whether they would have included the rude language used by our prez and his angry exchange of insults with Cavusoglu that Eide made oblique reference to in the interviews he gave last week.
Anyway, there was another reason Nik cited for not making the minutes public – respect for diplomatic conventions. This respect for diplomatic conventions did not stop him from releasing the minutes of the private meeting he had with Eide.
THE PEACENIKS of Unite Cyprus Now, were also given a view of the foul-tempered Nik when they visited him at the presidential palace on Friday. The prez was all sweetness and light at the start of the meeting, displaying his charm and humour to the reps of the bi-communal peaceniks and posing with a Unite Cyprus Now T-shirt, even though he is of the 'unite Cyprus later' school of thought.
As the conversation progressed and the peace-lovers asked questions he found awkward, he started getting agitated and angry. He eventually exploded (it was a small explosion, I am told), raising his voice, wagging his finger at his guests and banging his hands on the table to assert his authority and make his point. To his credit, he resisted any urge to grab the ashtray, in front of him (see picture) and hurl it at his irritating guests.
ESPEN Barth Eide must feel a colossal sense of relief, giving up the Cyprob job and ending his association with our basket-case country. The UN has already sent out invitations for a farewell reception at the Ledra Palace Hotel on Thursday, which I suspect will be boycotted by our political elite, which sees the Norwegian as the devil-incarnate.
A decent and intelligent man, he has suffered the kind of vicious abuse that would turn most people into nervous wrecks. In the last few months, he was accused of being a liar by our president, an incompetent diplomat that did not know what was going on by our government spokesman, a lobbyist for Turkey and a conspirator by the Greek foreign minister, and a Turkey-loving mediator by our party leaders who were calling for his removal for months.
On Friday the Turkish Cypriots joined the Eide-bashing fun with pseudo foreign minister Ertugluroglu accusing the Norwegian of over-stepping authority in saying that intervention rights and guarantees had no place in a modern state. He had thus violated the principle of impartiality of the Good Offices Mission, said the pseudo-minister.
That's gratitude for you. If Ertugluroglu was a gentleman he would have publicly expressed his thanks to Eide for being a lobbyist for Turkey who lied in order to cover up Turkey's intransigence and held a secret meeting in order to discredit the Athens-Nicosia front. What else did he want from him? To replace the UN flag on his car with Turkey's?
OUR establishment would like to express its gratitude to Eide for wasting two years of his life dealing with a bunch of nut-cases and its admiration for his amazing ability never to lose his temper despite the constant provocations. And we sincerely hope that he has not suffered any lasting damage from his traumatic Cyprob experience, even though we suspect these last two years will not have been good for his mental health. Just one last thing – why have I not received an invitation to your farewell party?
THERE is one person who is really enjoying the collapse of the peace process and its aftermath – Paphite, goody-two-shoes, government spokesman Nicos Christodoulides who has come alive in the last few weeks, making aggressive statements several times a day and happily hitting out at the UN and the Turks.
After four years as government spokesman, the real Christodoulides has finally appeared. For as long as the talks were going well, he half-heartedly defended Nik's decisions, at times adopting an apologetic tone and pandering to his boss' critics. But once Nik turned hard-line, he became more forceful in his public comments and since the collapse of the talks he has become a new man.
In his radio appearances, he is animated, passionate, aggressive, assertive and sounds like he really believes what he is saying. He has even been interrupting his questioners in order to assert himself. I suppose it was inevitable. We must not forget that Christodoulides is a brain-washed rejectionist like all foreign ministry employees and has had to suppress his true feelings on the Cyprob for four years.
Now that the process has collapsed and Turkish intransigence is once again the main theme of our foreign policy rhetoric, Nicos is free to be himself and express his real views, all with the prez's approval. This could not have happened to nicer person.