Lefkara mayor Sofoclis Sofocleous has asked President Nicos Anastasiades to personally help loosen red tape so that an investor can be found for a hotel that has stood abandoned and derelict in the middle of the town for a decade.
The municipality of Lefkara has been pushing for years for the restoration of the Agora hotel in the heart of the mountain resort. The hotel has been looted by vandals who stole equipment, while nature has begun to reclaim the grounds. The building also poses a health hazard to nearby residents as it attracts rodents.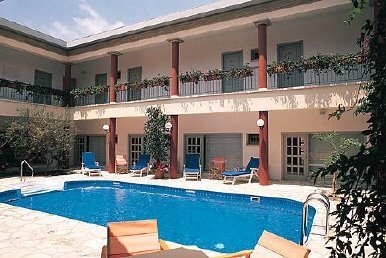 The property belongs to the Lefkara development organisation, and the municipality would like the state to announce a tender bid so that it is bought by an investor to be redeveloped for tourist purposes. Sofocleous cites bureaucracy behind the delay.
During Anastasiades' visit to Lefkara on Friday to attend the town's annual festival, the mayor asked for his help "to solve this huge problem in the heart of Lefkara".
"All competent state services have been informed of the issue. The procedure will have to be loosened so that the project can proceed and an investor to take over," Sofocleous said.
He added that a number of other redevelopment projects have already began, while the contracts for the redevelopment of the Lefkara main square, pending since 2009, are to be signed in September.
In an interview last month to Larnakaonline news portal, Sofocleous said that he would encourage local and foreign investors to express interest in the hotel as it is an investment "with huge potential", due to the diverse tourism options Lefkara offers.
In addition to its many other attractions, Lefkara, he said, has one of the most modern sports centres on the island, which attracts sports tourism year-round. In a few months' time the town's multipurpose centre will also be completed which is expected to attract conference tourism.