Cyprus ranked seventh, among 12 countries, included in a survey of citizenship by investment programmes carried out by Professional Wealth Management.
Cyprus had the highest ranking among the four EU member-states included in the Citizenship by Investment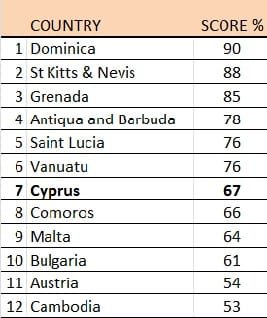 Index (CBI) compiled by Professional Wealth Management, which is published by the Financial Times and specialises in analyses of private banks, wealth managers and regional financial centres.
The other three EU member-states included in the analysis were Malta, Bulgaria and Austria that ranked 9th, 10th and 11th respectively. The five countries scoring the highest marks are in the Caribbean (see table).
The CBI is calculated according to seven 'pillars' – freedom of movement, standard of living, minimum investment outlay, mandatory travel or residence, ease of processing, citizenship timeline and due diligence. Cyprus scored 67 per cent while the top-ranked Dominica scored 90 per cent.
The highest marks (out of 10) scored by Cyprus were in the freedom of movement (9), standard of living (8) and citizenship timeline (8). Of the EU member-states, only Malta had a higher mark than Cyprus in ease of processing – 8 compared to Cyprus' 7.
On minimum investment outlay, the EU countries scored the lowest marks of the 12, presumably as the other states included in the survey required smaller amounts. Cyprus scored 2, Austria 1, Bulgaria 5 and Malta 3, whereas three Caribbean islands score 10 out of 10.
Top-ranked Dominica, has one of the longest-running citizenship by investment programmes and is well-served by speedy procedures and low entry thresholds.