At least nine people were killed and many are still missing after one of the strongest typhoons on record barrelled into the southern Chinese territory of Macau, with rescuers on Thursday searching submerged cars for trapped people.
Macau's government broadcaster TDM said Typhoon Hato, a maximum signal 10 storm, was the strongest since 1968 to hit the world's biggest gambling hub and home to around 600,000 people.
"The city looks like it was just in a war," said one civil servant, who declined to be named as they were not authorised to speak to the media.
Residents grappling with the aftermath in the former Portuguese colony said Macau was woefully unprepared for Hato and its destructive winds of more than 200 kmh (124 mph).
Hato on Wednesday hit the nearby financial hub of Hong Kong, uprooting trees, flooding streets, forcing hundreds of airline flights to be cancelled and halting financial trading. There were reports of 34 people injured in Hong Kong, which had not been hit by a signal 10 typhoon for five years.
At one stage as Hato intensified, Hong Kong posted a category 8 storm warning, saying it was likely to go higher, yet Macau's government rated Hato only a signal 3 typhoon.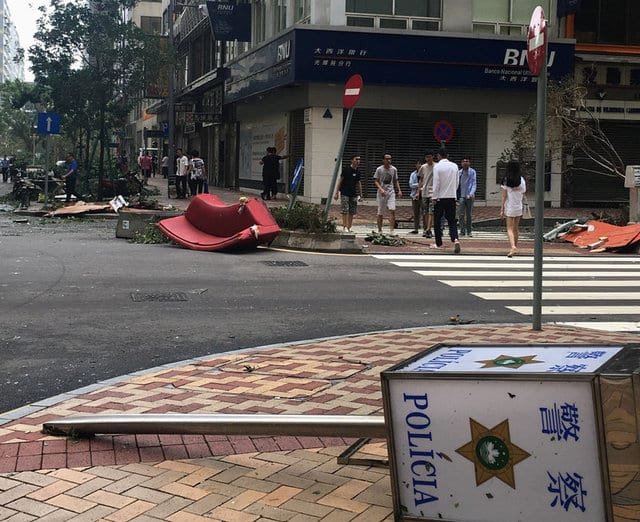 "I am shocked with the late notice and lack of preparation that was given for this superstorm. Residents are in peril and unable to assess if help is on the way," said Ashley Sutherland-Winch, a marketing consultant in Macau.
Hato battered Macau's apartments, sending sheets of glass flying through the air, cut power to more than half of Macau and severely damaged water supplies. Residents said on Thursday that water supplies were expected to run out in many buildings.
Exteriors of buildings, including parts of multi-billion dollar casinos, were ripped away by Hato's powerful winds.
While most of Macau's large casinos, especially those operating on the Las Vegas style Cotai strip, were trying to operate as normal, many were relying on back-up generators.
Casino stocks listed in Hong Kong fell versus a rise in the benchmark Hang Seng Index on Thursday with the full impact on gambling revenues still unknown said analysts.
Nolan Ledarney, director of Crafted 852, a food website in Hong Kong, who was staying inside Galaxy's casino resort with his wife and three children said guests had been corralled into safe areas.
Severe flooding overwhelmed Macau which is in the process of building new infrastructure such as a light rail to cope with a surge in visitors. Cars and motorbikes were submerged while double decker buses were flooded.
Rescuers combed through submerged cars on Thursday in case people had rushed to salvage their cars in the deluge and became trapped. Media reports said two to three people had drowned in their cars.
Transportation remained in chaos with damage to both of Macau's ferry terminals and roads crammed with traffic. Schools, museums and public venues remained closed on Thursday.
"The government cannot handle the challenge as the people would expect from a self claimed first class city," said Macau resident and political commentator Larry So.
Hato had been downgraded to a tropical storm on Thursday and was about 680 km (422 miles) west of Hong Kong and expected to weaken further as it moves inland over China.