Inspirational Ray Woolley spent his 94th birthday on Monday diving to the sunken wreck of the Zenobia ferry in Larnaca in a bid for a Guinness World Record as the world's oldest scuba diver.
The accolade was previously held by the USA's Erwin Paul Staller, who was born on 14 May 1921. He completed a dive at Grace Bay, Turks & Caicos, on October 24, 2014 at the age of 93 years and 163 days.
Ray's attempt saw him dive to a depth of 38.1 metres for 41 minutes. The entire process was filmed, photographed and documented in line with guidelines approved by Guinness World Records. Ray will know if he has officially been awarded the title in around two or three months' time.
"I only had to dive below 12 metres for 30 minutes to take the record off the last guy, but I decided to do a bit more," Ray told the Cyprus Mail.
Originally from Port Sunlight in the Wirral, Ray is a likeable and charming nonagenarian and now lives in Ayios Tychonas close to Limassol. He was born in 1923 and first started diving with the Portland and Weymouth British Sub Aqua Club in 1960.
His claim for the title comes after completing 39 dives in his 93rd year – [email protected] – the final ones taking place at Latchi watersports in Paphos. However, as he told the Cyprus Mail, he actually completed 51 dives in his 93rd year.
"I set out for [email protected], but I just kept going, I also went to a maximum depth of 45 metres. My favourite place to dive in Cyprus is Latchi but I also like Akrotiri and a couple of wrecks in Limassol."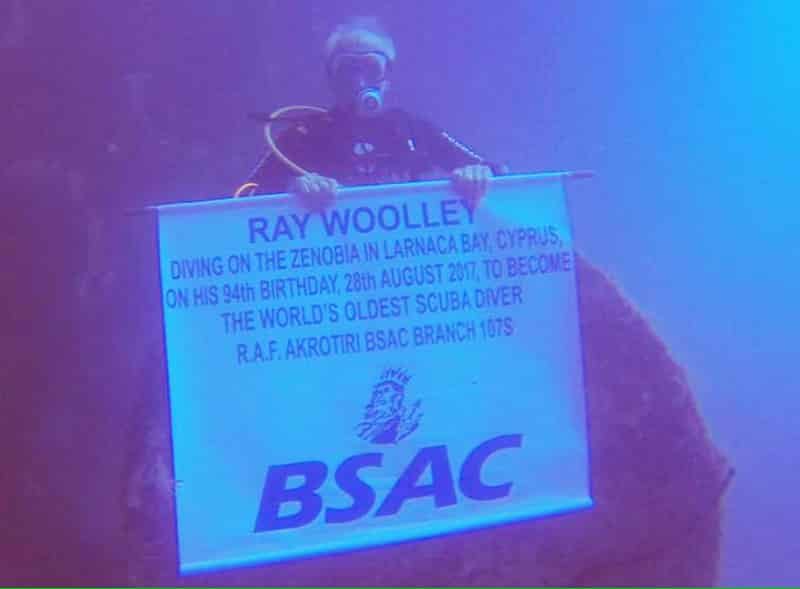 On Monday, Ray was one of 23 divers along with other members of the Viking divers and his regular dive buddies who set off to dive the Zenobia to help him achieve his record breaking feat.
Daughter Lyn Armitage, who travelled from the UK to help him celebrate his birthday and milestone dive, said he was eager to get in the water and nimbly jumped off the end of the boat in great spirits.
"The visibility in the water was good, so I was able to snorkel over the divers and saw them unfurl the record breaking banner at about 20 meters before I lost sight of them," she said.
The group celebrated with champagne on board the boat afterwards.
Ray served in the Royal Navy Radio Branch during WWII, working on shipping convoys in 1943-44 before a secondment to SBS Special Force 281 in the Dodecanese. He was among the first Allied forces to land on Rhodes as the Germans retreated in May 1945.
After taking up diving in 1960, Ray was posted to Cyprus in 1964 and was a regular diver here. In 1999 he retired and returned to live permanently in Cyprus after diving in locations around the world.
He also completed 29 dives in his 92nd year.
The 94-year-old admitted that he likes the attention he has garnered over the last few years and feels privileged he is still fit enough to be able to dive on a regular basis. He is an advocate of healthy living and has never smoked.
"I swim for two hours a day in my swimming pool; staying active is important. I feel terribly sorry for other people my age who are struggling a bit and may not be in the condition I'm lucky enough to be in," he said.