World number one Rafa Nadal knew powerhouse Juan Martin del Potro's biggest weakness was his shaky backhand, and the Spaniard exploited the vulnerability repeatedly at their U.S. Open showdown on Friday to advance to Sunday's final.
The left-handed Nadal's strategy of attacking the backhand, which had the added benefit of avoiding the Argentine's thunderous right-handed forehand, did not initially pay off as Nadal dropped the first set.
But Nadal did not waiver and Del Potro began to lose control of the shot, committing 15 unforced backhand errors to just three winners from that side in the 4-6 6-0 6-3 6-2 win.
"Rafa just play even better the last three sets of the match and I couldn't hit my backhand as good as I did in the beginning of the match," Del Potro told reporters after the two-and-a-half hour contest.
"I feel better with my backhand, but it's not good enough to win a title like this or to win the top guys in a row."
Del Potro's backhand has been hindered by a series of surgeries to repair problems with his left wrist.
He knew it would be Nadal's strategy going into the match.
"He was playing me all the time to my backhand," he said.
"When you don't have that confidence to play three, four hours with a good backhand against Rafa, is just matter of time to get down your game."
31-year old Anderson reaches first grand slam final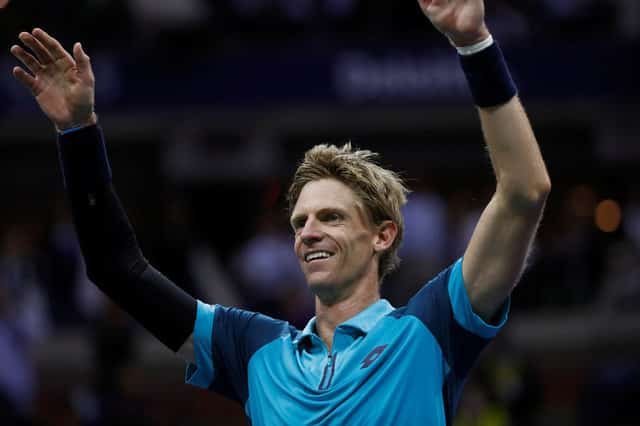 At the age of 31, Kevin Anderson reached his first grand slam final thanks to a 4-6 7-6 6-3 6-4 victory over Spain's Pablo Carrena Busta.
In this era when players are winning grand slam titles well into their thirties, Anderson almost doesn't qualify as a late bloomer.
But the South African, the first born there to make a grand slam final since Kevin Curren at Wimbledon in 1985, has shown patience, resilience and unending dedication to make his grand slam breakthrough.
"It's been a lot of hard work to get to this point," said Anderson, who will meet world number one Rafa Nadal in the final.
"It feels fantastic.
"It's been a long road to get here and sometimes tough. We've been dominated by a select few individuals and there are definitely times where you think those will be the guys who will always be competing for it."
Anderson was late to the Tour after choosing to go to college in the United States, at the University of Illinois, where he was coached by Craig Tiley.
Tiley, a former South Africa Davis Cup captain and now the tournament director at the Australian Open, said Anderson deserves every moment of his success.
"He had the same professionalism and dedication and attitude that you see on the Tour today when he was at college," Tiley told Reuters.
"Obviously he's been on a long journey. But he's always had a fantastic attitude and passion for the game. It was a privilege to coach him because of the attitude he had."
BOUNCED BACK
Anderson always used to be considered a nearly-man, for so long unable to get past the last 16 of a grand slam event, always finding someone just too good on the day.
But despite a series of injuries, from shoulder to knees and at the end of last year, to his hip, he has bounced back brilliantly to put his name in the history books.
He will bid to go one better than Curren, who was runnerup at the 1984 Australian Open final before switching citizenship to the United States ahead of his run to the Wimbledon final.
Johan Kriek was the first South African to win a grand slam singles championship at the 1981 Australian Open but successfully defended the title in 1982 as a naturalised American.
"It's definitely about perseverance," Anderson said. "I feel like I've kept my head down and kept working hard.
"There have been a lot of ups and downs and I feel really happy, I've always kept belief.
"It's been a terrific couple of weeks and I've got an opportunity to step on the court in a final and that's something I'm going to be really excited about."
It has been noticeable at the U.S. Open how pumped up he has been throughout the event, something Tiley said reminded him of Anderson's college days.
"At the University of Illinois we had really good teams and it's a great atmosphere, you have a lot of people around you," he said.
"After college, back out there on his own, maybe it was a bit more difficult for him to be (extroverted) but he's playing with a lot of confidence now."
Anderson has been working on his on-court presence with his team, including Alexis Castorri, the sports psychologist who has worked with Andy Murray.
"It think it helps me to play my best tennis," Anderson said.
It might have taken time, but it has been worth the wait.