A career defined by hard work sees a prominent Protestant preacher and shoe maker now operate a juice shop as he approaches 100. THEO PANAYIDES meets a man with friends around the globe
Kyriakos Philippides is the oldest person I've ever profiled. He turned 97 last month, though his birth certificate – issued in Solea in 1920 – claims he was born in September. Age, in itself, isn't usually a criterion to determine whether a person is interesting (in fact, it almost never is); still, there's an undoubted frisson to sitting down with a man who's been alive just short of a century. In a way, what he says is less important than the fact that he exists, having made it through the various challenges of a long life.
Something similar may be said of our interview, which comes with its own set of challenges. Kyriakos' voice is faint and creaky as we talk in the alley outside his juice shop, underneath a tree with – no joke – the loudest symphony of crickets I've heard in my life. At some point, thumping dance music starts to emanate from a nearby bar (we're in the pedestrianised, madly trendy neighbourhood around Limassol Castle), making his words even more inaudible as I strain to hear, not to mention all the various passers-by adding their own hubbub. South Asian workers unload boxes. A sharp, hard-looking young man strides down the alley and, without slowing down, yells out a loud staccato greeting: "Philips!". ("Hello, hello…" bleats Kyriakos.) Philips Shoe Factory was the name of his business, back in the old days. More on this later.
For now, he's making orange juice – in fact, he now physically makes the juice himself, his Nepalese assistant having done a runner eight days ago, a small, hunched-over figure surrounded by crates of oranges. He stands at a table, nine hours a day, squeezing fruit and dropping the husks in a crate on the floor, half-listening to the ceaseless chatter of a radio behind him. At the entrance to the alley, strategically placed to attract tourists, a sign says: "Orange juice the best in Cyprus. Fresh and cold", translated into four languages (the German version doesn't even limit itself to Cyprus: "Der Beste Orangensaft der Welt!!!"). There's a menu tacked to the sign, a vestige of the time when the shop sold snacks and coffees as well as juice. Before that it used to be a cobbler's shop where Kyriakos sold and repaired shoes, the fixtures and machinery still visible among the crates of oranges in the dark, high-ceilinged room behind him.
This was not his shoe factory, merely a shop he bought to carry on the trade in his old age, just before his wife died in 2002. "I have seven shops opposite the mosque," he explains with a flourish, indicating the Grand Mosque overlooking the alley. Those seven shops once made up Philips Shoe Factory, but he's now gifted them to his sons. He has six kids, three sons and three daughters, and all have been taken care of; "I gave my daughters two houses each, not one but two!". All six offspring seem to be quite entrepreneurial. One daughter has a restaurant, the second is in the shoe business, the third runs a Christian radio station (Kanali 7) in Nicosia; his oldest son has a business selling women's garments, the second lives in Indonesia making bamboo furniture, the third has a taxi service. At one point a middle-aged man walks past the shop, and Kyriakos calls out to him. "I can't now, I'm in a rush!" snaps the man, pouting like a teenager. 'Who was that?' I ask, surprised. "My oldest son," replies Kyriakos, proving perhaps that a father-son relationship never quite loses its edge, no matter how old you are.
To be fair, Kyriakos must've been quite demanding as a father. Easy to dismiss him now, at 97, as a harmless, delightful old man, but he seems to have been quite formidable. Hard work never fazed him, indeed it seems to have defined him – why does he carry on working? why not stay home and rest? "I get more tired when I'm resting," he replies; "I like to work" – but he also had (and has) unusually strong moral principles. "I'm a pastor," he explains. "I'm an ordained bishop of the Greek Evangelical Church". This is a Protestant denomination he joined in his teens, having been influenced by a rousing American preacher ("Later I went to his house in Chattanooga, he had three rooms filled with diplomas!") – and Kyriakos himself was instrumental in building the local church in Limassol, having cajoled money out of Laiki Bank and investors in Australia (of all places). "I was a prominent preacher," he tells me. "Even now, I get people saying 'I remember the sermon you gave all those years ago'".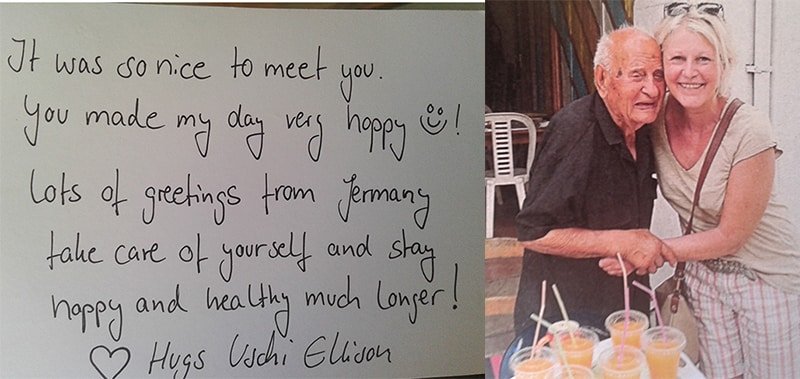 We're interrupted by a passer-by, a woman speaking English with a vague Eastern European accent. She looks like she's heading home from work (it's late afternoon), greets Kyriakos and stops to grab a couple of oranges from one of his crates – a quick exchange with the look of a daily ritual, a friendly gift from the nice old man down the road. He nods regally, with the air of a landowner allowing a peasant free passage across his land. The woman bends down to pick up her bags, and Kyriakos thinks she's taking more oranges. "OK, OK. It's enough, it's enough," he says in English, a little gruffly.
"I've had three principles in my life," he resumes. "Three Christian principles, if a person sticks to them he's bound to do well. First, I believe that, whatever we say, the Lord hears it. Second, whatever we do, with our hands or our feet, the Lord sees it. And third: the Lord hears, the Lord sees – and the Lord writes down!". He nods sagely, with the native authority of his 97 years. "I lived my life by these principles," he affirms. "My life was a very, very quiet life… I was always very moral. No drunkenness, no cigarettes, nothing."
What did he do to let off steam?
"After work, we'd go with the boys to a coffee shop and play billiards," he replies. "But never more than that. No women, no cabarets." There are three things that will shorten your life, claims Kyriakos: anxiety, sadness, "and, for a man, uncontrolled sex". He tells me a story – or I guess a joke – about a 112-year-old man who died, and journalists were asking his wife about him. "My husband had three rules. What were the three rules? 'Five-two-seven'. What was the 'seven'? His wine had to be seven years old before he'd drink it. What was the 'five'? His bread had to be five days old before he'd eat it. And the 'two'?" He mimes the wife being shy and coquettish, then she replies: "Sex, two times a week!". I nod, slightly puzzled. The point of the story seems to be that regulating your libido (as opposed to leaving it unharnessed) is the secret to a long life, then again a 112-year-old man having sex twice a week isn't exactly an advertisement for the virtues of abstinence. Maybe they just had a different sense of humour in the old days.
There is indeed something ancient and opaque about Kyriakos – even if only in the visible signs of wear-and-tear on a man born two years after WWI, a near-contemporary of Makarios (whom he once met briefly, when the late Archbishop was still a Bishop). He's healthy and active for his age; he doesn't take pills, and has no need of doctors – yet his eyes are almost hidden behind folds of wrinkled skin, and his face dotted with liver spots. Flies are buzzing in the early-September heat, possibly attracted by the smell of oranges; I watch, fascinated, as he swats at them gently, then seemingly resigns himself to their intrusion. One fly settles by his rheumy right eye, another crawls slowly down his cheek, almost to his lips as he carries on talking obliviously. Do old people simply become less sensitive to this kind of thing, their skins dulled and hardened? Or are buzzing flies just another of the many nuisances to be borne uncomplainingly?
What about death? Has he reconciled himself with that?
"As for death, I don't believe death is the end," he nods. "Life goes on, in another form however."
So he's not scared?
"No, it doesn't scare me. I've asked God many times 'When are You going to bring me close to You?', you know what He said? 'I need you down there'. So I can talk to people, and advise them."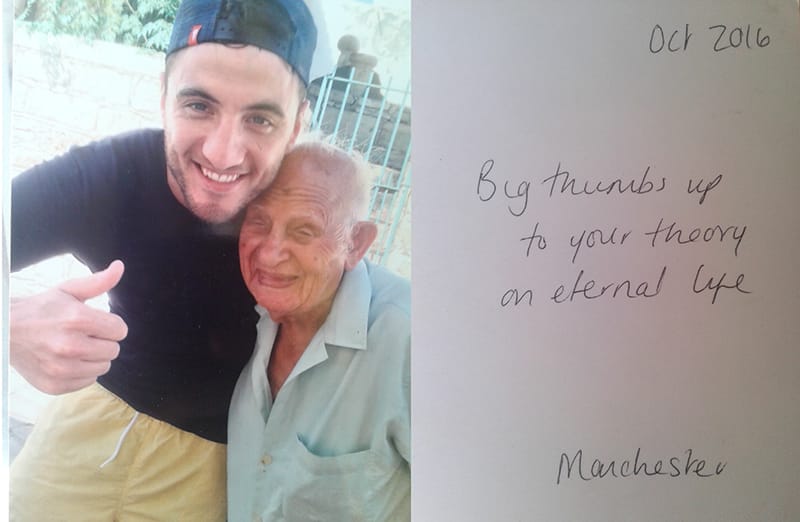 Maybe it's because he's so conspicuous – working in the shop all day, unlike other people his age – but Kyriakos seems to be something of a local wise man. At one point we're joined by a youngish girl who sits for a while, listening intently to our conversation, then moves on; I assume she's a relative, maybe a granddaughter (he has 19 grandchildren and 13 great-grandchildren), but it seems she's one of many – often troubled – souls who come and sit with him over the course of a day, not unlike the woman taking oranges and the man shouting "Philips!". His views on Young People Today are predictably negative: "They call themselves Christians but they're smoking, doing drugs, drinking… Especially the girls, they're even worse. Once she turns 13, she'll tell you it's unnatural for a 13-year-old girl not to have sex". 'She' is presumably one of his visitors, who often end up following his advice to lead a cleaner life; one girl even claimed that his words were what stopped her from killing herself, says Kyriakos.
And of course there are the tourists. He takes out a plastic folder full of photos – mostly family snaps, but also including some postcards and scanned photos with a message on the back. "Dear Kyriakos, It was lovely to meet you at your café in the old town of Limassol last week (25 May 2015). I enjoyed our chat over a glass of fresh orange juice," writes Manesh from London. "Bonjour de Strasbourg, France. Thanks for the orange juice, and long and beautiful life for you!" writes Eve, the other side showing Kyriakos kissing Eve's cheek (she looks rather startled) and squeezing her hand. Others hail from Germany, Russia, Romania. Good luck with "your sweet little business," says Alex from Magdeburg.
I'm impressed by his collection, a spry 97-year-old with pen-pals from all over Europe. Then again, it's not like it happened by itself. Next to the juice machine there's a tray filled with little slips of paper, printed with Kyriakos' name and address; his m.o. (at least ordinarily, when his assistant is making the juices and he chats with customers) is to strike up a friendship, offer some pithy advice, then hand the customer a slip of paper and ask them to send a postcard when they get back home. It's a harmless ruse, something to make him feel he's connected.
Indeed, you could say that Kyriakos Philippides is now in the people business, selling the wisdom of old age (along with a glass of orange juice) just as he spent 80 years selling shoes. His tourists and youthful acolytes surely have no idea what a high achiever he was, seeing him now squeezing oranges. At its peak, Philips Shoe Factory employed 32 workers. They made shoes for the Lord Chamberlain of the King of Greece (who happened to be holidaying in Prodromos) and legendary singer Sofia Vembo. Kyriakos started young – he already had the factory in WWII, and was therefore exempted from fighting – and remained successful for decades. He invented his own machine making orthopedic insoles (he's always had a knack for engineering) and once bought another machine, from France, for C£19,000, a crazy sum at the time. He made shoes for the father of President Anastasiades, and the father of former President Spyros Kyprianou. Not to mention preaching, and giving sermons, and building churches.
Looking back, has he had any major upsets in his 97 years? Not really, he replies with a shrug. A jealous business rival tried to close him down in the 1950s, and almost succeeded. One of his grandsons nearly died in the huge explosion at Mari in 2011 (the boy was with the soldiers who were killed, but was ordered back at the last minute). He's been poor, and had no schooling, but flourished anyway – and continues to do rather well, even if only as a quaint old man among the tourists and trendy young people quaffing IPAs, charming them with his homespun philosophy and positive attitude. "Every problem can be solved," insists Kyriakos in his faint, high-pitched voice, all but drowned out by the chattering crickets. "Always try and be happy". Then, switching to English: "Always to feel happy, happy, happy…" At his age, I'd be happy just to be here.