GONE ARE the days when people loyally supported a party or a political leader for life and beyond.
In this presidential election campaign, there have been more desertions and switching of allegiances than all the previous ones put together and the weird thing is there are no real differences in the positions of the candidates. They are all talented liars, super-patriotic hardliners on the Cyprob and committed Akelites on economic policy.
The trend was set by a group of extremist nationalist members of the Alliance of Lillikas, who quit the party and set themselves up in what they described as a 'platform', which subsequently announced it would back the Nikolas 2018. The platform was made up of former Eurococks who felt the self-serving Lillikas was keeping all the hens to himself. The deserters included the party deputy and former TV evangelist Pavlos Mylonas, thus reducing the Alliance's seats in the House to two.
More recently 126 Solidarity members/supporters/sympathisers announced they disagreed with Dr Eleni's decision to back Junior's candidacy, suggesting they would back Nik. It was a bitter blow to the big ego of Dr Eleni who was at pains to play down the mass exodus. One third of the deserters were Disy members, her party claimed, while some had been included in the list against their will and would take legal measures.
Dr Eleni was deeply hurt by this brazen show of disloyalty, but she should show a little understanding as she has also deserted a party or two in her political career. Admittedly, her motives for her disloyalty, first to Diko and then Disy, were much nobler because Dr Eleni serves a higher cause than mere mortals.
ALTHOUGH there have been no Dikhead defections Junior is being undermined from within by the old party guard, which has been openly criticising his decisions, his choice of associates and his autocratic rule of the party. One Dikhead councillor went as far as to claim that the party was now full of mercenaries, which was a bit rich considering the party always attracted ideological mercenaries.
Dissident Dikheads are led by the ultra-principled former leader Marios Garoyian, an ex-speaker of the House, who still has time to dabble in politics despite the lucrative business he has set up arranging passports for rich Russians. His close ties with Prez Nik ensure he avoids the usual bureaucratic delays and delivers a very prompt and speedy service to his foreign customers.
Christos Patsalides, a close aide of Garoyian and former health minister, recently resigned as vice president of Diko on the grounds he disagreed with Junior's style of leadership. One skettos drinker speculated that Patsalides could be rewarded for his disloyalty to Junior with the interior ministry in the event of a Nik win.
In this post he would be ideally placed to help Garoyian's passport business.
In fact, it would not come as a surprise if Patsalides was also dealing with passports. When Politis contacted him about a story three days ago he spoke to the paper from China where there is great interest for Paphos properties and citizenship.
IN THE LAST week, the dissident Dikheads have also found an ideological reason to attack Junior when they made the shock realisation that he did not support the bizonal bicommunal federation (BBF) settlement. They were alerted to this after Edek chief Dr Sizo implied on a TV show that Junior agreed with his party's denouncement of BBF.
This gave the dissidents political reason to carry on undermining their leader, which he thoroughly deserves I hasten to add, and silence cynics who claimed Nik had encouraged this opposition by promising them public posts if he was elected. For Garoyian, Votsis, Patsalides, Kyriakidou etc, great champions of federation, to claim they only just realised Junior is opposed to BBF is pure theatre.
Where have they been living the last few years? Have they not read their leader's new strategy, which is guaranteed to bring the Turks to their knees, and have them begging us to take back Kyrenia and Famagusta? There would be no need for the wretched BBF once the new strategy is implemented and Diko would not have to share the spoils of power with the greedy Turks.
THERE are also individual defections. Former Akel big-wig Nicos Katsourides, who has been sidelined by his comrades because of the shady role he played in the Dromolaxia scam (comrade Tof has repeatedly mentioned it), has already joined the Junior camp although no public announcements have been made.
Kats was of the rejectionist wing of Akel and had close ties with Junior's dad even though he must have been given a more tangible incentive to join Nikolas 2018, such as a ministry. The guy is finished in Akel and all he can hope for is a ministerial job that only Junior would be stupid enough to offer him. Of course Kats, who still has influence over the Stalinists of the party, will have promised to deliver their votes to Junior.
A little over two weeks ago, Phil reported that Akel's independent candidate Stavros Malas had made an approach to Kats "to ask him to return to the front line of his election campaign." He had led the Malas campaign in 2013. The plan was for the two men to meet and discuss the possibility of a co-operation.
The irony was that several days before this report appeared Kats was visiting the homes of Akelite voters urging them to vote for Junior. If the meeting with Malas actually took place it must have ended in bitter disappointment for the on-call candidate. Kats' services had already been secured by Nikolas 2018, which pays much better than the commies and offers much more attractive incentives, as he has a chance of winning.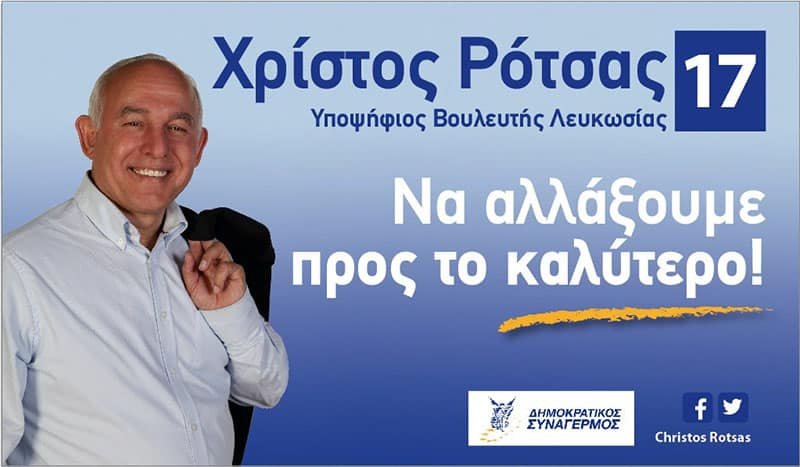 A MORE public defection also took place last week. Accountant posing as liberation warrior Christos Rotsas quit Disy, to which he had belonged for many years, and on Friday night, according to Tass News Agency, was "due to express officially his support to the candidacy of Nikolas Papadopoulos at an event at Hilton Park."
Rotsas must have a very high opinion of himself to think his decision to vote for Junior needs to be officially announced at a special event. This is the idiot who publicly lamented our failure to send the National Guard to re-take the north in July 2016 during the aborted coup in Turkey.
His attempts at carving a political career for himself ended in abject failure – his latest being his failure to get elected in the May parliamentary election on the Disy ticket – but he remains under the delusion he has the political cache to publicly announce who he will be voting for. How many people will vote for Nikolas in January because his candidacy enjoys Rotsas' support?
In fact I was seriously thinking of voting for Nikolas 2018 but I am now considering expressing officially that I will not because his candidacy is supported by Rotsas.
THE INVESTIGATION into the posting of the questions for the teacher exams an hour before the actual exam was due to start made some staggering findings – it was "due to a mistaken and impulsive action by an official and the actions and or omissions of other officials."
Was an investigation needed to establish that the official who posted the questions was to blame for what happened? I liked the observation that apart from mistaken it was also an "impulsive action." Any person who has an impulse to post exam questions on a website ahead of time must have serious psychological problems. This is not the impulsive action of a normal person.
THIS IS a matter for our new investigator-general Odysseas to look into. First he has to complete his report into the exams, which he is investigating after countless foolish allegations made by Akelites in their effort to discredit the exams and force a return to the must fairer system of appointments via the waiting list.
In typical Stalinist style, the commies have used all sort of pathetic gossip to claim the exams were compromised. The gossip included claims the chief examiner was married someone who gave private lessons to applicants, that academics were paid to teach applicants, that exam questions were circulated six months before the exam, the girlfriend of an teacher was sitting the exam etc.
They reported all this nonsense to Odysseas, who as self-appointed investigator-of everything and everyone, feels obliged to look into any nonsense reported to him. He is preparing a report because he aims to please.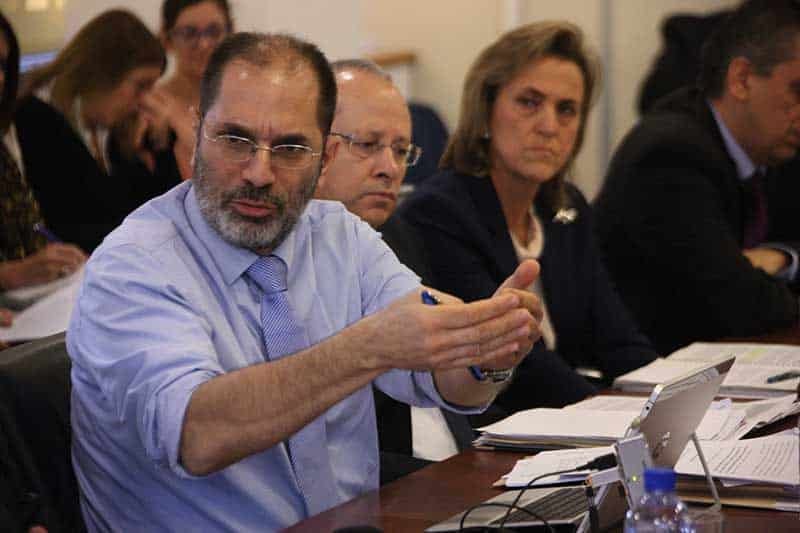 THREE cheers for our friend the University of Cyprus rector Constantinos Chritofides for openly slamming the waiting list and charging that it was a way of allowing rubbish teachers into schools. He likened the situation at public schools to that in state hospitals that also hired doctors indiscriminately.
"A few years ago," he said, "in Cyprus we would fill our hospitals with doctors that were recognised nowhere apart from in Cyprus and Angola." He was referring to the many Cypriot doctors that received their training at Soviet universities, such as the Patris Lumumba, and were appointed in state hospitals because of their Akel connections.
His commendable political incorrectness earned him a public rebuke from health minister Pamborides while the Lumumba doctors, strangely, said nothing.
LEADING businessman Nicos Shacolas will be celebrating his 90th birthday soon. We know because a coffeeshop customer was called by Shacolas' PA to be invited to the party that will be held at the hotel that Rotsas made his historic announcement of support for the candidacy of Nikolas 2018 – Hilton Park.
The secretary said that the party would be for a "few good friends" of Shacolas, making or customer feel honoured that he was among the nonagenarian businessman's few good friends. He was a bit deflated when he found out the "few good friends" numbered 400 people.
THE PHAROS Trust, which arranges top musicians to perform in our cultural backwater, last month staged a piano recital by renowned Russian pianist Konstantin Lifschitz. The Trust also secured the promise of €5,000 in sponsorship from the RCB to cover part of the costs of the concert. Before the concert, the president of the trust Garo Keheyan repeatedly expressed his deep gratitude to RCB for its support. However, in the end his thanks were for nothing. The Cypriot RCB director dealing with the matter decided he would only send €1,000 to Pharos as sponsorship. The trust felt so offended by the director's action it sent the cheque back to him. The director, a retired ambassador, could of course boast to his fellow directors that he got positive publicity for RCB among the well-heeled of Nicosia without paying a cent.