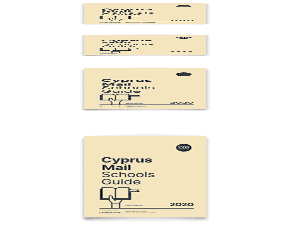 Where do you live?
I live in Nicosia with my wife Irene and my two daughters Veronica and Isavella.
Best childhood memory?
Oh! I got lots of them. One would be my first Lego playset.
Most frequented restaurant and absolute favourite dish? What food would you really turn your nose up to?
My favourite restaurant is the Imperial Chinese Nicosia and I love the sweet and sour traditional dish. The food I don't really care for is fava beans.
What did you have for breakfast?
Oat biscuits, honey waffles and espresso coffee.
Would you class yourself as a day or night person? What's your idea of the perfect night/day out?
It really depends on my mood and where I am going. I love good food, a nice conversation and perhaps a shishia just to relax!
Best book ever read?
Listen Little Man by Wilhelm Reich. It deconstructs human as we really are.
Favourite film of all time?
Conan the Barbarian. I love the music score of Basilis Poledouris.
Favourite holiday destination? What's your dream trip?
Everywhere I went I loved the experience. I have to mention Argentina, Brazil, China, Germany, the Czech republic and Romania but my favorite is London because it was the first trip I took with my daughters. My dream trip is going to New York.
What music are you listening to in the car at the moment?
Classical music performed by André Rieu
What is always in your fridge?
Goat cheese!
Dream house: rural retreat or urban dwelling? Where would it be, what would it be like?
I would love a big house with a glass dome on top to see the stars. I love living in the city! I love its vibe so long as I have got my space where I can retreat away from all things.
If you could pick anyone at all (alive or dead) to go out for the evening with, who would it be?
I think it would be Anthony Hopkins. The man is a genius and I would love an opportunity to have a chat with him.
If the world is ending in 24 hours what would you do?
Be with my wife and daughters and do all sorts of activities together.
What is your greatest fear?
I am too scared to tell… 🙂
Tell me a joke…
'Life insurances' 🙂
Tasos Anastasiades is an Assistant Professor at the European University Cyprus. In 2004, he started publishing Plastic Comics, the first comic book created in Cyprus. In 2017, he was selected by the Cyprus Embassy in Romania and the Cyprus Ministry of Education to represent Cyprus at the 5th European Comics Festival. Currently, he is working on a short comic book series in collaboration with Neil Gibson, owner and publisher of T-Pup comics in London.