WHO WOULD ever have believed that Comrade Tof's economic thinking would have been embraced by all of today's presidential candidates. They are all talking – in the case of Prez Nik spending as well – like graduates of the Christofias School of economic thought and disciples of his seminal work, The General Theory of State Bankruptcy.
Every few days you hear a new Tof inspired economic proposal from the candidates, while Nik, every week, announces innovative ways of wasting the taxpayer's money. Last week there was a row at the House because the chairman of the finance committee, Disy boss Averof, blocked Nikolas 2018's attempts to make the government's ludicrous Solidarity Fund legally commit to bigger payments to the so-called hair-cut victims.
Yiorkos Lillikas, co-sponsor of the Solidarity Fund, wants to set up a special fund (with the taxpayer's money of course) that will provide financial support and lead to a haircut of loans that will salvage the first residence and avert the risk of thousands of families being made homeless.
As for Junior, on Wednesday he presented his radical proposals for the economy that were about as inspired as his new strategy on the Cyprob. His proposals envisage increasing state spending and reducing taxes while keeping a balanced budget. Economics guru comrade Tof would have been particularly pleased to hear his student would double the lowest state pensions and increase state benefits for students, mothers, children and housing.
His plan would be funded by the war reparations he would make Ankara pay when he implements his new strategy and Turkey is forced to withdraw the occupation troops.
FINANCE Minister Harris Georgiades, was made to look a complete fool again on Thursday as he made yet another embarrassing 180-degree turn on his economic policy, in order to help Prez Nik's re-election drive. Nobody can stand in Nik's way as he recklessly wastes the taxpayer's money in the hope of buying votes.
Georgiades, on Thursday, had the thankless task of announcing that the council of ministers decided to give an additional €20 million as compensation to members of bank provident funds. In July, when the government offered an extra €168m, on top of the €300m it had already paid in compensation to provident funds that lost money in the haircut, Harris assertively declared this was it.
He responded to protests by the bank employees union Etyk, by insisting there was no way anyone would receive more than the 100 grand cap he had set. Thanks to Thursday's about-turn the cap for the big earners would be raised to 250 grand and Harris' credibility would be lowered to zero.
It is just another small personal sacrifice he has made for the re-election of his boss, as he had done in the case of the contractual workers, when his 'absolutely not' to pay increases, became a 'certainly' after Nik's intervention.
THE PRIORITY of Junior's Tof-inspired economic proposals was "The re-establishment of the middle class." Who made up the middle class he avoided specifying, although he referred to all those that had been affected by the economic crisis and had not felt the benefits of the recovery. If this was his definition in a sociology exam he would fail.
One hack speculated that he was referring to private sector employees, whose wages have not picked up, the self-employed and owners of small to medium businesses, suffering the effects of changing consumer habits. If these people are the middle class then what are public parasites, bank employees and SGO workers that are flush with cash, own three cars each, a holiday villa in Paralimni and require no re-establishment? Are they aristocracy?
If they are aristocracy, Junior, who is a lot wealthier than them must be royalty. It is no joke that his wife refers to him on social media as 'pringipas mou' (my prince). His election will re-establish royalty as well as the middle class.
WE SHOULD not be too harsh on the sensitive and caring blue-blooded rich boy that shows such genuine compassion for the lower classes, because he had a pretty shitty week. It started with the Nik-supporting, passport dealer and former Diko chief Marios Garoyian, rubbishing Junior's new strategy and labelling it as "unprecedented strategic sophistry".
Nobody takes the self-serving Garoyian very seriously, but it does not reflect well on Junior when a leading member of his own party dismisses the new strategy – the unique selling proposition of his candidacy – as sophistry and backs the Cyprob positions of the other candidates.
It got worse when a conversation Perdikis was having with members of his party was made public. The tree-hugger-in-chief, reportedly, told his green minions, speaking in the royal plural, "we do not hide the fact that the candidacy of Nikolas Papadopoulos was not the best choice for us." From what I hear, the reason he steered his party behind not the best choice was because he believed in Junior's new strategy on the Cyprob.
JUNIOR'S woes were nothing compared to the utter humiliation Dr Eleni suffered. The joy of having a third cop added to her security detail did not last long as last weekend she had to deal with more than 300 defectors, to whom another 68 were added subsequently. Most of them joined prez Nik now that he has become almost as patriotic as Dr Eleni on the Cyprob.
The 68 that announced their departure were Eurococks – the party that merged with Solidarity in 2016 – and had never been members of Solidarity the hurt doctor told a TV show, also using the royal plural. "They were never our members. We do not know the majority of these people. Some names may remind something…"
She should not be too dismissive of the defectors, because they were merely following the shining example set by their former leader. Dr Eleni defected from three parties in her noble quest to save the country and further her political career.
A LITTLE sympathy for House President Demetris Syllouris' tough predicament, that reminded me of a naff seventies song by Mary McGregor titled "Torn between two lovers." I am using the title metaphorically and am not suggesting Syllouris has any lover.
Founder and leader of the Eurococks, Syllouris had no chance of being elected in the last parliamentary elections until he struck a deal with Theocharous. The Eurococks were absorbed by Solidarity which won three seats in the elections, one of which went to Syllouris so he is indebted to Dr Eleni for saving his political career.
Once in the House, he was elected president – the second highest position of the Republic – thanks to Prez Nik, who ordered Disy to vote for him. So he is indebted to Nik for making him president of the House, giving him top status, a state limo, many cops to guard him and a super pension when he retires.
The prez expects him to publicly back his candidacy, as a show of gratitude, but much as Syllouris would like to do this, he cannot betray his new party and Dr Eleni who saved his political career from oblivion. Both contributed to his rise to the top, but now have left him torn between two fuhrers.
AUDITOR-GENERAL, investigator-general and moral avenger, Odysseas, has become a super-sacred cow because of the indisputably good work he has done in fighting corruption, but should he be above criticism? Many people seem to think so and the morally superior Odysseas seems to share their view.
Last Monday he was a guest speaker, together with the attorney-general Costas Clerides at a seminar on fighting corruption and after telling the audience that the only ones who were not corrupt were those with a conscience "who had strong morals and values," presumably, like Odysseas. It was a subtly, modest way of advertising his own virtues.
He then attacked all those who dared criticise AG Clerides over the Loizidou emails affair. He spoke of a "torrent of mud against the AG from specific media" and wondered "how much lower could some sink and without shame, while they have divorced from morality give lessons on morality and ethics." These low-lifes of the media, Odysseas added, "with their arrows dipped in bile and vinegar, try to shoot down anyone who is an obstacle to their unlawful plans."
Will the media now have to apply to Odysseas, for a certificate of high moral and ethical behaviour, before being permitted to fire their arrows, dipped in bile and vinegar (impressive biblical reference) at anyone? How are we reprobates, divorced from morality, going to earn a living if we are stopped from having a dig at our moral superiors like Odysseas?
As for Clerides, he deserves a wee bit of criticism, even by moral inadequates, for allowing the AG's office to be turned into a subsidiary branch of the Russian prosecutor-general's office.
LAST WEEK we wrote about the celebrations of senior attorney Eleni Lozidou for securing the extradition of mother of two Natalia Kolovanova in connection with the Yukos case. Yukos was the biggest privately-owned oil company, taken over by the Russian state and its main owner Mikhail Khodorkovsky thrown into prison.
Interestingly Kyproulla was the only country that extradited people (another Russian followed a year later) related to the Yukos Oil cases. Britain, The Netherlands, Switzerland, Lichtenstein, Czech Republic, Israel, Spain all rejected extradition requests from the Russian Federation in connection with Yukos cases on political grounds.
A Cypriot judge, Alexandros Panayiotou also ruled against extradition of Vladislav Kartashov in 2008. The loyal servant of the Russian prosecutor, Eleni Loizidou applied to have him removed from a subsequent extradition case involving a Russian national, but failed. In the Kartashov case Judge Panayiotou disappointed Loizidova by ruling that the Russian authorities and her hero Putin were persecuting people related to Yukos and political opponents.
ACTING government spokesman Viktor, added a melodramatic touch to the election campaign on Wednesday, which was the Prez's name-day. "On the name-day of President, Akel chose to send as 'best wishes' a lorry-full of mud against him," he said responding to some criticism.
On his name-day Nik let it be known through a variety of channels that the presidential palace would be open for people who wanted to offer their wishes to him between certain hours. This is what the Archbishop does on his name-day, but Nik had another surprise for the well-wishers that showed up.
There were photographers, who took a picture of every single person that shook Nik's hand and on the way out of the palace, people would be given their photo with the prez. I bet Junior, who has the same name-day, did not think of such a clever electoral ploy.
THE BBC Monitoring service decided to check out claims in Russian media outlets that copies of a Vladimir Putin calendar for 2018 "have been selling like hot cakes" in the UK. Its "reality check verdict", said: "We've been unable to find any shop in the UK stocking the calendar while sales online have been limited."
The calendar, which is available through eBay and Amazon, has Putin in a variety of poses – shirtless brandishing a shotgun (July), in judo outfit defeating someone in a judo contest (March), on a big motorbike (June) – and retails for about £29.99. According to the Beeb, "between them the vendors have sold a few hundred copies and we do not know if all those customers were in the UK."
Russian newspaper Izvestia reported that the calendars "were all bought out in just a few hours," while Moscow's TV5 said the calendar was "selling like hot cakes in Britain where it became popular with buyers almost immediately." One Russian blogger dismissed these reports as "fake news," said the BBC.
If there are a lot of calendars left over, Phil, could order a few thousand and offer them free with the Sunday edition of the paper, as a show of appreciation for Putin's perennially principled stand on the Cyprob. Eleni Loizidou could also buy a few and give them as Christmas presents to her colleagues at the State Legal Services so that every office could have a Putin calendar on its wall.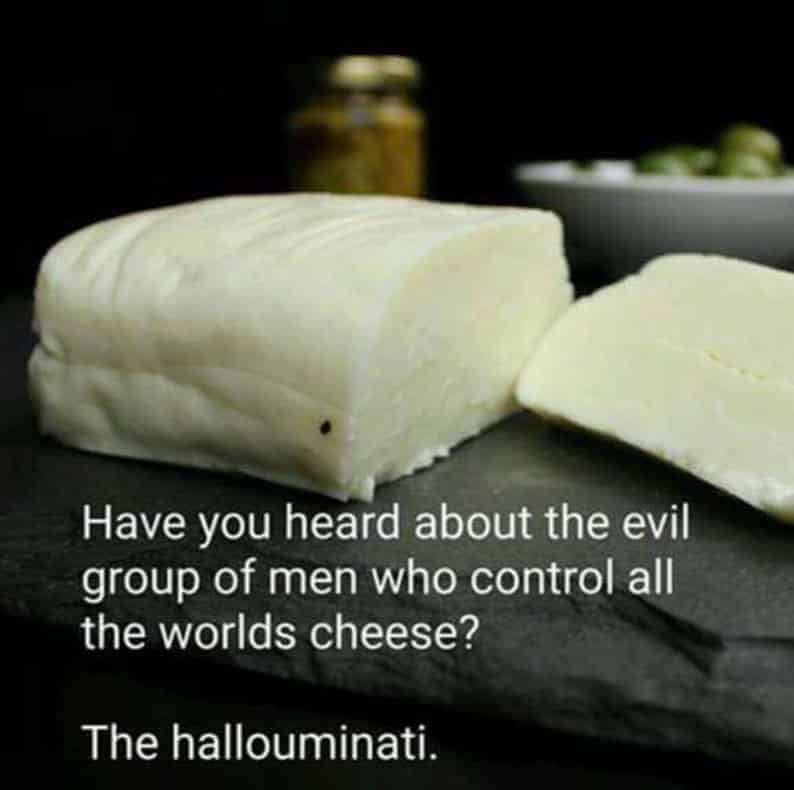 A REGULAR tipped me off about another word etymologically derived from halloumi that has been circulating on the internet, under a picture of our national cheese. The caption said: "Have you heard about the evil group of men who control all the world's cheese? The hallouminati." Another regular, came up with another suggestion, inspired by the habit of doctors in Greece half-jokingly telling Cypriot patients with heart trouble, clogged up arteries or high cholesterol that they were suffering from excessive consumption of halloumi – halloumitis.