The soaring numbers of stray dogs have prompted many volunteers go to great lengths to help animal shelters cope in any way they can.
But 43-year-old Graham Shackleton is taking the great lengths notion quite literally by aiming to walk the 200-kilometre distance from Cape Greco, Famagusta to Ayios Georgios harbour in Paphos starting on Saturday, December 16.
His aim is raise funds for the Limassol-based dog shelter where he volunteers and raise awareness on animal welfare.
"I worked out a few ideas to collect some money to help dogs of a shelter I'm volunteering," Shackleton told the Sunday Mail.
He is a volunteer at the Rescue and Rehome Cyprus shelter that arranges to find families mainly in the UK but also the rest of Europe for those pound dogs that are meant to be put to sleep.
To help raise funds, he decided to set out on Saturday at around 6.30am when the sun rises from Cape Greco and walk to make it to Paphos for the next day's sunset.
Although he's never done anything similar before he is determined to succeed in what seems an impossible feat.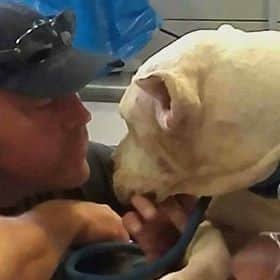 "I like to keep fit, so it's a good challenge," Shackleton said.
He added that volunteers from other shelters have expressed interest in walking with him parts of the way.
During his walk journey, Shackleton will also be handing out flyers to raise awareness for spaying/neutering of pets and on the importance of adopting a shelter dog.
He said that many have already rushed to support his initiative and spread the word.
"So far, it's been excellent," Shackleton said.
Shackleton will be covering his own expenses required for his trek but welcomes sponsors to help cover expenses for the shelter.
Donations may be made through Paypal
Sponsors are asked to add in notes 'sponsored walk'