Graham Shackleton,43, was welcomed on Sunday afternoon in Paphos after walking non-stop for around 36 hours from Cape Greco in the Famagusta district, to raise funds for animal welfare.
Shackleton, a volunteer at the Rescue and Rehome Cyprus shelter, set off on Saturday morning – at sunrise – from Cape Greco along with a friend, on a trek of about 200 kilometres to Ayios Georgios harbour in Paphos. He arrived in Paphos at around 5.10pm on Sunday.
Excited about his success, Shackleton, who had never done anything like this before, said he had no idea how he did it.
"I still don't know," Shackleton told the Cyprus Mail.
He said that they walked all night and except from stopping for a while in Limassol to seek shelter after encountering heavy rainfall, they kept on going.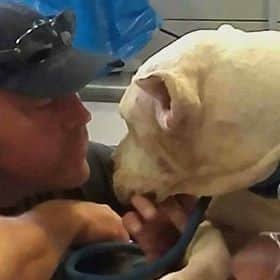 Shackleton's aim was to raise money for improvements at the Limassol municipal pound as well as to raise awareness about neutering pets and about the importance of adopting dogs from shelters..
Shackleton is to announce how much money he raised in a few days.