Travel bloggers Andreas Michael and Chrystalla Pieri on the island of spice: Zanzibar
"Let's travel the world," said Andrew one Tuesday night while we were watching Netflix. It was just another Tuesday night, like every other Tuesday night, or any other week night for that matter. That's what our lives had become: work, gym, dinner, and Netflix.
While the past two years seem to have been marked by a series of unfortunate events, we got to thinking: we're both lucky enough to have jobs that allow us to work from anywhere in the world so why not take advantage of that? Why limit ourselves to saving money to go on one holiday a year when we could be in a different country each month?
So after several months of planning, selling all our belongings, packing our lives in just two suitcases and saying our goodbyes, we finally set foot in our first destination: Zanzibar!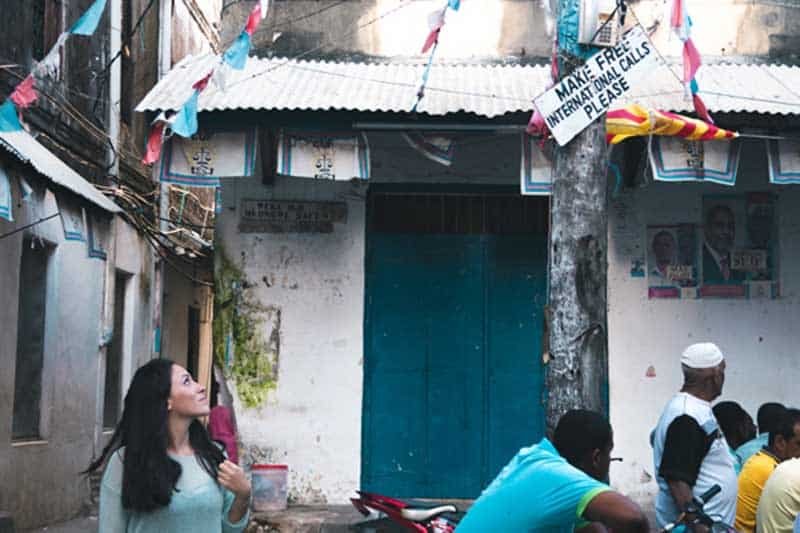 Zanzibar is a beautiful island set in the Indian Ocean and is as exotic as it sounds. White powdery beaches, turquoise waters, starfishiis (locals add an 'I' to the end of almost every English word), delicious fruits, colourful sea life, rich culture and history… Zanzibar was the perfect starting point to our year-of-summer journey.
But it took a while to find this beauty. The airport building was very basic and to us resembled something from a war zone, not to mention the human luggage carousel. We made our way through a very lax 'security' check to find that one of our brand new suitcases was damaged. A hot hour later we managed to sort the paperwork. What a great start, we thought, but 'Hakuna Matata' (meaning no worries in Swahili) as the locals say.
The drive to the hotel was exciting and shocking at the same time, at least for me. Chickens and chicks crossing the road, wagons dragged by cows, women carrying things on their heads and babies on their backs. I had only seen such things on the TV!
Moving past our rocky start, we settled in the south of Zanzibar at the Fruit & Spice Wellness Resort, where we had the warmest welcome and the best passion fruit juice ever. It was so good Andrew made sure to have one every single morning.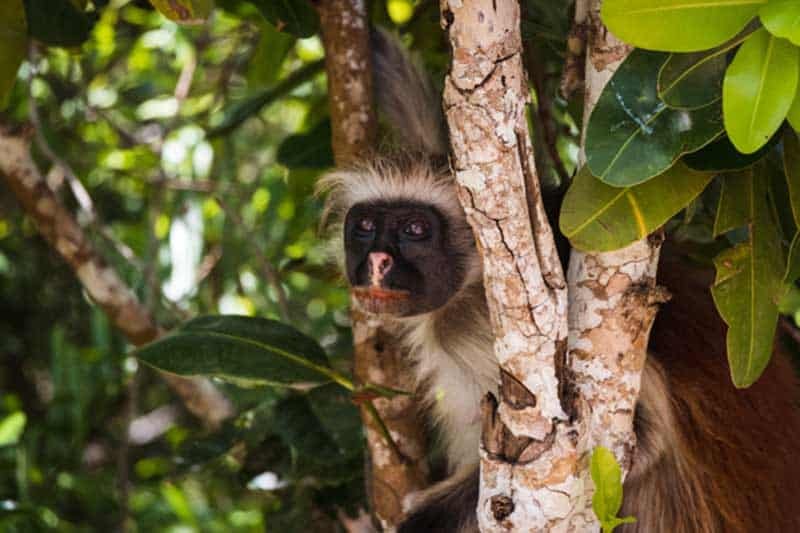 Jozani and the Red Colobus monkeys
On our second day we visited the famous Jozani forest, one of the last remaining sanctuaries in the world for Red Colobus monkeys. We got to meet a few during a day there spent walking through acres of mangroves and hanging out with the monkeys. After a long day, we headed back to the resort in time to enjoy a beautiful sunset and a dip in the Indian Ocean…
Safari Blue Snorkelling
Andrew was dying to explore the sea's crystal blue waters so snorkelling it was. After breakfast (including passion fruit juice of course) we jumped on a little boat to sail off to The White Island, which is only visible for a few hours a day during low tide. Five minutes before reaching the shore we stopped the boat and jumped into the water to explore the colourful sea-life.
The White Island is aptly named, white sand was everywhere with seashells and little crabs walking on the beach. We were so excited to fly our drone to capture what we could see and more. After some splashing and some drone shots, we enjoyed a picnic accompanied by wine, beer and a tropical storm. In the middle of the Indian Ocean, on a sandbank, having a picnic in the rain. Sounds like the perfect day.
Dolphin dreams come true
Our next adventure was also the highlight of our trip to Zanzibar, and that's why we did it twice. We were up by 6am and on a boat shortly afterwards to go and see… DOLPHINS! Not only did we see dolphins, but we dived into the water and swam with them too. Andrew was ecstatic, swimming side by side with the dolphins like a merman! I am a terrible swimmer so I could not catch up with the dolphins, or Andrew.
There is so much more to Zanzibar than the dolphins and we decided our next stop would be the more popular and lively side of the island at Nungwi beach, Stone Town and a spice farm.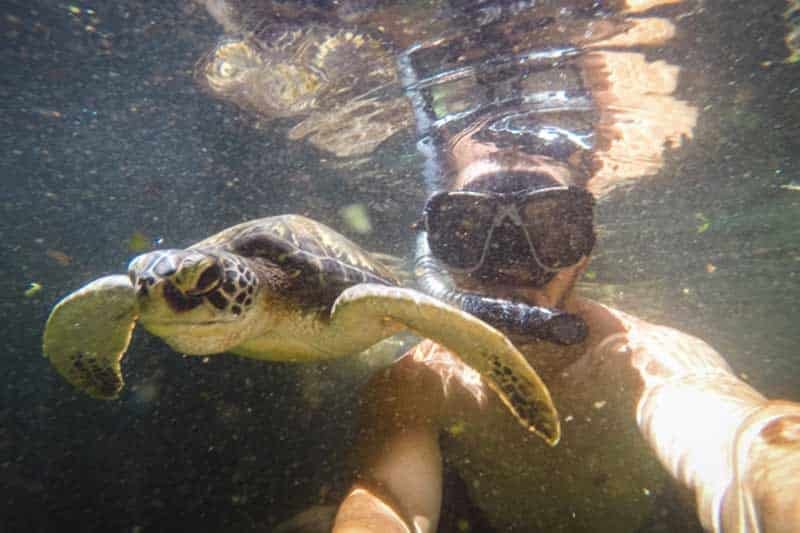 Swimming with dinosaurs
Our visit to Nungwi was special as we were going to verify a tip from our friends 'How Far From Home' to cuddle green sea turtles in their natural environment. We did it, and it was A-W-E-some. The turtles were so cute and didn't seem to care we were there. We loved it, Chanel, Steevo, Asante Sana (thanks a lot in Swahili) for the tip.
Next up was the lively Kendwa beach. Maasai on the beach, beach bars, cocktails, long happy hours, free massages. Andrew did some wakeboarding, I just sat on the jet ski that was pulling him. We stayed and watched the sun go down and the locals playing football on the beach while sipping our cocos.
World Heritage Centre
Stone Town is World Heritage nominated by UNESCO. Every street felt like we were in a different country, as it has a rich mixture of Arab, Indian, Persian and European influences. We strolled through the beautiful streets, taking pictures of doors, walked through the Darajano market and finally ended the day at the famous Forodhani night market. Locals set up colourful popup stands and cook local delicacies, including the famous Zanzibari pizza. Delicious!
The island of spice after all
Our visit to Zanzibar would have been incomplete without a spice tour, spices are a pillar of Zanzibar's economy after all. We walked through acres of spice plantation and discovered every spice in Zanzibar has its own little story. The nutmeg, for example, is also known as Female Viagra. Yes, you heard that right ladies! But you shouldn't have too much as according to our guide 'two nuts is more than you can handle'. It was a funny and educational day, ending with a man climbing a huge coconut tree singing Hakuna Matata.
Asante Sana Zanzibar
Like all good things, our trip to Zanzibar came to an end. Andrew ticked off swimming with dolphins from our wanderlist, we confirmed how awesome it is to cuddle green sea turtles, and I experienced something I have never seen in my life before, a world beyond Cyprus, shiny cars and executive careers.
Next stop: A romantic Utopia – Seychelles
Follow them on Instagram: https://www.instagram.com/stuckherewithyou/?hl=en