Sections of the bridge at Eleftheria Square were opened to pedestrian traffic on Wednesday afternoon, directly linking parts of the centre of Nicosia that had been cut off for six years.
The passageway, which is fenced off from the uncompleted sections of the square with barriers, link Ledras Street within the walled city with Stasinou Avenue and Costakis Pantelides Street outside the walls.
It had been expected that the passages would have opened earlier January.
The project, which was originally supposed to be completed in 2013, has been beset by endless technical and contractual problems and is now years overdue. Work began on the project, designed by the late Iraqi architect Zaha Hadid, in 2011.
Hadid's design for Eleftheria Square, which aims to reconnect the town's Venetian walls and moat with the modern part of the town, has also proven far costlier than originally expected.
The project was originally budgeted at €23 million, but following the 2014 withdrawal of the first contractor, it was broken down into two smaller ones. Construction of the bridge and square were awarded to another contractor for a budgeted €13.5 million, while construction of a two-storey underground parking lot adjacent to the square was awarded to the same contractor via a different tender process for some €11 million.
In April 2016 mayor Constantinos Yiorkadjis said the projected costs were now €32m, excluding construction of the two-storey parking space but including an EAC substation.
Added costs, incurred by delays and outsourcing construction of parts of the project, were to be reviewed by the Central Committee of Changes and Claims, a government body that approves or rejects over-budget cost or deadline extensions.
The redevelopment of the square has been beset by delays from the outset. First it was antiquities found during initial digs that caused a delay, then it was the rocky relationship followed by a court case between the first contractor and the architects. Waiting for new tenders pushed the process further back.
The latest delay, the municipality had said last November, was due to the contractor's inability to meet the standards set by the architects on a part of the bridge. A foreign expert was to be brought in to complete this section.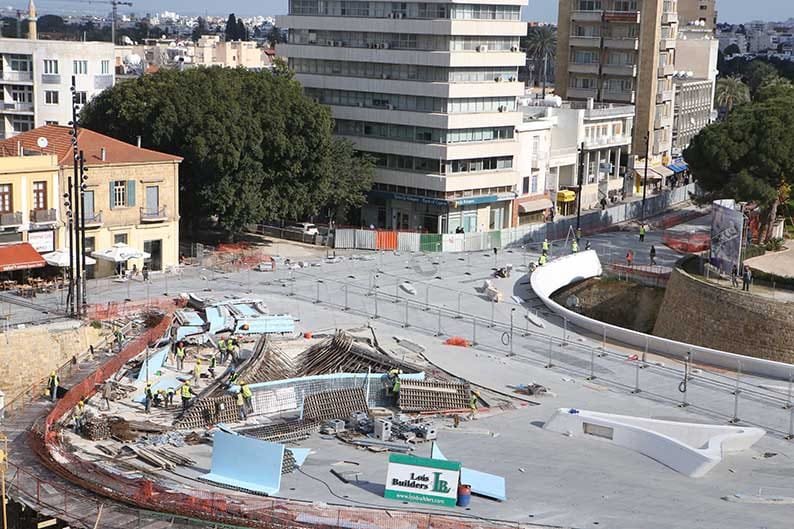 A bird's eye view of the section, marked by barriers, which is now open to pedestrians (Christos Theodorides)