By Elias Hazou and George Psyllides
A school teacher and his wife, aged 60 and 59, were found in a pool of blood after having been stabbed multiple times with a knife in their bedroom in Strovolos, Nicosia, early on Thursday morning.
The man was stabbed 25 to 30 times and his wife some 10 times, according to post-mortem findings.
Their 14-year-old adopted son managed to flee, running to a neighbouring house, and said the perpetrators had forced entry into the house. He was reportedly told that no harm would come to him.
Police later said there was no sign of forced entry into the building and it didn't appear to be a robbery.
The 60-year-old man, Giorgos Hadjigeorgiou, was a maths teacher at the English School in Nicosia, while his wife, Dina Sergiou, worked for the Central Bank of Cyprus.
Officers were searching for two perpetrators, who reportedly spoke with a Cypriot dialect and wore black clothes and hoods.
The incident happened at around 1.30am.
State pathologist Eleni Antoniou visited the scene first thing on Thursday morning, while autopsies on the couple were carried out at noon at the Nicosia general hospital.
Speaking to the Cyprus Mail after carrying out the post-mortem, Antoniou said the two victims died of haemorrhagic shock caused by multiple blows with a sharp object.
Giorgos Hadjigeorgiou was stabbed between 25 and 30 times, the majority of the wounds sustained in his throat and chest area, while a few of the blows were on the abdomen and legs.
His wife Dina was stabbed about 10 times in the throat and chest.
In all likelihood a single knife was used for both stabbings, the pathologist said.
"It appears that the two victims were being stabbed alternately. The ferocity indicates a crime of passion, rage. Due to the blood loss, death must have ensued within four to five minutes," Antoniou added.
Police continued to search for the murder weapon.
Police spokesman Andreas Angelides said authorities were not ruling out anything.
"The investigation is ongoing, we are looking at all possibilities at the moment."
He confirmed that police were examining CCTV footage obtained from surrounding premises.
The victims' residence itself did not have any cameras installed.
The couple's 14-year-old son would be deposed by police either late on Thursday or on Friday morning, Angelides said. The son was not under arrest.
The couple's two-storey detached house is located on Zalongou Street, a quiet neighbourhood according to residents.
One neighbour said the couple, who moved there around eight years ago, were quiet; of the teacher, he said he was also religious.
In a post on its Facebook page, the English School expressed sorrow about the couple's death and announced it had set up a crisis team to provide support to staff and pupils.
"Our thoughts and prayers are with George's family at this difficult time," the post said.
The school administration said it "feels that it is in the best interests of our students and staff to keep the school operating. This will allow the school community to come together to offer mutual support to each other at this very distressing time."
It informed parents that it had set up a crisis team, including a professional counsellor, to provide support to pupils and staff.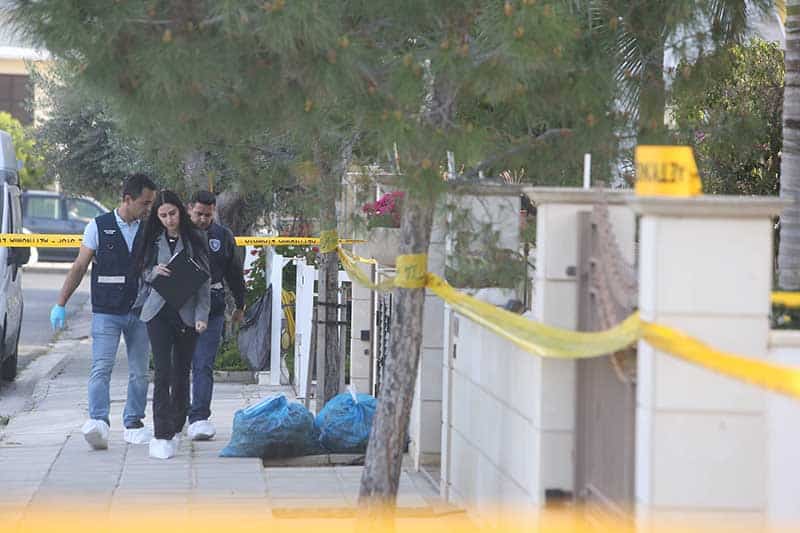 Photos Christos Theodorides