With their most high-profile building to be inaugurated this week by the president, THEO PANAYIDES meets an architect couple with one foot in art and the other in life
Next Thursday, May 3, a long-awaited ceremony is due to take place in Limassol: the inauguration of the New Limassol Port Passenger Terminal, a wildly distinctive building – it looks like six huge, oval steel pipes plonked down in the middle of the port, or six plump cannelloni on a plate if you want to be irreverent about it – with a design that was first approved in 2004. The official opening marks the end of a chapter for Irwin Kritioti, the Nicosia-based architectural office which designed the terminal (getting nominated for the EU's Mies van der Rohe Award in the process) as well as another public building, the new Nicosia town hall which is now – 21 years after they first won the project – in the final stages of completion.
Irwin Kritioti are Dickon Irwin and Margarita Kritioti – and that's about it, their open-plan office (in the centre of Nicosia, in a building full of architects) housing a total of just four or five people, including themselves. It used to be three times that number, but architecture was among the worst-affected sectors after our economy hit the rocks five years ago. It's been quite a stressful time for Dickon and Margarita – made even more (or less?) stressful by the fact that they happen to be a married couple as well as business partners.
This is actually not so uncommon, she tells me. Architects often marry other architects – and admittedly get divorced quite often too, but then they "marry architects again"! It's "because of the funny hours, and because of the obsession part," adds Dickon. Their hours are indeed very long; they've even had to work through the night on occasion, especially as deadlines loomed for this or that competition. "We pulled an all-nighter while you were pregnant," he reminds her, with the joshing air of old friends recalling a youthful prank; "In fact, both times you were pregnant." Their younger child is around the same age as the design for the passenger terminal. "You learn at college to be able to run two or three days non-stop," he explains, noting my surprise.
"Not at this age!" demurs Margarita. "You don't bounce back so easily." She's now 53, Dickon 52. He likes to put up something every year representing the number of his age, he tells me, as a kind of reminder; last year it was a 'Pastis 51' fridge magnet, this year it might be a calendar (52 weeks in a year, get it?). The implication is that age is an irrelevance, easily forgotten unless you make an effort to remember it – the couple make a point of being casual about precise dates; we never quite pinpoint the year when they married, though we know it was sometime in the late 90s – the larger implication, especially for Dickon, being that one mustn't get bogged down in banal things like getting older; all that matters is the work. His designs are meticulously detailed, notes his wife admiringly – but, despite being so diligent at work, he'll happily let things slide outside of it. "I'd probably let my car run into the ground by not phoning the garage. She will get the cars to the garage."
Why the difference?
I don't have time for cars, he shrugs. "If I've got spare time, I'm trying to back up on the philosophy side [of architecture], the theoretical side… So the car can just fall apart, far as I'm concerned!". He tends to be the couple's ideas man, while Margarita is often better at execution. "And I'm aware of that. I'm aware of that difference."
Dickon is round-faced, talkative, intense, Margarita more twinkly and deliberate. He leaps at questions like a hunting dog, she approaches them more in the way of a little girl faced with a six-foot-high birthday cake, delight mixed with a slight apprehension. He's the son of art historians, her people were mostly engineers. He was born in Glasgow, growing up there and in Aberdeen – though in fact the family travelled widely (his parents loved Greece; their cottage in Scotland was painted white with blue windows), mixing with other artistic types. "I felt that we were part of a bigger world, and that world was art and creativity," he recalls of his childhood. "That's always been the point!" Margarita, meanwhile, grew up in Cyprus, only really finding herself after going off to MIT – initially to study Marine Biology, switching to Architecture in her second year.
They met in London while doing a Master's in Advanced Architectural Studies at UCL. "I remember the first time I heard Dickon talk, I thought he sounded so English!" she recalls with a chuckle, not really meaning it as a compliment. He was UCL and Cambridge; she was thoroughly Americanised, down to the strong accent (which she's now shed). "We didn't really like each other when we first met."
"You should also mention that we were the two students who asked the most questions," he puts in. I suspect they were similar people – similarly active and engaged – with different personalities and backgrounds. An assistant professor inadvertently played matchmaker, putting them to work on a joint project, and the rest is history. (They met this man again years later, when he came to Cyprus for a lecture; he was mildly stunned to see them still together.) That said, it's significant that work – and the realisation that they worked well together – was what made them a couple in the first place. "I think we're together, probably, because of architecture," muses Margarita, meaning that they may be too different to have survived without it.
"We share some children now as well," he adds mischievously.
Work and kids aside, they have different interests. He loves skiing, "I like the space and the light". She loves deep-sea diving, which he finds claustrophobic. Once again, he's more about freedom, she's more about controlled execution; one goes up, the other down. (They both love hill-walking, so I guess they meet in the middle.) Mostly, however, their life together revolves around work, not just during office hours but even when they travel together: to Venice for the Biennale every two years, or else visiting cities for research. When they designed the Cyprus State Archive in 1999 – a competition they won, but the funding never materialised – they studied archives in London, Paris and Edinburgh; for the Limassol passenger terminal, they checked out terminals in Rotterdam and Barcelona (as well as a famous one in Yokohama, but without actually going there). Travel used to be all-important, says Dickon, "we'd drag our babies around architecture all over the world – but that's not unusual for architects, they're terrible at that!".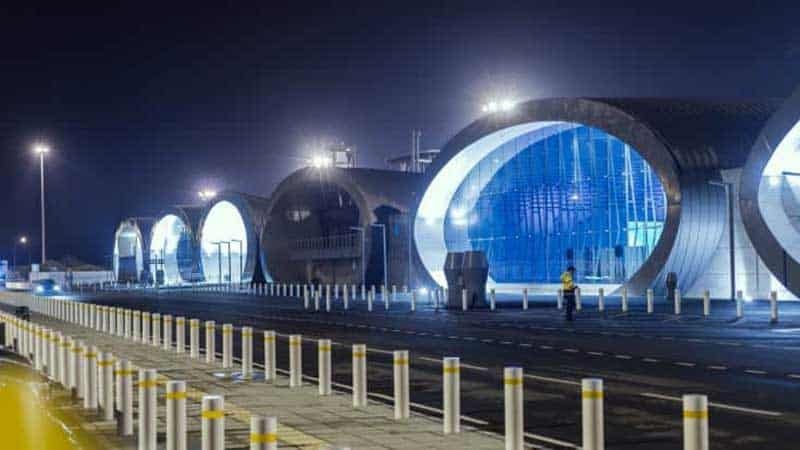 "We still do that," points out Margarita.
"We still do that," he agrees.
"It sounds like it was in the past."
"It feels like it was in the past. But no, we still do that. Not as much, we've relaxed a bit from that – because you also realise that what's really important is how people live," he muses, "and how they assemble, and life itself. You know, architecture starts becoming a container for life… rather than the thing itself."
There's a sharp distinction there, getting down to the slight schizophrenia at the heart of their profession. Buildings, after all – or just spaces in general – have to be beautiful and aesthetically pleasing, yet they also need to be functional. Architecture is an art, to be sure, yet it's also "a container for life" – a side that Dickon, in particular, may have been less attuned to, especially as a younger man. He comes across as a full-on aesthete, with a faith in unfettered self-expression and perhaps a hint of snobbery in his makeup. His eye is painterly; he can (and does) go on at length about the light in the Aegean vs. the light on the west coast of Scotland. He raves about the Limassol terminal being an "ocular building", like an eye that guides our own eye to the workings of the port, whereas Margarita has a more mundane explanation for its design: the six cylinders originated in their realisation that the building has six discrete units – Arrivals, Departures, etc – with different functions.
The practice of architecture is itself slightly schizophrenic. The c-word – 'creativity' – crops up again and again in our interview. (Even when I ask if they like a drink, for instance: "Is there anyone in the creative environment who doesn't drink?") There's a slight sense of protesting too much here, as if architects – more than, say, painters – need to keep reminding themselves of the creative side of their job, precisely because it so often gets smothered in signing contracts and organising builders. For Dickon there's another, related duality, the fact that he's lived in Cyprus for 23 years but isn't really part of the place: "I've always felt that I was living here and somewhere else". For one thing, he still only has "builder's Greek", as he puts it – but it's not just the language, it's also that he's spent his whole life, from childhood onwards, living internationally. "It's the same with Cyprus. If I took it too seriously I might think 'Oh my goodness' – I mean, it's a very small place! But you don't, because you meet people who are also thinking larger than the island, and connected outside, and travelling". Another way of putting it is that – much like architecture itself – he has one foot in art and the other in life. He lives in the world of his own creativity.
Margarita is a kind of local guide in this scenario (she's the one who brought him here, having popped back in 1995 to try for a local competition: "I called Dickon [who was working in London], I said 'Dickon, I need help. I can't find anyone on this island who understands what I'm talking about!'"), guiding the foreigner just as she guides his ideas to fruition – though it certainly wouldn't be true to imply that she has no ideas of her own. Their working relationship is an ongoing dialogue "based on contesting what the other one said", their only rule (which comes naturally, out of mutual respect) being to listen to the other, and be open to what they're saying. "What we won't do," he says, "is pick an idea and then fight for that regardless".
Still, he adds soberly, creative dialogue doesn't always – or often – go smoothly; "It's very jumpy, and can be quite argumentative". Do they lose their tempers? "Yes," replies Margarita instantly. "Oh yeah," confirms her husband.
So then, is it wise to be married on top of that?
"No, no, it's a very difficult thing."
"Definitely not!"
"You know," muses Margarita when the chuckles have subsided, "the most difficult thing is that you cannot dissociate from your work – and being an architect anyway, you are doing architecture 24 hours a day. So the good thing is you have someone to discuss everything with, which is fantastic. But the bad thing – the difficult thing – is you don't have anybody to just, you know, let off steam to, or to tell them something they don't already know… Now the kids are older, it's easier," she allows with a smile.
Take all of the above, then add one final twist: the changing milieu of the past 20 years – especially for a company, like Irwin Kritioti, specialising in large public projects. They've won four competitions in that vein; two of those buildings (Engomi town hall and the State Archive) fell through, the other two (Nicosia town hall and the Limassol terminal) have taken years, complicated by endless re-designs – the town hall has been comprehensively revised about 12 times – and the economic crisis. Meanwhile, the post-crash environment has no room for creativity; decisions are based on cost, fees have plummeted "to a point where it's starting to become ridiculous", the government now tends to prefer BOT (Build, Operate, Transfer) projects which are purely about the lowest tender, as opposed to the best design. They've thought more than once about shutting up shop and moving back to the UK – and may yet end up doing that, if Plan A (trying for competitions abroad while based in Cyprus) doesn't pan out.
Meanwhile there's the inauguration on Thursday, with President Anastasiades cutting the ribbon and no end of speeches praising the couple's good work – a full-stop of sorts (or perhaps a semi-colon, waiting for the town hall to receive its last tranche of funding and finish the chapter) on two decades of a personal and professional relationship. Dickon and Margarita seem a bit like the couple in The 39 Steps, who get handcuffed together and end up falling in love: their bond – their work – seems to be almost too close, as if asking for trouble, yet it's also what's kept them going.
"We're so passionate about what we do," she laughs, "that we don't leave enough time to –"
"Argue," completes Dickon.
"The times we really feel like a family are when we go on holiday with the kids."
"And then, like any holiday, you start arguing for two days non-stop – then, after you've got over that problem, it's really nice!". He laughs, sitting in the open-plan office with files stacked on shelves and windows all around, thinking of those rare occasions when their marriage is just another marriage. A few fleeting glimpses of life without architecture.