PREZ NIK called an urgent meeting of the hawks that make up his team of Cyprob advisors on Wednesday morning to discuss how to deal with Mustafa Akinci's proposal that threatened to lay bare their partition plans and expose the myth that Nik was committed to bizonal, bicommunal federation (BBF).
The prez was in a bit of spot as Mustafa invited him to accept the Guterres framework that outlined the six main principles for a BBF settlement as a "strategic package agreement". After all, for months he had been claiming that he wanted a resumption of the talks from where they left off in Crans Montana and within the Guterres framework.
His former friend called his bluff and Nik feared his Cyprob theatre would be seen by even his most naïve countrymen, for the farce it really was. The position he decided to take with his advisors may even have fooled the low IQ demographic – they invented a second Guterres framework that was supposedly finalised on July 4, and wanted to know if Mustafa accepted that one instead of the first one, submitted four days earlier on June 30.
The issue suddenly became which Guterres framework Akinci accepted and whether he agreed to the bit about ending guarantees, not the fact that Nik accepted neither the real nor the alleged second version as both stipulated rotating presidency, political equality and the rights of property users. The new Nik, backed by the inbetweener parties and advised by super hardliners, would never dream of making such concessions.
YOU STILL have to admire the guy's nerve, in patronisingly asking if Akinci accepted the provisions of the framework about the new security system without guarantees and the unilateral right of intervention. Akinci made it clear he accepted the framework as it was.
Our man, in contrast, never mentioned in the written statement he issued on Wednesday that he would accept the framework as a strategic package agreement, in other words as the basis for a settlement. All he was prepared to say was that "if Mr Akinci accepts the Guterres framework as it was finalised on July 4, 2017, this constitutes a positive development."
If Nik accepted it this would constitute a negative development and therefore avoided doing so. He was only demanding that future talks should be within the Guterres framework for as long as he thought it was unacceptable to the Turkish side. Now that Akinci called his bluff, the Guterres framework will be treated like a new Annan plan.
A CUSTOMER suggested that, after our prez's latest antics, our establishment should refer to him as 'Tricky Nicky', but I think there is something provincially, small-scale in such a nickyname that does not do justice to the epic scope of his political scams that he is confident about and promotes beyond Kyproulla's shorelines to Europe and the Americas.
After the Crans Montana collapse he sent letters to heads of government to enlighten them about the reasons for the failure of the talks. In one such letter, dated 18 July 2017 seen by our establishment, he wrote the following to 'his excellency' in the third paragraph:
"On 30 June, following consultations with all stakeholders, Mr Guterres set the framework within which the negotiations should proceed, for progress to be achieved on six thematic topics (herewith attached as Annex I)." The letter did not mention the finalised version of July 4 in order not to confuse the foreign leader or ambassador it was sent to.
He only likes to confuse the Greek Cypriots, when holes appear in his mythical efforts to solve the Cyprob.
MEANWHILE, Disy chief Averof appeared to be on a different wavelength from his big boss. Responding on Twitter to Mustafa's framework tweet, he tweeted, "Welcome on board @Mustafa Akinci_1. Let's re-unite #Cyprus and let's move together as Cypriots under the guarantee of our family the European Union. The best and strongest guarantee is the #EU."
I hope Averof did not have his ear pulled by Nik for deviating from the official line, which quite clearly did not believe Mustafa was on board with the July 4 framework.
GOING through Averof's tweets, I saw that on Monday he was in Israel and he tweeted a picture of himself and Dalia Rabin, daughter of Yitzhak Rabin, at the Yitzhak Rabin Centre. Also in the picture was our ambassador to Israel Ms Salina Shiambou.
I suspect she is the daughter or niece of former ambassador and permanent secretary at the foreign minister Alecos Shiambos, reinforcing the view that our foreign ministry is a cradle of nepotism. Another former perm sec at the ministry boasts three ambassadors in his family – a son, a daughter and a son-in-law.
Is it any wonder our foreign ministry has developed a hard-line, rejectionist DNA regardless of who is in power? A settlement would adversely affect the job prospects of their kids, as half the ambassadorial posts would have to go to Turkish Cypriots.
It would be outrageous for their offspring to be deprived of a job in the family business because ambassadorial post would have to be shared with the undeserving Turks, who would be hired because of their ethnic origin and not through the meritocratic method of family origin.
THE GOOD news for Prez Nik was that the UNSG had decided to send someone from New York to explore the possibilities for a resumption of the talks. This would allow the government to display a more positive approach than it displayed in relation to the Guterres framework.
The Dalai Lama was busy at work touring the TV stations to inform them how keen our side was for the 'envoy' to visit. We love having so called envoys coming and going because the government could pretend it is working on a settlement, without the pressure of taking any decisions. It fits in very well with the Cyprob theatre Nik has been staging for the last five years.
"It is a golden opportunity, for this visit to take place, even yesterday, the soonest possible, so that this matter can be clarified," the Dalai told Alpha TV. The matter he was referring to were the intentions of the two sides regarding the Cyprob. Maybe then we would find out what our side's intentions are as well.
THE ENVOY, Jane Holl Lute, has never had anything to do with the Cyprob. Her most high-profile job was US Deputy Secretary of Homeland Security in the Obama administration. For the UN she was appointed Special Advisor for Relocation of Camp Hurriya in Iraq, while in 2016 she was appointed Special Coordinator on Improving the UN Response to Sexual Exploitation and Abuse.
In Cyprus she would be Special Coordinator on Improving the UN Response to the Sexual Exploitation and Abuse of the Guterres framework, finalised version of July 4. What seems not to have crossed the mind of our government is that Lute's visit could also be related to the UN's review of Unficyp's presence, about which the UNSG was asked to report back to the Security Council in June.
The Yanks want to cut down on the UN's peace operations abroad and Unficyp is a prime candidate for drastic downsizing. If Lute reports there is no chance of a deal she could pave the way for it, but our government would rather not think about that yet.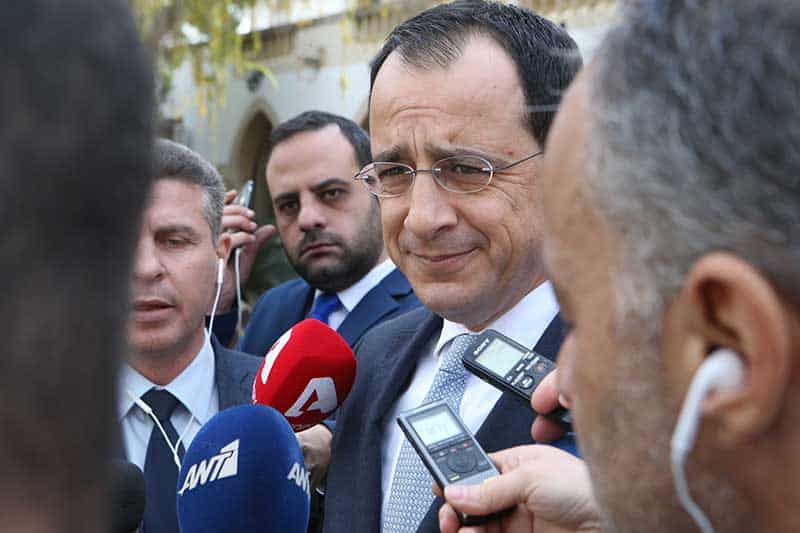 OUR BIGGEST circulation newspaper continues to act as the personal organ of our foreign minister the Dalai Lama, and its political correspondent Andreas Bimbishis as his personal publicist, writing gushing reports about the Paphite political climber's great achievements.
Their co-operation dates back to when Christodoulides was government spokesman and would feed his publicist a stream of information aimed at poisoning the talks' climate and portraying Akinci as a hardliner. Since he became foreign minister, Bimbishis has been writing glowing reports about his 'significant' meetings abroad. No prizes for guessing who the source of these stories is.
On Monday, after the Dalai Lama's visit to Riyadh, the Dalai's personal publicist wrote: "These developments (see item below) give even more weight to the talks the foreign minister Nicos Christodoulides had yesterday in Riyadh with his Saudi counterpart Adel al-Jubeir. The Christodoulides visit to Saudi Arabia adds another important visit to the diary of the foreign minister…" This is embarrassing but it appears Phil has found a new Makarios.
THE DEVELOPMENTS mentioned in the report were the "other battle between Cyprus and Turkey". Cyprus and Turkey, according to the Dalai's publicist, "are involved in another battle on a regional level with broader geo-strategic dimensions," he reported, explaining that they "chose to ally themselves to rival camps."
Cyprus was "winning kudos in the Arabian peninsula" in the confrontation between Saudi Arabia and Iran. Kyproulla was on the side of the Saudis who were backed by the US and Israel. Our ally Egypt moved on "the same axis as Saudi Arabia," we were informed. The rival camp to which Turkey and Qatar belong was led by Iran, and were accused of funding terrorism, Bimbishis reported.
What he omitted to mention was that Syria and Mother Russia were on the side of Iran and Turkey. I suspect the Dalai Lama did not want him to report that in the regional battle with geostrategic dimensions we were also against Mother Russia, which was on Turkey's side.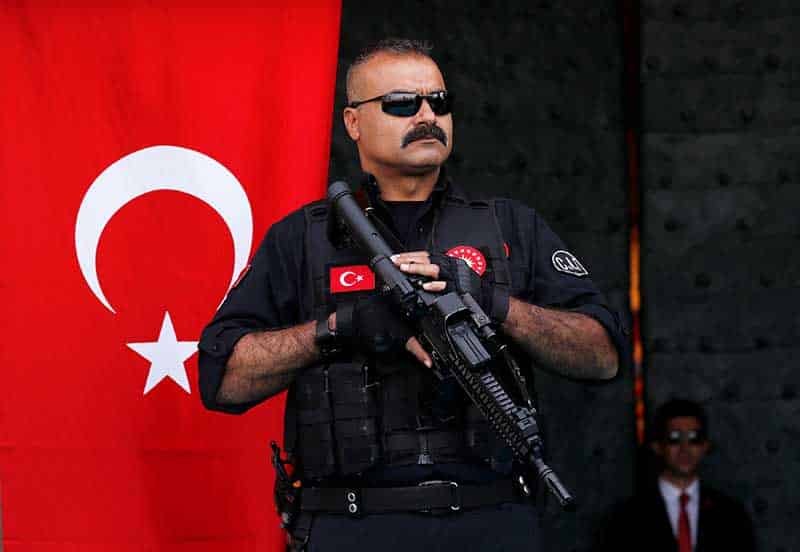 STAYING on military matters and geo-strategic dimensions, you had to laugh at the latest conclusions of the study by the so-called Cyprus Centre of Strategic Studies, a one-man think tank of Akel placeman Dr Aristos Aristotelous, who calls himself a military expert. Below is an example of his astute observations, as reported by Tass news agency.
"The correlations of power show that Turkey is quite a powerful country in the eastern Mediterranean, the Middle East and internationally. It is not however either a 'superpower' or a leading country in the region. The are other important and appreciable countries in the region, which are almost as big and bigger in military and other dimensions like Egypt and Iran."
It must have taken Dr Aristotelous a lot of months of research and hard work to discover that Turkey is not a superpower.
THE DALAI Lama on Monday decided to appear on television with Mrs Lama by his side. They were interviewed together in their living room for CyBC's show Tete-a-tete. It was a good opportunity to see Mr and Mrs Foreign Minister presenting themselves as the perfect couple and uttering the classic clichés you would expect from people obsessed with their public image.
First, Nicos had to thank his wife for the unwavering support she always gave him and for looking after the family because of his very busy schedule. He could not have achieved anything without this support. She was happy to take the role of primary carer, but she did not thank Nicos for ensuring her rise in the foreign ministry, because he had nothing to do with it. She would still have become deputy director of the President's Diplomatic Office, even if she was married to someone else.
Mrs Dalai Lama, is even more hardline on the Cyprob than her hubby. They have four daughters who will be looking for jobs at the family business when they grow up.