Dmitry Klyuev, the sanctioned Russian bank owner considered by the US as the mastermind of a tax fraud uncovered by Sergei Magnitsky, had indeed banked with FBME Bank, despite what its former owners claimed.
The former owners of FBME Bank Ltd said that Dmitry Klyuev and Andrei Pavlov, both key suspects in the theft of $230m in taxes uncovered by lawyer Sergei Magnitsky and placed on a sanctions list by the US, were not customers of the bank's Cyprus branch.
Documents seen by the Cyprus Business Mail show that Klyuev, who was convicted for fraud in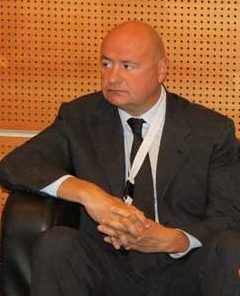 Russia and is regarded as the owner of Russia's Universalny Bank Sberezhenia (or Universal Savings Bank, unrelated to Cyprus's USB Bank and the Swiss UBS Bank), was owner of Altem Invest Ltd and Zibar Management Inc. Both companies, registered in the British Virgin Islands (BVI), were customers of the Cyprus branch of FBME.
According to FBME's record, Altem's nominal owner is Antonina Kazakova, a 50-year-old yoga instructor residing in India's Goa. In the case of Zibar, the nominal owner is Alexander Ovchinnikov, an obscure 57-year-old Russian citizen born in Serpuhov, in the Moscow region.
Yet, the documents seen by the Cyprus Business Mail show that Klyuev, whose Universalny Bank Sberezhenia appears to have been involved in theft of taxes paid by three subsidiaries of Hermitage Capital, was the true beneficiary of both Altem and Zibar.
The Altem account with FBME was the destination of three successive wires on March 2-4, 2011, totalling $1.4m by Klyuev after Switzerland's UBS Bank decided to close his accounts. The UBS Bank documents seen by the Cyprus Business Mail listed Klyuev as Altem's beneficial owner.
On July 27, 2010, Klyuev, instructed UBS to wire all funds of his BVI company Intermedcenter Ltd to Altem's FBME account. This resulted to the transfer of almost $3.5m in August 10-19, 2010. Also, Klyuev initially paid bills to the Zurich-based Dietrich, Baumgartner & Partner law firm which administered his Liechtenstein-based company Aronoil Establishment from a UBS account before it was closed in February 2011. Two months later, Dietrich and Baumgartner received a $4,999 payment from Altem's FBME account.
Klyuev also paid for his son's school fees using funds from Altem's FBME account, just like he did in the past with his UBS Bank account. Another $139,542 in funds were wired to the same school from Zibar's FBME account between January 2012 and May 2012. There is a pattern of countless bank transfers from initially UBS Bank accounts and later the FBME accounts of Zibar and Altem to beneficiaries with links to Klyuev, comparable to the above.
According to documents seen by the Cyprus Business Mail, the 41-years-old Pavlov, a Russian corporate lawyer also implicated in the Magnitsky case, received from Altem and Zibar a total of $1.4m wired to accounts owned by Quorumdebt Management Ltd and Oakley Assets Ltd between June 2011 and August 2012 at Latvia's ABLV Bank. The Financial Crime Enforcement Network (FinCEN) described the Latvian lender in February as a financial institution "of primary money laundering concern," just like it had done, four years earlier, with FBME Bank.
Oakely Assets Ltd, incorporated in Belize, was until August 27, 2015, the owner of Quorumdebt. Then, the Belizean firm, owned to 100 per cent by Andrei Pavlov, via Christina Cornelia van den Berg, a nominee shareholder from South Africa, transferred its Quorumdebt shares to ConnectedSky Nominees Ltd, a Cypriot company headquartered at 12, Igoumenitsas street in Strovolos.
In a letter she sent to Cyprus' Attorney-general Costas Clerides, a month ago, Portuguese MEP Ana Gomes asked whether Cypriot authorities had investigated the activities and assets of Klyuev and Pavlov and had "obtained and analysed evidence on the nominees, agents and administrators –CONNECT – SKY– who presently continue to act for the benefit" of the Klyuev Group. ConnectedSky did not respond to a request for comment.
FBME Bank had the licence of its Cyprus branch revoked by the Central Bank of Cyprus in December 2015, which placed it in July 2014 under administration and subsequently resolution. The Tanzanian supervisor also revoked FBME's licence last year and the bank lost a legal battle in the US against FinCEN which barred it from transacting in dollars.
The allegation that Kluyev and his legal services provider Pavlov had received funds that arrived at the Altem and Zibar accounts with FBME Bank was included in the letter Gomes sent to the AG. The MEP also requested information, about possible action taken by Cypriot authorities to investigate the theft of $230m of taxes paid by Hermitage Capital in Russia and to prosecute suspects.
Magnitsky died in a Russian prison almost nine years ago, when the police officers he implicated in the case, arrested him and deprived him access to medical treatment.
A week ago, Cypriot authorities announced the launching of a campaign to improve Cyprus's reputation abroad tarnished by money laundering allegations in the past.